Review: Syracuse Stage Presents an Energetic Contemporary Production of PRIDE AND PREJUDICE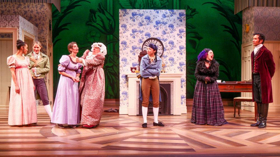 Syracuse Stage has once again brought a creative and entertaining play to its audience. This time around it is Kate Hamill's modern take on the Jane Austen 1813 classic novel Pride and Prejudice. Hamill's creative and comedic Pride and Prejudice is certainly not what you might expect. The high energy comedic production is full of wonderful surprises under the impressive direction of Jason O'Connell.
Austen's Pride and Prejudice, of course, centers on Elizabeth (Lizzie) Bennet and the social pressures she faces to marry for money and wealth as opposed to love. However, Elizabeth Bennet doesn't want to automatically give in to the superficial social pressures of society.
Austen's novel has sold over 20 million copies and there have been various stage, television, and big picture adaptations of the familiar and favorite story. Hamill's adaptation remains true to the original Austen source (including the language of the era), but provides a modern and fresh take on Elizabeth and the other familiar characters, digging deep into their thoughts and emotions.
Kate Hamill has found quite the acclaim on Off-Broadway and in regional theatres with her adaptations of classics such as Pride and Prejudice, Sense and Sensibility, Thackeray's Vanity Fair, and Little Women. Hamill's Pride and Prejudice made its premiere in 2017. Director Jason O'Connell originated the role of Mr. Darcy and Kate Hamill performed as Lizzie Bennet at the Hudson Valley Shakespeare Festival. The production then went on to New York's Primary Stages.
The high energy play features many talented character actors that present the beloved characters in a surprising, yet heartwarming way - all the while leaving the audience laughing hysterically. The chemistry, comedy, and impressive character acting of the ensemble cast make this a knock-out production.
Hamill takes on the role of Lydia Bennet and Lady Catherine in the Syracuse Stage production this time around. She dazzles as Lydia Bennet, the youngest of the Bennet sisters. She's the typical younger sibling that seems to get away with so much. Lydia certainly knows how to enjoy the punch at the social dances. As Lady Catherine the antagonist, Hamill is both demanding and confident. Even Hamill. at times, seemed to have trouble not cracking up on stage at the antics and, frankly, her impressive script. Watching Hamill cover her face to not laugh out loud made the production special, entertaining, and real. The accomplished playwright and actress is - without a doubt - taking the theater world by storm.
As Mrs. Bennet, Stephen Wolfert (yes, the role of the mother is played by a male actor) steals the spotlight, bonnet and all. His energy and line delivery makes you feel like you are attending a vaudeville production. His portrayal of a very determined woman looking to marry off her daughters to wealthy men is over-the-top perfection. Wolfert also entertains as Lady Catherine's servant serving tea to the guests. It was certainly one of my favorite scenes.
Angela Janas is astonishing and powerful in the role of Lizzy Bennet. She embodies the much-loved protagonist beautifully. As an actress, Janas radiates intelligence, confidence, and charm.
Samantha Steinmetz steals the spotlight as Mary Bennet and Mr. Bingley thanks to her comedic chops. Her expression, ability to transition from character to character, and antics makes her a favorite in the production. Steinmetz gives an outstanding and memorable performance. Her stage presence is one of a kind.
Robyn Kerr portrays Jane Bennet and Miss de Bourgh. Kerr is calm, sweet, and lovely in the role of Jane. Her line delivery and accent (dialect coach Celia Madeoy) is spot-on especially in her comedic moments.
Joey Parsons portrays Mr. Bennet (yes, there is female cast in the role of the Father). She adds some comedic flair and plays off Stephen Wolfert (as Mrs. Bennet) perfectly. Wolfert and Parsons are hilarious as the parents. Parsons also takes on the role of Charlotte Lucas in which she showcases her charm and chemistry with Angela Janas.
Let's not forget the role of Mr. Darcy. Carman Lacivita delivers a touching performance in the sympathetic role. Mr. Darcy is the most serious role in this production. Lacivita and Angela Janas' chemistry make you fall in love with Mr. Darcy and Elizabeth Bennet once again.
Jeff Gonzalez manages to effortlessly transform himself into three very different roles. Gonzalez is hilarious as Miss Bingley, Charles Bingley's vain, jealous, and snobbish sister. He reveals the envy that Miss Bingley exhibits for Lizzy due to her affections for Mr. Darcy. Gonzalez also takes on the role of Mr. Wickham, an officer in the militia, who instantly forms an attachment with Lizzie. Gonzalez is charming, confident, and egotistical as Mr. Wickham, effortlessly embodying the character. Gonzalez also steals the spotlight as Mr. Collins, Mr. Bennet's distant second cousin and a member of the clergy who is completely devoted to Lady Catherine. Gonzalez plays the role with a lot of comedic flair and is definitely a standout.
The artistic elements are just as outstanding as the acting. Sandra Goldmark's scenic design transforms Syracuse Stage to early nineteenth century England. The detailed set features easy to moves set pieces. A unique feature is that many of the walls are covered in various clocks, which allow for very quick scene changes. Charlotte Palmer-Lane's costumes are appropriate for the time period and provide another layer of comedy to the proceedings as some actors have to switch roles almost instantly on stage. Drew Florida's lighting is dramatic and emotional and Jaqueline R. Herter's sound design adds a modern twist. Surprisingly enough this production features some familiar tunes such as "Stayin' Alive," "The Hustle," and more - as the cast performs Anthony Salatino's entertaining choreography.
Is this the Pride and Prejudice you read in English class? No, it is a comedic adaptation of the classic featuring a modern voice while still using traditional language. Hamill's unique adaptation, along with Jason O' Connell's creative direction, makes the play a must-see at Syracuse Stage. It will leave you laughing, falling in love again with those familiar characters. You will be in awe of the talent on stage. It does what live theatre is supposed to do - surprise you and makes you think.
Running time: Approximately two and half hours with one twenty-minute intermission.
Pride and Prejudice runs through April 7, 2019 at Syracuse Stage located at 820 E. Genesee Street, Syracuse, New York 13210. For tickets and information, click here or call 315.443.3275.