Click Here for More Articles on STUDENT CENTER - COLLEGE EDITION

BWW Interview: Chair of Ithaca College's Department of Theatre Arts Catherine Weidner
Ithaca College is home to one of the country's top ranked theatre BFA programs boasting some of Broadway's favorites as alums including Jeremy Jordan, Kerry Butler, and Aaron Tveit. Teacher, director, and actor Catherine Weidner leads the program as its chair. Weidner's impressive career has taken her from her own student years at Ithaca to venues such as The Kennedy Center, La Jolla Playhouse, and The Guthrie. She took a moment to share her perspective on theatre education and being a mentor to the future generation of theatre performers. Read her thoughts below!
What makes Ithaca unique amongst theatrical arts programs?
We train the whole person. Part of that comes from our conservatory-style approach within a liberal arts education. Smart people make smart artists - having a diverse educational experience means everyone brings more to the table. It's not just productions and classes, it's being part of a community of artists, tackling the challenges of the world today, finding our voices as individuals and a community.
What do you think are the core requirements for an education in theatre?
Awareness and empathy. Skills, technique in specific areas, of course, but a foundation of analysis, craft and critical-thinking. What's the basis for every choice you make? The text, the music, the visual storytelling.
What does Ithaca look for in a student?
Someone who is authentic - and evolving. Our students are engaged, passionate about their ideas and the ideas of others. Curious, mindful citizens of theatre.
Tell us more about your background as a director and actor and your path to becoming an educator.
I'm an IC alum BFA Acting 1985, and every experience I had at IC shaped who I am today. That includes being on crews for shows, and not getting cast until I was a junior (I learned humility and gratitude, as well as developed a strong work ethic that didn't measure my success only through casting). I took directing class as a requirement and that's where I discovered my calling. After a few years in the business I went back to grad school to study Directing, and part of my work there was to teach. I keep up my professional work as an actor and director, which I think keeps me curious and empathetic. Teaching was a natural progression for me, and something I cherish (since I don't get to do much of it as Chair).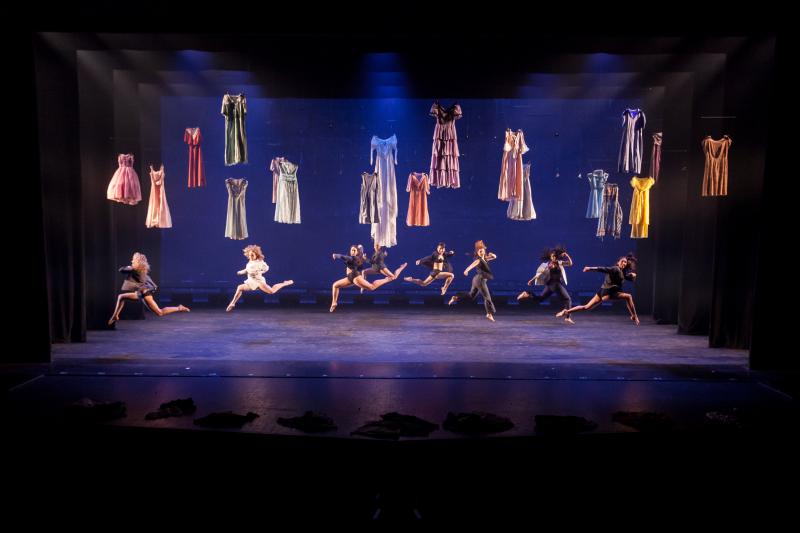 How has the program at Ithaca changed and grown since you were a student there?
Oh yes. The industry changed, too, and the curriculum and faculty have to stay current in order to help students reach their goals. We take season selection so seriously - not that we didn't always, of course - but thinking things through is really a necessity - what is the message we send by choosing these plays or musicals? Whose story is/isn't being told? How can we make sure underrepresented voices are heard? The rigor is always there - you have to be in class ready to work at 8am every day. You have to show up and do your work, and contribute to what's happening in the room in a positive way.
How do you balance being an artist and being a teacher and mentor?
By turning off the critic. You have to make time to do all three well. It's not so much balance as which one is a priority today? We all wear a lot of hats, and we have to turn off the critic in order to let the artists get a Little Room to breathe. When the negative talk or the judgment shows up, it's time to take a break and re-connect with the work itself, not how you feel about the work.
How do you hope to continue to grow the program and continue to keep Ithaca home to one of the best theatrical educations in the country?
Focus on creating an inclusive and equitable environment for everyone to work and learn. Let the faculty and students do their work - support them in any way I can - advocating for more space, more resources, more time. And how about 85 full scholarships??
For more information on Ithaca's prestigious theatre arts programs visit: https://www.ithaca.edu/hs/depts/theatre/
Related Articles