Director Vs. Director: Team Joshua Turchin Vs Team David O at Orphean Circus
Dates

11/1/2020 at 12:00 AM

Theatre






Episode 5 - Team Joshua Turchin Vs Team David O With Special Musical Guests, Los Angeles-based alt-rockers The HolyCuts

Livestreaming on our Director Vs. Director Youtube Channel and on the Orphean Circus Facebook Page NOVEMBER1st at 7:30 p.m. EST.

Team members of every description, from all over the country are working remotely, coming together to form this formidable group of All-Star competitors. New York favorites Broadway belter Lauren Elder, J. Elaine Marcos, Hunter Canning, Jon-Michael Reese and opera diva Megan Gabriel are just a few of the performers. Spencer Weitzel and DvsD alum Kit Proudfoot join us from the online media world.

"The fun of this episode might be that theatre veteran David O crushes the youthful, plucky spirit of fourteen-year-old musical theatre whiz-kid Joshua Turchin. That said, Turchin's got some serious tricks up his sleeve." - Ken Roht, Orphean Circus Creative Director

News About Director Vs. Director: Team Joshua Turchin Vs Team David O at Orphean Circus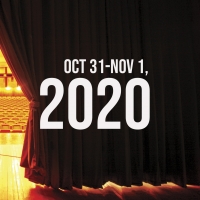 Virtual Theatre This Weekend: October 31- November 1- with Beth Malone, THE NIGHTMARE BEFORE CHRISTMAS, and More!
October 31, 2020
Broadway might be dark, but that doesn't mean that theatre isn't happening everywhere! Below, check out where you can get your daily fix of Broadway this weekend, October 231-November 1, 2020.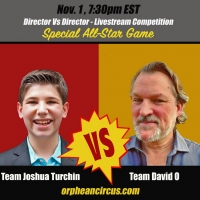 Orphean Circus Presents DIRECTOR VS DIRECTOR: A New, Livestreaming, Interactive Game Show
October 20, 2020
From the prolific, whimsically surrealist minds at Orphean Circus comes the all-new live streaming game show competition, Director Vs Director!