Russell Howard Announces Biggest World Tour Ever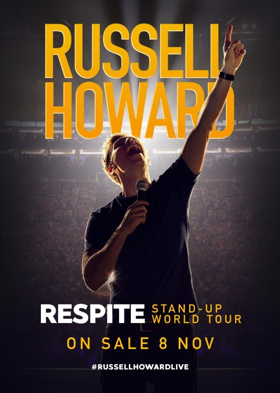 After the global success of NETFLIX SPECIAL Recalibrate, Sky One's hit The Russell Howard Hour which spawned over 109 million views worldwide on social media and 2017 international record-breaking sell-out tour Round The World, Russell Howard returns to the live stage with his third and largest world tour to date, Respite. Russell begins the trip with a nationwide arena tour including two shows at London's Wembley Arena in autumn 2019, during which he will perform 'in the round' wherever possible. Breaking the record for the biggest ever stand-up show in China on his last tour, he returns to play Shanghai and Beijing in 2020. Outside of Asia, Russell will perform in Africa, North America, Europe and Australasia, visiting over 24 countries and 51 cities including: Mumbai, Dehli, Cape Town, Hong Kong, Bangkok, Kuala Lumpa, Singapore, Copenhagen, Berlin, Helsinki, Amsterdam, New York, San Francisco, Portland, Los Angeles, Montreal, Toronto, Melbourne, Sydney and Auckland.
In addition to Russell breaking a record in China on his 2017 sell-out international tour, Round the World, he played 10 consecutive sold out nights at London's Royal Albert Hall, breaking the venue's record previously held by Frank Sinatra and BARRY Manilow for 8 shows in a row. The tour led to a global release of NETFLIX SPECIAL entitled Recalibrate.
Russell returns to our screens to offer his unique and acclaimed perspective on international news and current affairs with the second series of The Russell Howard Hour on Thursday 8th November at 10pm on Sky One. Every episode is available to watch worldwide on Russell's Youtube channel which has over 645,000 subscribers. The show is also broadcast simultaneously in Australia and New Zealand. Series one was the most successful new entertainment series to launch on the channel since 2010 and had over 109 million global views across social media.
Russell has a social media following of over 3.4 million Facebook fans around the world with more followers than any other British comedian.