Laron Hines Joins Upcoming Drama DIRT MERCHANTS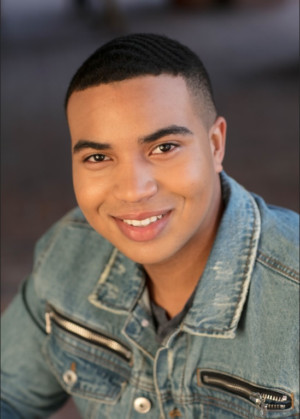 Fresh from his successful debut album, La'Ron Hines is taking his musical talents to the Big Screen after joining the upcoming Henning Morales teen drama "Dirt Merchants: Rebelistic," now in production.
"I'm very grateful to Henning for giving me this opportunity to join this amazing film," Hines said. "It's an opportunity to portray a young businessman who lives out of the trunk of his car and lives by his wits and his passion for life."
Hines takes on the lead role of Spencer a young hustler who tries to make his way through life through street smarts and his own ability to overcome his own fears, insecurity and the unsavory characters around him. The film is the first leading role for Hines who has already appeared in five feature films, including "Let's Kick It," "Soul Drought," "Further Instructions," and the upcoming "No Children Nation," from writer/director Jonathan Samuel Brostoff ("Cedar Sequoia International").
"Dirt Merchants: Rebelistic" is set for release next year.
The young actor was chosen by filmmaker Morales after spotting the actor in another films where he showed his maturity and ability to take on roles with passion and conviction.
"I liked La'Ron's energy and ability to embody a role with such maturity and confidence," Morales said. "Moviegoers will be pleasantly surprised at his talent and his portrayal of young Spencer in this unique and inspirational coming-of-age story for the millennial generation."
Growing up in Brookhaven, Mississippi with parents who were educators, young La'Ron was encouraged to explore his creativity by listening to music, watching television and films as well as exploring the arts in general.
"I've been into music since I was a young kid. My Grandmother used to sing to me when I was very little on up until my preteens years," he recalled. "She would always put me on church programs where I had to sing and act. After doing that a few times, I realized I enjoyed it and started to want to do it more."
La'Ron would ultimately begin singing in church at other events before large crowds, thrilling audiences with his powerful vocals innate showmanship. He would go on to perform in musical theater in high school before eventually moving with his family to Los Angeles to pursue singing and acting professionally.
"My parents have supported me all the way with my career. They have made a lot of sacrifices beginning with sending me to acting camp," he said. "Anything that I have wanted to pursue in my music and acting career, they have supported 100 percent and made it happen so I'm very grateful."
Even as he pursues acting, Hines remains dedicated to his music, having signed a deal with Drew Right Music, led by award-winning music producer Andrew Lane who is known for his work with Gwen Stefani, Backstreet Boys and others. Lane produced Hines' 2017 debut album "Love Letter," which featured a slew of catchy songs that featured a strong blend of pop and hip hop.
As he prepares to release another single this summer, with plans for a tour and a new EP, Hines remains committed to his acting and musical endeavors. Already, he's set to join the upcoming film "Last Ride," as well as the movie "No Children Nation," and others.
Meanwhile, Hines is also performing in the CD with accompanies the children's book "Double Dutch," by Sharon Draper. For more information on Laron Hines, visit www.facebook.com/laronhinesofficial, and follow him on Instagram at www.instagram.com/laronhinesofficial, and Twitter at https://twitter.com/LaRonHines.