LA Femme International Film Festival to Showcase Hit Anime Series MEGALOBOX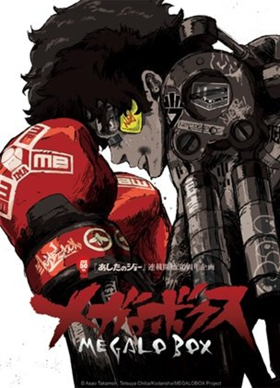 LA Femme Film Festival will host a female-centric anime event at the 14th Annual LA Femme International Film Festival on Friday, October 12th, 4 pm at the Regal Cinema at LA Live. The segment will feature episodes of the popular anime series MEGALOBOX. There will be a Q&A panel following the screening with series producer Minako Fujiyoshi, moderated by writer Joelle Sellner.
Admission is free of charge and reservations can be made at rsvplafemmefilmfestival@gmail.com.
MEGALOBOX (13 x 30 minute episodes) began from the enthusiasm throughout the world for the celebration of TOMORROW'S JOE's 50th anniversary. MEGALOBOX will have a new type of retro-anime style that will begin a trend that states: what is old is new again. As a reboot of the iconic anime series TOMORROW'S JOE, the show is a futuristic boxing drama that appeals to a broad age range. The younger crowd enjoys the cool retro art style and the older crowd reminisces about the classics. The dramatic animation and contemporary hip-hop music have added dimension to the series and drawn in audiences.
Minako Fujiyoshi debuted as the producer with the MEGALOBOX project. Her previous experience involved working within the TMS production division, and she has worked on numerous titles such as HAMTARO, ANPANMAN Movies, LUPIN THE THIRD: THE WOMAN CALLED FUJIKO MINE and SWEETNESS AND LIGHTNING (original title: AMAAMA TO INAZUMA).
Joelle Sellner has written for animated shows including SONIC BOOM, BEN 10: OMNIVERSE, TEEN TITANS, and AVENGERS: EARTH'S MIGHTIEST HEROES. Her animated web series work includes DC SUPERHERO GIRLS, and Mattel'sMONSTER HIGH. Joelle has also written comics for DC, Marvel, Dynamite, Blizzard and IDW, as well as Lion Forge/Roar Comics including SAVED BY THE BELL, and PUNKY BREWSTER.
Leslie LaPage from LA Femme states: "We are thrilled to be able to screen and have such wonderful female animation creators Minako Fujiyoshi and Joelle Sellner. Women have long been appreciated more in Animation overseas then on the domestic coast but the overall advancement of women in animation is starting to be seen worldwide with a rippling effect in the US".
LA Femme is offering this screening as a FREE event, on a first come first serve bases at Regal Cinemas: 1000 W Olympic Blvd Los Angeles, CA 90015. Go to www.lafemme.org to read about other animation and special screenings.
LA Femme International Film Festival
Now in its 14th year, the LA Femme International Film Festival is a premiere festival that focuses on women filmmakers who create commercial films for a worldwide audience. The festival offers a unique opportunity for women filmmakers who seek a more creative approach to filmmaking as well as domestic and international film distribution. Along with TMS Entertainment USA, other festivals sponsors include: Sony Diversity, Writer's Guild of America (WGA) Women's Committee, Screen Actors Guild -American Federation of Television Radio Artists (SAG-AFTRA) Diversity, Eleven Arts Animation Studio and Columbia College Hollywood.
About TMS Entertainment Co., Ltd.
TMS Entertainment Co., Ltd. (better known as TMS), one of the world's largest and most distinguished animation studios. TMS has won worldwide recognition from the international filmmaking industry for its highly-acclaimed animation, pioneering techniques and proud commitment to quality. With a dedicated team of development, production and design executives, TMS's growing reputation is reflected by the versatility, artistry and originality of the programs the company has produced for international markets.
Established in 1964, TMS has produced more than 200 features, and over 100 TV program series, with a total of 12,000 half hours for global distribution. TMS will continue to strive for excellence.
TMS website: www.tms-e.com/english/