Jun Li Joins THE GOOD FRIEND FROM THE WEST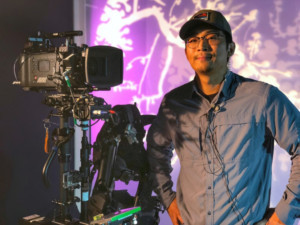 Growing up in Beijing Jun Li always had a passion for films and filmmaking. Today, he is making his mark as a Steadicam Ninja and an acclaimed camera operator as he takes on the challenge of the upcoming film "Good Friend from the West."
"I am very excited about this new film project from the talented director Shuaiyu 'Lance' Liu," said Li. "The biggest challenge working on this film was the weather and lack of crew. We were filming in a dry lake in the mid of a desert in Southern California. In early March, the huge temperature difference between day and night made many crews sick. On top of that, we had sand storms as our uninvited guest who visited us couple of times a day."
Written and directed by Liu ("Underground"), "Good Friend from the West" tells the story of an unlikely friendship between a Chinese railroad worker and a wounded outlaw on the run in the Old West. The film stars Dan Rutkowski ("Ray Meets Helen,") and Zhan Wang ("Where Dreams Rest").
"In this film, he was going for a specific cinematic style that is Hong Kong classical Kung Fu films of the 70s," Li said. "He showed me some reference of specific camera movement and zoom-in shots that he wanted to do. Seeing it, I was super clear about what he wants, which ends up saving us so much time on set. So, as a camera operator, it's crucial to figure out what the director and cinematographer are expecting for and what kind of story they want to express."
But having the movie shot on film did have its limitations, Li admitted: "Since we didn't have enough budget to set up proper real time video playback for director, he could only check the frame before we actual rolled the camera.," he said. "That means for every single take, I was the only person on set who can see the frame and there was no playback. When a take was done, Lance would always come to me and ask if THE TAKE is ok. I'd give him my honest as a result, the film would never be finished if there was any doubt or suspicion between Lance and me. I think that's a very important relationship between director and a camera operator."
"Good Friend from the West" has been screened at various film festivals, including most recently at the 52nd WorldFest-Houston International Film Festival held earlier this month. Release is scheduled for later this year. The film is the newest project for Li, who recently completed work on the television series "Seven Days." His past work includes such films as "Way Out," "All That Glitters," "Abandon," "Dog Tag," "No Deer for Dinner," and many others.
It's a long way from Li's early days in the business after learning the unique capabilities of the Steadicam while studying under the tutelage of legendary Steadicam operators Jerry Holway and Chris Fawcet at the Tiffen Steadicam Gold Workshop in Georgia, the premier learning facility for Steadicam. He would also take private classes from 21-year Steadicam veteran Greg Smith to further hone his skills.
Even as his star began to rise with a number of films under his belt, Li also fronted a rock band that was known for its original compositions as well as covers of songs from such bands as Green Day, Linkin Park, Sum 41 and others. The struggles of his rock and roll life helped him understand that he needed to work harder to in order to be successful as a camera operator.
"My philosophy is quite simple when it comes to my work. A caring camera operator can surely bring more possibility to the creative process of a film," Li said. "By examining the script as early as possible, I will have a solid idea about the visual component of the film and it allows me to share that with the director and cinematographer and further add to the creative process which in the end is very gratifying."
To learn more about Jun Li, please visit www.jun-vision.com or follow him on Instagram at www.instagram.com/steadijun/.
Related Articles View More TV

Stories