Female Powered Feature Film Miss Arizona Slated to Premiere at 4th Annual Bentonville Film Festival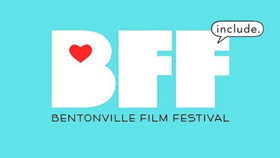 It's a good time to be a woman in film, and for first-time feature filmmaker Autumn McAlpin, the moment is now. Her indie dramedy, Miss Arizona -which she wrote, produced and directed -was recently announced to premiere at the 4th Annual Bentonville Film Festival. Co-founded by actress Geena Davis & Inclusion Companies CEO Trevor Drinkwater, the six-day, one of a kind festival is known for its support of female & diverse voices.
Miss Arizona, produced by Side Gig Productions and Stitch Entertainment, follows a former pageant queen turned housewife who is trapped in a less-than-ideal marriage and mourning the independence of her 10-year-old son. But when she accepts an invitation to teach a life skills class at a women's shelter, an all-night adventure begins with four unlikely friends. They embark on a quest through LA's darkest streets and wildest drag club, all while discovering their own strength and the power of female friendship.
"This is an anthem for any woman who's ever been told to sit still and look pretty," explains McAlpin. "Times have changed, and with the current climate of women speaking out against abuse, our film is among those not staying quiet. We want to shine a light on real situations."
The story materialized after the 2016 presidential election when McAlpin was agitated about the way women were being portrayed in the media. Further motivated by events like the Women's March and an experience she had while teaching a life skills class at a women's shelter, McAlpin became focused on making a "pro-women" film, and in less than a year she succeeded.
But she didn't stop there. For music, she included the powerful song "Quiet" by MILCK, which helped fuel her initial inspiration to write the script. (It was also dubbed the unofficial song of the Women's March). In addition, she included music by female powerhouse voices P!nk, Lorde, Shania Twain, Donna Summer, and Kacey Musgraves, among others.
The all-female ensemble cast features Johanna Braddy (Quantico, Unreal), Dana Wheeler-Nicholson (Friday Night Lights, Nashville), Robyn Lively (Teenwitch, Karate Kid 3), Otmara Marrero (StartUp, Off the Rails) and Shoniqua Shandai (Bodied, Sing It!). Additional cast members include Steve Guttenberg, Missi Pyle, Kyle Howard, Kevin Heffernan, and alums of RuPaul's Drag Race Willam Belli and Ginger Minj.
"We made a conscious decision to support women on both sides of the camera and flip the ratios you typically find on a set," explains producer DeAnna Cooper of Stitch Entertainment. "Therefore, we had a 70% female cast and crew."
Miss Arizona will premiere on Wednesday, May 2nd at 1:45 p.m. at the Bentonville Film Festival in Bentonville, Arkansas, with an additional screening on Thursday, May 3rd at 1:15 p.m. For more information about the film, please visit http://www.missarizonamovie.com, and for premiere and screening tickets, please visit the festival website at http://www.bentonvillefilmfestival.com.