Chazz Palminteri Among Honorees at Bronx Children's Museum Gala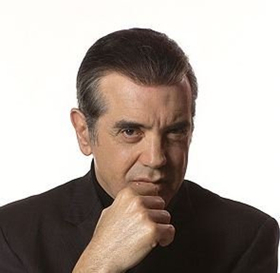 Tuesday, May 8, 2018, the Bronx Children's Museum will hold its second Annual Gala, Building Our Future Together, at the Edison Ballroom at 240 West 47th Street in Times Square.
Hundreds of friends and supporters will join Event Co-Chairs Kerry Washington (Actress; Producer; Activist; Grew up in the Bronx), Richard Abrons (Playwright; Activist), and Rafael Collado (Entrepreneur; Grew up in the Bronx) to celebrate Gala honorees Sonia Manzano ("Maria" From Sesame Street; Author; Activist; Grew up in the Bronx), Chazz Palminteri (Actor; Director; Creator Of "A Bronx Tale"; Grew up in the Bronx), and Kerry Malawista and Alan Heilbron (Donors of "Museum On The Go!" Bus).
The Bronx Children's Museum Gala will be highlighted by a cocktail reception at 6:30 p.m. followed by dinner and a live auction. Master of Ceremonies for the event will be Museum Board Member Sunny Hostin (Co-Host of ABC Daytime's Morning Show The View; Senior Legal Correspondent & Analyst for ABC News; Grew up in the Bronx) with entertainment provided by renowned Bronx-born Jazz Pianist and Educator Dr. Valerie Capers.
Construction of the Bronx Children's Museum building will be completed by Spring 2019, and, together, we will open the doors by early 2020! Founded in 2005, the Museum currently serves almost 16,000 Bronx residents, primarily children, annually through innovative mobile programming and in-school, after-school and summer programming at 70 sites. When the museum "with and without" walls opens, the number of people served will increase by 60,000 with a total of about 75,000 visitors annually.
"I know how vital it is to provide kids with places that inspire them to think, create, and dream. The Museum says to our children of the Bronx: we matter, your own community matters, this place that you call home matters and because of that, possibilities are endless and you can go anywhere and be excited about who you are today and who you will be tomorrow," says Kerry Washington, Event Co-Chair.
Gala Honorees
Raised in the Bronx, Sonia Manzano is an actor, author, spokesperson and activist who played "Maria" on SESAME STREET for 44 years. She is a first-generation American of Latino descent and was instrumental in bringing a Latino face to television. A long-time advocate for the Bronx Children's Museum, Sonia authored the Museum's picture book, The Lowdown on the High Bridge, and has been featured as part of the Museum's "Dream Big" Summer Arts Enrichment program.
"In our current culture of dismantling institutions, it warms my heart to be part of something positive being built. The Bronx Children's Museum is a shining example of positivity, good will and hope for the future," says Sonia Manzano.
Bronx native Chazz Palminteri is an American actor, screenwriter, producer and playwright. His A Bronx Tale, now on Broadway, is adapted from the 1993 film of the same name (which was in turn adapted from his groundbreaking, autobiographical one-man show). Palminteri has more than 50 movies to his credit, and is a member of the Actors Studio in NYC.
Several years ago, Kerry Malawista and Alan Heilbron, gifted a redesigned former school bus entitled Sarah's "Got Art?" Bus to the Museum in loving memory of their daughter, Sarah. She had imagined bringing art to underserved city children. Bronx Children's Museum has operated for more than seven years "without walls" with this bus-redesigned and renamed "Museum On the Go!"-as its heart and soul, traveling to schools, parks, festivals, shelters, hospitals and community events throughout the borough. Over 38,000 people have visited the bus. Kerry Leddy Malawista, Ph.D., is a psychoanalyst and writer. Alan Heilbron is a retired businessman and entrepreneur. They have raised four children: Sarah, David, Anna and Peter.
About The Bronx Children's Museum
"Our museum is at a crossroads in many ways," says Carla Precht, Bronx Children's Museum Executive Director. "We have been 'buildingless' for more than 12 years and have made the streets of the Bronx our home with our outreach programs. We are going from being a virtual museum with no physical space to one with a building, and we are soon to serve 4 times the number of people we already see. We are about to make history as the first children's museum 'with and without' walls in the Bronx. Therefore, our budget is about to double, and we must expand all that we do. Having a Gala to raise operating funding is essential to our long-term sustainability."
Bronx Children's Museum (BxCM) seeks to inspire children from infancy to nine years of age and their families/caregivers to learn about themselves within the diversity and richness of their surroundings and the world BEYOND and to become caregivers of the planet. Construction is underway on the new Museum facility under the auspices of the NYC Departments of Design & Construction and Parks & Recreation through a private public partnership, to provide Bronx children with an interactive place to learn and play. Work is taking place in 13,000 square feet of a City-owned former powerhouse, steps away from Yankee Stadium in the South Bronx. The existing space will be built back up as a community-driven state-of-the-art Museum for the children of the Bronx and beyond, along with their families and caregivers. Programming will always take place at a museum "with and without walls" bringing innovative exhibits directly into Bronx neighborhoods.
To date, the Museum has secured almost $11 million in New York City funding and $4 million from the State Assembly for bricks-and-mortar funding to develop and open the facility. BxCM has an interactive exhibit activity budget of $4 million. Approximately $1.75 million remains to be raised for the exhibits, Furniture Fixtures and Equipment, and an opening/reserve fund. In total, the Museum has approximately 94% of the funds and in-kind support to open its doors.
It is one of a few cultural institutions in the Bronx geared toward families with children, especially those who cannot afford-or would not normally visit-a museum. For more information, please visit www.bronxchildrensmuseum.org.
Related Articles View More TV

Stories