Review: HIP HOP FILM FESTIVAL 2018 Brings Fresh Perspectives and Hot Talent to Harlem
The 3rd annual Hip Hop Film Festival was held, fittingly, at the historic National Black Theatre founded by Dr. Barbara Ann Teer who moved to Harlem in 1968 and saw that the once vibrant neighborhood was suffering from a sense of hopelessness after the losses of African American leaders Dr. Martin Luther King Jr. and Malcolm X and desperately needed a community space and cultural arts institution that would "be reflective of the power, grace and excellence of a people" (according to her daughter and current CEO Sade Lythcott).
The extraordinary spaces decked out with African art that are owned and operated by the theater encompass an entire block of prime Harlem real estate from 125th-126th street on 5th Avenue (called National Black Theatre Way) and for "4 Days of Fresh" in the sweltering August heat, audiences in New York City can sample some of the most exciting offerings of semi-established, up-and-coming and brand new independent filmmakers in a festival that, according to Founder/CEO CR Capers: "Supports, nurtures and loves the filmmakers who grew up in the global culture of hip hop."
This open-ended call to action extends beyond just hip hop films or films about hip hop but anything that is born from or celebrates the culture. And to further center the focus of this year's Hip Hop Film Festival, the four days were broken down into themes: "Night of the MC" (August 2nd), "Urban Tales" (August 3rd), "Fight the Power: Love vs Hate" (August 4th), and "The G.O.A.T.s" (aka Greatest of All Time -- August 5th) among other events such as the Master Cyphers, TechZibit/VR Films and the Art After Dark Party (featuring artwork by local artists curated by Black Medallions Art Collective) every evening in the expansive two-floor gallery space at Elizabeth Dee Gallery right next to the screenings.
Violence in general and gun violence in particular, race relations and challenges with law enforcement were all-pervasive themes at the 2018 Hip Hop Film Festival whose diverse array of filmmakers came from across the nation from LA to Boston, New York to New Orleans and the American South, all carrying weighty issues in their hearts and armed with a camera and a story to tell. Independent film festivals are an excellent resource not only to discover new talents but uncover the urgent issues, inspiring journeys and powerful tales outside of the mainstream media and big-budget blockbusters.
As is true for most festivals, it is near impossible to cover everything, so here are a few highlights and ones-to-watch:
Opening night began with a bang with Night of the MC, celebrating the Master of Ceremonies who is responsible not only for getting the party started, but keeping the vibe and momentum and feeling out the crowd. The MC is a curator, an alchemist and sometimes a prophet, but always a sustainer who never lets the mic drop. No one could demonstrate this more elegantly or eloquently than Malik Work aka "Dionysos" in his feature film based on his solo stage play: Verses At Work.
Malik has an unusual pedigree for an NYC hip hop MC which is what makes him and the film so interesting: he is a highly educated actor and wordsmith whose bane of existence was not due to a rough childhood or life on the streets, but rather his ambition beyond the limits of stereotypes largely due to the role limitations his dreadlocks delegated him to -- drug dealer or Rastafarian.
Son of a sculptor, his life has been about "chipping away" to get to the expression of purity and beauty that lies beneath every block of wood or lump of marble. His story, under the superb direction of Brazilian filmmaker Luca Mendes and visionary cinematographer/DP/editor Gregg Thompson, is both a meaningful and multi-layered portrait of the artist's struggle and a love letter to New York City: past, present and yet to become -- much like the ever-evolving Malik Work himself. He went from being a founding member of the underground, golden age of hip hop urban legend phenomenon -- The Real Live Show, to a doorman at the iconic LES club NuBlu (which only blinded him from his own pursuits for too long), to traveling the world chasing dreams and gorgeous women, only to be back in NYC full-circle as, he puts it, a "Grown Ass Man."
The film features numerous layers and styles to tell the tale. There's animation, shadow puppets, film noir black & white close-ups, music videos with graffiti and cityscape backgrounds and plenty of moments of humor, humility and charm, as well as sincere heartache, questioning and personal and universal revelations. But at the heart of it all is the soul of a poet and a master lyricist.
Malik Work's sound can be described as a mix between Busta Rhymes and The Roots with a heavy dose of Mos Def and the theatricality and verbal intricacies of Kendrick Lamar. His words and rhythms speak for themselves as well as act as a vehicle to drive the fantastic film.
However, for an independent film made a shoestring budget to look like a million bucks, it must be mentioned that he had a little help from his friends. One of the most inspiring and hopeful things to take away from Verses At Work and the other notable films is that they all had professionals who hone their skills at their bigger-budget jobs, only to give their all for the labor of love and create art that matters and means something. In Malik Work's case this kind of support comes from the multi-talented artist collective, The C Spot, who lent their love and skills to make Verses At Work the masterwork it is.
Robyn Baxter -- a Harlem born artist, host and force of nature -- acted as another kind of MC. As a volunteer for HHFF for the duration of the four-day event, she led the filmmaker's blocks talkbacks (certainly some of the most interesting and meaningful moments of the festival) where the creators got their spotlight and the community got their chance to get involved and explore the themes expressed as well as what they meant to them personally and on a wider scale.
Always armed with an intelligent question or provocative point, Robyn transformed the often awkward talkbacks into deeply engaging conversations yet mediated them to fit within the strict festival timelines.
"Fight The Power (Love vs Hate)" was by far the most universally relevant and urgent theme explored, which was saved for the prime Saturday of the festival. It is no accident that the title evokes Public Enemy's iconic song which was featured in Spike Lee's seminal 1989 film: Do The Right Thing, which would have found a happy home amongst the attendees and is likely a major influencer for the HHFF filmmakers (there was a nice nod to "Radio Raheem" at the end of a powerful short film called Stay Woke where an election-upset and knee-jerk reactions leads to police brutality and accidental death in the troubled neighborhoods of modern-day New Orleans).
Other films that explored the loaded topic worth mentioning include: American Legend, starring Michael "President" Anderson, a Harvard graduate in Government Studies, and directed by Stanley U. Asiegbulem, an Emerson College graduate, filmed on location in Cambridge, MA, with shots of a Revolutionary Parade, the Reginald F. Lewis International Law Center (the first major facility at Harvard campus named after an African American businessman and philanthropist) and busts of famous African American "legends" which could have only been captured through a mix of happenstance and genuine connections; Rolling in the Deep by Marcellus Cox, which gave cinematic life to a true story of an African American Lieutenant (portrayed with emotional depth, restraint and sincerity by Stephen Cofield) who returned from war in 1945 only to find himself unwelcomed by the very diner his farmer father supplied high-quality food for years. The young Lieutenant's story and confidence inspires his adversaries to change their minds and open their hearts; Wrath City, by RCM Pictures whose feisty director, Raeshelle Cooke, back to HHFF for her second year, imagines a dystopian metropolis called Wrath City, where a young Haitian immigrant girl is stuck in a chaotic house for her "atrocious acts." She is surrounded by a S.W.A.T. team and begging for a press interview before she is deported. Issues of race, activism, freedom, liberalism and violence are revealed as the plot twists of this mind-boggling labyrinth unfold.
But the film that deserves the most applause for the "Fight the Power" portion of the HHFF and one of the shining stars of the festival itself is the feature-length What Matters, a film by Andrew Gajadhar from South Carolina who is creating a studio city in Columbia, SC, to rival Wilmington, NC, and possibly even Atlanta, GA, for the title of "Hollywood of the South," if given a few years and the right support.
The film follows the lives of the Smiths -- an affluent, interracial family in South Carolina where the mother, Cheryl (Tracey DeLeon) is an attorney who represents the unjustly incarcerated while dealing with an uncomfortable work environment, and is married to an overworked police officer, Dominic Sr. (played by the filmmaker himself who seamlessly stepped into the role when the originally scheduled lead actor dropped out on the day of filming), both who are trying to raise their two sons, 7-year old Toby (Dominic Gajadhar, the filmmaker's own son) and dazzling newcomer Brendon Greyson in his star-making turn as Dom Jr., the initially directionless 18-year old son who gets caught in the middle of issues and incidents far beyond his scope or control.
The film tackles so many modern-day issues: from racism to gun control to misogyny to slavery to self control that it would be an injustice to sum it all up in a neat list yet it is sufficient to say that Andrew Gajadhar not only did his homework but scoured social media to see what folks were saying about hot topic concerns and transformed it all into a deeply resonant, timely yet universal narrative exploration of American psyche after the 2016 elections. One of the most interesting characters, who began as an in-your-face comedic stereotype, was the ultra-intense dojo master, Sensei David Mejia (played to perfection by Christian Manganelli), who catches Dom Jr. in a weak moment of selfishness and turns it into an opportunity to teach him patience, honor, respect and righteousness. This bizarre character ended up being one of the most interesting and nuanced of the entire film, not surprising -- while the filmmaker portrayed a cop on-screen, it was the sensei he modeled after himself and his experience as a military and law-enforcement veteran who used martial arts for healing (the dojo used in the film is, in fact, his own).
Much like the Oscar-winning film Crash, What Matters shows how deeply connected we are to each other as a community, city and nation and how much a one person's single action (or inaction) can have a domino effect on everyone and everything around them.
The final day's theme was the G.O.A.T.s on Sunday, August 5th. The acronym stands for the "Greatest of All Time" so it was well suited that the knock-out feature -- "GUN" by filmmaker Sam Upton -- was about a former boxing champion turned chaotic alcoholic, whose son, Tommy (Jared Abrahamson), a new reigning champion was blinded by a cheating opponent and takes his own life from grief on the day of his newborn child's birth. His father (played with impressive range and depth both emotionally and physically by Upton), gets sober thanks to his very own fat Gandalf-meets-no-nonsense Yoda-figure Jimmy (played by the delightfully down-to-Earth and necessarily tough Mark Boone Junior) and takes on Tommy's nemesis after not stepping into the rig for over 20 years. It is a story of redemption and the power of personal change despite all odds and circumstances.
The very full festival with something for everyone even featured a special area -- HHFF TechZibit/VR Films -- devoted to low-budget but high-tech VR films. One such film, "Legendary Cyphers", puts the viewer in Union Square for a 360-degree experience of being right in the middle of NYC's acclaimed weekly freestyle hip hop troupe's communal rap party of the same name.
But the festivities didn't end with the films -- the Art After Dark party held at the adjoining massive gallery space was the place to keep the conversations and the drinks flowing after the screenings, with pumping music (live singers and DJs) for the ears and plenty of excitement for the eyes. The group art show "MARVELoUS", curated by Black Medallions Artist Collective, is an ode to the black superhero that celebrates and explores images of powerful women, social justice and comic book heroes through the lens of hip hop culture.
Live oil painter Jalen Law, whose provocative "Hood Series" featured faceless hooded figures evoking the sense of being both unseen and without identity or humanity, completed a new work called "Sam Greenlee (The Spook Who Sat By The Door)" over the span of the festival for all to see. Law's choice of subject matter could not have been more appropriate for Greenlee (who died at age 83 in 2014), who was a novelist and poet best known for a low-budget 1973 movie made from his novel "The Spook Who Sat by the Door," which envisioned a black power revolution led by a militant black ex-C.I.A. agent. The film was pulled from theaters after a brief box office success and is now considered a "cult classic".
Continuing in the tradition of Greenlee and "Spook Who Sat By The Door" director Ivan Dixon, the filmmakers in the 2018 Hip Hop Film Festival didn't let studios, distribution and budget constraints stop them from telling their stories, nor did they shy away from controversy or hot topics which plague the community such as: fear, distrust, race relations, gentrification, police brutality and much more, as told through pillars of the community who strive to right and write about the wrongs that have been done.
One can only hope these films reach a larger audience through other means such as 24/7Films.TV, the festival's own streaming network described as "Netflix for the hip hop cultured" and the conversations continue once this important and eclectic four-day festival has concluded until next year.

"Verses at Work" Talkback with Creative Team: Al Malonga (Costume Designer/Stylist), Gregg Thompson (Director of Photography/Editor), Malik Work (Writer/Actor/Executive Producer), Charlotte Lily Gaspard (Animator/Shadow Puppets)

"Verses at Work" creator/performer -- Malik Work

"Verses at Work" Team: David Reith (Actor), Gregg Thompson, Malik Work, Al Malonga, Charlotte Lily Gaspard

"American Legend" Talkback with HHFF Host Robyn Baxter, Michael "President" Anderson (Actor/Writer) and Stanley U. Asiegbulem (Director)

"Rolling in the Deep" Talkback with Stephen Cofield (Actor) and HHFF Host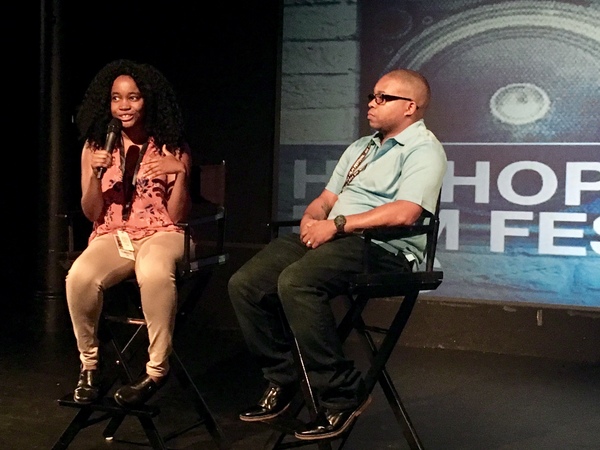 "Wrath City" Talkback with Raeshelle Cooke (Writer/Director) and HHFF Host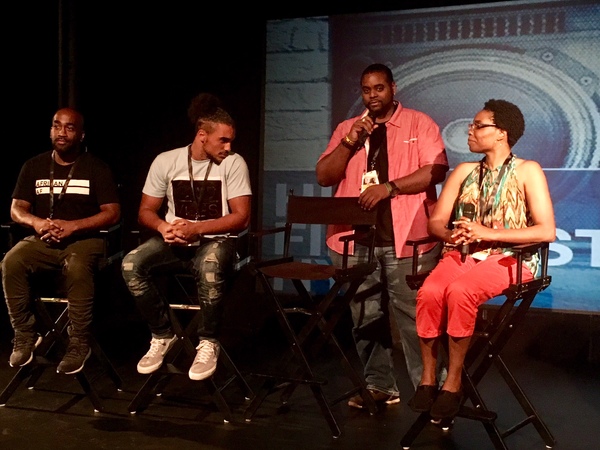 "What Matters" Talkback with Jordan Battiste (Editor), Brendan Greyson (Actor) and Writer/Director/Actor/Producer Andrew Gajadhar

Visual Artist Jalen Law live painting at ART AFTER DARK

"GUN" Talkback with mother of actor/filmmaker Sam Upton and HHFF Host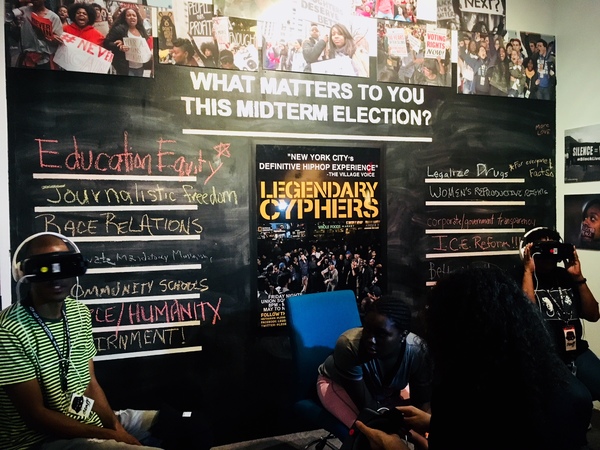 HHFF TechZibit/VR Films "Legendary Cyphers" VR experience

BWW Writer/Reviewer Cindy Sibilsky and HHFF Host Robyn Baxter