BBC Studios to Release 'Earth: One Amazing Day - The Immersive Experience'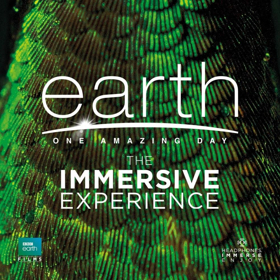 BBC Earth Films (part of BBC Studios) is set to unveil a ground-breaking new album combining cutting-edge technology, world class musicians and masterful nature storytelling to create an entirely new kind of musical experience.
Earth: One Amazing Day - The Immersive Experience, enables listeners to plug into a three-dimensional surround sound environment using any digital playback device, and immerse themselves in a world where music and the sounds of the wilds of nature constantly shift and move around them.
A collaboration between BBC Studios, award-winning composer Alex Heffes (Touching The Void, Last King Of Scotland), and leading immersive audio experts, the 13 (plus bonus) track release takes its audience on a highly realistic journey through the everyday wonders of planet Earth, combining an inspiring orchestral score with real-life wildlife sounds and environmental audio.
Listeners experience the effect of being transported to the very centre of the action as the music and animals surrounds them: floating through a school of sperm whales, dancing with death amidst pounding waves on one of the world's remotest volcanic islands, or bathing in the light of a bamboo forest as a panda cub on its first solo adventure snuffles around their heads.
Stephen McDonogh p.g.a, producer of the album at BBC Studios said: "The Immersive Experience is the first album of its kind, combining a vast classical orchestra and choir, some of the world's leading creatives, musicians, and recording engineers, with an incredible array of over 78 unique music, plant and animal sound objects to depict and celebrate the everyday natural wonders that occur across every continent of our remarkable planet."
"After working with some of the most advanced immersive music techniques available today on several of our key projects, we saw a clear opportunity to try an entirely new, audio based approach to the storytelling - using the latest technology to take audiences closer to nature than they have ever been before, but this time in an experience lead by the ears rather than the eyes."
In order to ensure that the pioneering composition could be enjoyed by anyone without the need to buy new equipment, the project's creative team simultaneously employed two leading approaches to immersive audio: Dolby Atmos® - the proprietary technology used to create surround sound effects in many cinemas and home theatre systems - and Binaural, which uses the way the human brain interprets frequencies to create the effect of sounds coming from different directions for playback on stereo headphones.
The result of that unique collaboration, Earth: One Amazing Day - The Immersive Experience, takes listeners on 45 minute journey through a three-dimensional audioscape, utilizing to paint a vivid picture of the world's remarkable creatures and landscapes utilizing only music and natural sounds.
Ray Mia, album co-producer, added: "Music is all about telling stories, so it was a natural next step for our immersive recording team to utilise music, technology and psycho-acoustic storytelling techniques to create a new form of all-embracing musical experience, pairing creativity with cutting-edge spatial audio techniques to explore narratives in a fresh and compelling way."
"With immersive sound systems becoming increasingly popular and binaural technologies enabling us to deliver a similar experience using ordinary headphones, artists from every genre are embracing this new toolkit and using it to add a whole new dimension to their work."
To allow listeners to enjoy the album's immersive surround sound environment irrespective of the digital playback device they use, The Immersive Experience is to be released in two editions tailored for playback on either stereo headphones (Binaural) or a home cinema surround sound systems (Dolby Atmos®).
The Binaural Edition, which utilises state-of-the-art 29th Order ambisonics to create an immersive psycho-acoustic experience that can be enjoyed using any pair of ordinary good quality headphones, will be released in the United States on iTunes on September 21.
A limited edition Atmos Edition, crafted for use on any Dolby Atmos® or Dolby TrueHD 7.1 or 5.1 enabled home cinema surround sound system, will simultaneously be released on the US market in disk format via Amazon.com.
The Immersive Experience album is the world 1st immersive:
• Audio music & effects digital album digitally to be commercially released.
• Binaural digital album to be commercially released (in 29th Order encoding no less!).
• Classical music album to be commercially released simultaneously in both Dolby Atmos® and Binaural Editions and as both physical disc and digital formats.