A CLOCKWORK ORANGE Producer Si Litvinoff Passes Away at 93
Litvinoff passed away peacefully on Monday, December 26, 2022, in Los Angeles, California.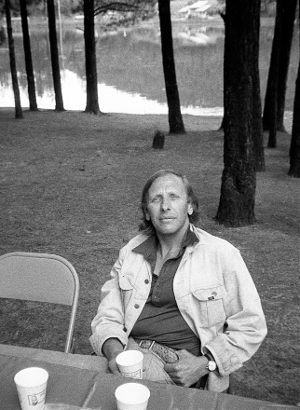 Si Litvinoff, the visionary producer whose foresight in cinema art led to perennial classics such as Stanley Kubrick's "A Clockwork Orange," starring Malcolm McDowell, Nicolas Roeg's "Walkabout" with Jenny Agutter, "The Man Who Fell to Earth," starring David Bowie, the recording of the second Glastonbury Fayre festival, "All the Right Noises," and Frank Simon's "The Queen," passed away peacefully on Monday, December 26, 2022, in Los Angeles, California. He was 93.
Si was born on April 5, 1929. in New York to Rose Levine Litvinoff and Samuel Litvinoff. He attended Adelphi College and received his law degree from NYU in 1954. His stage productions include "I and Albert" directed by John Schlesinger and on Broadway "Hail Scrawdyke" ("Little Malcom And His Struggle Against The Eunuchs") a film version was later produced by George Harrison, and "Leonard Bernstein's Theater Songs". He served as Senior Executive in Charge of Production for Harry Nilsson and was Executive Producer of the Doobie Brothers HBO special "Listen To The Music."
His clients as a lawyer included Andy Warhol, Jim Dine, Jack Youngerman, Terry Southern, Timothy Leary, Joel Grey, Orson Bean, Rip Torn, and Alan Arkin.
Mr. Litvinoff was a member of the Academy of Motion Picture Arts and Sciences, a member of its foreign language screening committee and a judge in its Nichols Fellowship competition.
Si had a passion for collecting art and was a connoisseur of wine and champagne. He will be remembered for his quick wit, the most memorable of parties, and his love of entertaining friends with stories of his fascinating experiences.
Si was the loving father of Ian and Bram Litvinoff and is also survived by his stepdaughter Gittel Gladwin, and grandson Alek Litvinoff.
A service is being organized and will be announced in the new year.
ABOUT SI LITVINOFF
Si Litvinoff's motion picture credits as producer or executive producer include Stanley Kubrick's A Clockwork Orange, Nicolas Roeg's Walkabout and THE MAN WHO FELL TO EARTH starring David Bowie, Roeg's documentary of Glastonbury Fayre, All the Right Noises, Frank Simon's The Queen, and in 2009 as executive producer of Sam Bozzo's Blue Gold. He produced six theatrical stage productions.
In a five-year period from late 1967 until 1971 his production credits included four of the above-mentioned motion pictures as well as one Broadway Stage production directed by Alan Arkin and a London west end stage musical directed by John Schlesinger.
In 1968, his first film, the drag documentary The Queen, opened to rave reviews and broke box office records in New York and was invited to screen at the Cannes film festival that year. The documentary covered a "Miss America contest" at Town Hall in Manhattan, where alll of the contestants were, in fact, drag queens. The judges of the contest included: Andy Warhol, Terry Southern, Jim Dine, Larry Rivers, George Plimpton, Bruce Jay Friedman, Jerry Lieber (Lieber and Stoller) despite the then shocking aspect of the film, it was almost unanimously applauded for its courage and sensitivity. In his autobiography Roman Polanski refers to it as "the talk of the festival." Roger Ebert said "a gutsy, funny, pathetic, really very moving documentary, " and the New York Times described it as "funny and inspired" and New York magazine's Judith Crist described it as "a beautiful and beautifully made film" and included it, as did several other film critics, on her list of "the 10 best films of 1968." Critic Martin Gottfried commented "made with an INTELLIGENCE so sensitive and secure it never needed to underline a right attitude... superb!"
His second film, made in England where he then resided was All the Right Noises which starred Olivia Hussey in her first film after starring in Franco Zefferelli's Romeo and Juliet, Tom Bell and Judy Carne, and included seven original songs created and performed by Melanie. The film was honored in 2009 by the British Film Institute as "One of the 5 best overlooked British films of the '60s." Reviews included several notable quotes: "one of the best pictures of the year-touched with a genius of understanding" and from others of various British press film critics came "deserved all the raves, " "don't miss it!", "One of the most attractive things to happen to British films in years" and "one of the most original and honest British films to emerge during the last few years."
Litvinoff acquired the rights to the Anthony Burgess novel A Clockwork Orange in 1965 and while developing it with screenplays by Burgess and by Terry Southern, among others, he pursued Stanley Kubrick all those years to direct it until 1970 when Litvinoff announced that Max L. Raab had agreed to finance the film with Mick Jagger in the lead role and Nicolas Roeg to direct. When the news broke Kubrick finally decided to direct it.
Litvinoff made a deal with Warner brothers for them to finance the film and got Max L. Raab, who was going to provide one million dollars for the Roeg/Jagger version, to use the original million to produce Walkabout to be directed by Nicolas Roeg in Australia.
Walkabout, released in 1971, was the British entry in competition at the 1971 Cannes Film Festival and Roeg, who was also cinematographer, was nominated as best director.
Now considered a classic film it received virtually unanimous rave reviews and was on many film critics lists of "the best films of 1971" including Rex Reed who raved "one of the most beautiful films I have ever seen, " and Richard Schickel of Life [Time?] magazine as "the richest and most provocative of recent films." Said Jack Kroll of Newsweek "a film of subtlety and lyric beauty" and Bernard Drew of the Gannet newspapers syndicate wrote "Walkabout is as close to being a perfect film as you are going to see...a work of art-an extraordinary achievement." And there was much praise for composer John Barry's score for the film. Rod Stewart's hit "Gasoline Alley" is heard in the film.
In 1971 at the personal request of Arabella Churchill (Granddaughter of Sir Winston Churchill) , who was presenting "the Glastonbury Fayre" festival, he assembled a film crew and produced, with Nicolas Roeg directing, a film of the event. This first festival of the so-called 'English Woodstock' goes on annually to this day. The film of "the Glastonbury Fayre 1971" was released on DVD in 2009.
In 1975 he was the executive producer of The Man Who Fell to Earth. The film was directed by Nicolas Roeg and starred David Bowie in his feature film debut, Rip Torn, Candy Clark and Buck Henry. It was adapted by Paul Mayersberg from the novel by Walter Tevis. Says Richard Eder of the New York Times: "Beautiful science fiction. There are quite a few science fiction movies scheduled to come out in the next year or so. We shall be lucky if even one or two are as absorbing and as beautiful as The Man Who Fell to Earth. Variety said, "Stunning stuff throughout...a sort of earthbound 'Space Odyssey' with Clockwork Orange undertones." Felix Barker of the London evening news claimed it "the best science fiction I have ever seen, " with the London Financial Times declaring "a veritable skyscraper of a movie-a stunning film, " and John Wasserman of the San Francisco Examiner celebrated THE MAN WHO FELL TO EARTH as "like a Picasso painting or a novel by Joyce!" Judith Crist of the Saturday Review said, "eye-filling, mind-boggling, one of the most interesting science fiction films of recent years." And a stunned Charles Champlin of the Los Angeles Times emitted "dazzling."
All but A Clockwork Orange and THE MAN WHO FELL TO EARTH were financed as independent films and later acquired by distributors.
Litvinoff also acquired rights to the novels Out of Africa by Isaak Dinasen and Henderson the Rain KING by Saul Bellow, and The Stars My Destination and The Demolished Man, both by Alfred Bester and The Diceman by Luke Rhineheart, among others, and developed the projects though not through production.
His theatrical productions included John Schlesinger's directed musical I & Albert written by Jay Presson Allen, with musical score by Charles Strouse and Lee Adams, with choreography by Pat Birch in London's West End , which critics described as "the biggest and most spectacular musical of them all" and "the best musical ever to come out of London."
Alan Arkin directed the English play "little Malcolm and his struggle against the eunuchs" (re-titled 'all hail Scrawdyke' for Broadway) on Broadway. Plays and players, the magazine of the English theatre described it as "far and way the best play on or off Broadway, " says the Hollywood reporter "a compelling and hypnotic drama". The plays author, David Halliwell was hailed by several publications as 'best new playwright' and Austin Pendleton, one of the five-member cast, received the CLARENCE York newspaper critics. The play was co-financed by the Beatles company 'apple' which later financed a film version of the play that was produced by George Harrison. Associate producers for the Broadway version were rock & roll legends Leiber and Stoller. Litvinoff's other theatrical productions include "Leonard Bernstein's "theatre songs, " Lonny Chapman's "cry of the raindrop" which William Saroyan described as "a great American play - a classic!" while Eli Wallach described Lonny Chapman as "an exciting and important new American playwright." and several others off-Broadway including a revival of David Belasco's" the girl of the golden west" starring Chester Morris.
Litvinoff left the law firm of Barovick, Konecky & Litvinoff after twelve years of law practice and business management in New York City to produce plays and later to produce motion pictures.
Among the celebrated for whom he provided his services were artists Andy Warhol, Jim Dine, and Jack Youngerman, writers Terry Southern, Jack Gelber, Richard Seaver, Sabine Destre, Lonny Chapman, Timothy Leary, actors Joel Grey, Beatrice Arthur, Orson Bean, Rip Torn, Alan Arkin, Delphine Seyrig, Valerie Harper, Nicol Williamson, Zoe Caldwell, producers Lucille Lortel (Theater de Lys) , Ted Mann (Circle in the Square) , the Roundabout Theater Company, the Establishment Theater Company (Dudley Moore, Peter Cook, Sybil Burton) the Sullivan Street Playhouse Company, directors Shirley Clarke, Gene Saks, Lewis Clyde Stoumen, folk singer Caroline Hester, composer/ arranger Peter Matz, production designer Mel Bourne, costume designer Willa Kim, agents Peter Witt, Toby Cole and Ninon Tallon Karlweiss, Grove Press and the Paris Review. He also represented the Theater Studio of New York, the Cecilwod Playhouse in Fishkill, NY (where Dustin Hoffman, Barbra Streisand, Peter Fonda, Ron Rifkin and many others got their starts), Cafe Society Downtown, the Limelight, and more than 50 theatrical productions.
From 1987-88 he was senior vice president of production for Harry Nilsson and Terry Southern's Hawkeye Entertainment Co., and with Harry Nilsson was co-executive producer of the Doobie Brothers HBO TV special and long-form video Listen to the Music & the annual Saturn Awards TV special.
He has also been a personal manager to several motion picture, television and music celebrities including award-winning actress Piper Laurie (The Hustler, Carrie, Children of a Lesser God), French film star Delphine Seyrig (Last Year in Marienbad, The Discreet Charm of the Bourgeoisie), folk singer Caroline Hester, British award-winning motion picture and televison writer Troy Kennedy Martin (The Italian Job, Edge of Darkness) and Oscar award-winning lyricist Will Jennings (My Heart Will Go On from Titanic, Up Where We Belong) and others.
And hit song composer Richard Kerr (Mandy, Looks Like We Made It, Somewhere in the Night) and French singer/songwriter Nicholas Peyrac (Why Do All the Good Times Go Away and There's a Plane Forever Leaving).
The classic anthology Writers in Revolt is dedicated to him by Terry Southern, Richard Seaver and Alexander Trocchi, and The Kill Bill Diary by David Carradine is also dedicated to him by the author.
In the 1960s he was on the board of directors of the Billie Holiday Foundation along with Leonard Feather and its creator Elaine Lorrilard, and on the board of advisors of the Museum of Early American Folk Art. In 1982 he cofounded the World Organization of Wine and still serves as senior executive vice president.
A member of the Academy of Motion Picture Arts and Sciences and a member of its foreign language screening committee and a judge in its Nichols Fellowship competion.
He graduated with honors from Adelphi College which he attended on athletic scholarship and was a letter man for basketball and lacrosse. In 1951 he was assistant coach of Varsity basketball at Adelphi. He graduated from NYU Law School in 1954 and admitted to the New York bar in 1955.
He is survived by his two sons Ian Litvinoff and Bram Litvinoff, stepdaughter Gittel Gladwin, and grandson Alek Litvinoff.