iDreamMachine & Paladin Announce Nationwide Theatrical Release of BILLBOARD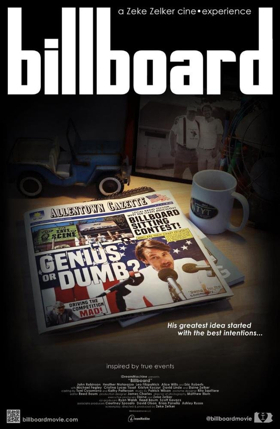 Filmmaker Zeke Zelker ("InSearchOf," "Loggerheads"), under his iDreamMachine production banner has joined forces with Mark Urman's Paladin to bring his latest film, "Billboard," to cinemas nationwide in over 25 markets beginning on April 5th, 2019. Zelker wrote, directed and produced "Billboard," which stars: John Robinson ("Elephant," "Lords of Dogtown,"), Heather Matarazzo ("Welcome to the Dollhouse," "The Princess Diaries"), Eric Roberts ("The Dark Knight," "Grey's Anatomy"), Leo Fitzpatrick ("Kids," "Bully"), Darlene Cates ("What's Eating Gilbert Grapes," "Picket Fences"), and Oakes Fegley ("Pete's Dragon," "This is Where I Leave You"). The film will expand to additional multiple major markets nationwide.
"Billboard" transcends the "normal" movie going experience in that its content can be consumed in a number of ways and on different portals. The story, premise, and characters from the feature film can also be enjoyed via live events, a web series, social media, and a virtual radio station. Zelker calls this a "cine•experience," and plans to entertain audiences with multiple narratives, told across various platforms, allowing viewers to be enveloped in a richer storytelling experience.
The underlying feature film, "Billboard," which begins its nationwide theatrical run on April 5th, 2019 in New York, Los Angeles, and Philadelphia, (expanding to over 25 markets on in the month of April alone). "Billboard" focuses on a struggling radio station in Pennsylvania that hosts a billboard-sitting CONTEST in a last-ditch attempt to stay on air. Zelker has also created a twenty-five episode web series that follows a day in the life of the four contestants, "The Billboard Sitters," which will be available to digital audiences as of February 1st, 2019. He has also created a virtual radio station, WTYT960.com, that parallels the station portrayed in the film and features the music of over a thousand bands from twenty-two countries and forty-nine states. The radio station promotes the participating bands who, in turn, will be promoting the film. Zelker used this sort of mutually beneficial interaction throughout the filmmaking process whereby people created submission videos for the CONTEST as a casting tool, where some were included in the movie, blurring the lines between reality and fiction. Additionally, Zelker and his team will be hosting live events around the country sponsored by the fictitious radio station WTYT 960
"We're excited to be sharing "Billboard" in cinemas across the country, doing pop-up events at various theaters. We want to make the movie going experience fun again. In every twist and turn of this project we want to entertain people in different ways," states Zelker.
Urman adds, "Billboard deftly blends comedy and drama in showing us the extraordinary things that ordinary people do to get by in today's America. Zeke has created a trenchant commentary on the way we live now, made all the more exciting because he's presenting it in such a strikingly contemporary way."
A long-time pioneer in what has been called "transmedia" entertainment, Zelker is committed to changing the face of film. The "Billboard cine•experience," tells variations of its story in different ways per medium, which is something unique and not yet fully embraced by the mainstream movie industry. Zelker explores multiple sides of the narrative and is unafraid to push traditional boundary lines between truth and fiction; all while enabling audiences to become a part of the story.
In "Billboard," Casey Lindeweiler (Robinson) inherits WTYT 960 from his legendary radioman father only to discover that it's on the brink of financial collapse. To right the sinking ship, Casey pulls out the oldest trick in radio, the wacky contest. His grand plan is to host a billboard sitting CONTEST where four people will live on a catwalk in front of a billboard for the chance of winning a mobile home and "nine-sixty thousand" dollars. Unprepared for the spotlight, Casey rises to the challenge of running a business but is faced with RELENTLESS attacks from his competition (Roberts), the local authorities, the media, and mother nature herself. Casey struggles to keep his father's legacy alive while fighting to stay independent. "Billboard" is inspired by an actual billboard-sitting CONTEST Zelker recalls from his youth.
Related Articles View More TV

Stories