Review: Oh Goddess, Bellini's NORMA Returns to the Met
Yoncheva, Gubanova, Spyres, Van Horn, Lead Exciting Performance of Masterwork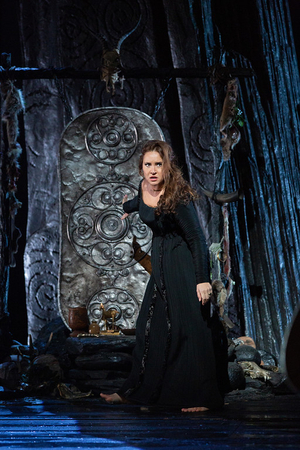 You've got to admit that the Met had a lot of guts to dedicate this season's performances of Vincenzo Bellini's NORMA (libretto by Felice Romani) to the memory of Maria Callas on the 100th anniversary of her birth. With all due respect to famed singers of the past like Lilli Lehmann and Rosa Ponselle and, more recently, Joan Sutherland and Montserrat Caballe, no one's performance in the Bellini opera cast the kind of shadow that Callas's did. It was simply one of the most legendary portrayals, by a fabled singer. Period.
So to put soprano Sonya Yoncheva in the path of that Mack Truck of performance history was a triumph of chutzpah over common sense, but Yoncheva--and her costars--pulled it off with aplomb and made the Met audience very happy indeed. If it wasn't a performance for the history books, it was a solid one. And that's quite a bit to say about a performance of NORMA because it's a killer of an opera.
It has love, betrayal, and just about everything else--including a wonderful (but treacherous) score, of course, conducted understandingly by Maurizio Benini with the Met orchestra--that any good opera needs to leave the audience begging for more. Naturally, that also includes a soprano in the title role who is willing to go anywhere and everywhere the opera demands.
The artist in the title role has barely time to warm up before she gets to sing one of the greatest--and most difficult--arias in the repertory: "Casta diva," a prayer to the moon goddess asking her for peace. There have been performances that were more buttery and legato, but certainly none more sure of itself and alert to the needs of the aria. In the long, challenging work, Yoncheva showed that she's a singer to relish.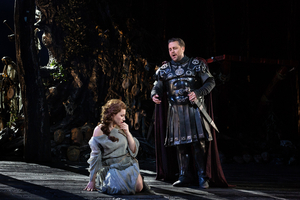 Yoncheva had a good foil in the mezzo Ekaterina Gubanova, rich and smart in her singing, whether she was singing in the opera's brilliant duet, "Mira, o Norma," or in the trio with (bari)tenor Michael Spyres as Pollione, who both of the women love.
Gubanova and Yoncheva may not have made it all the way through their duet unscathed (the slower first part was better than the cabaletta), but they certainly acted like they were two people who knew and understood each other. Maybe we needed to see more of a physical connection between them, as Sutherland and Marilyn Horne were shown grasping each other's hands.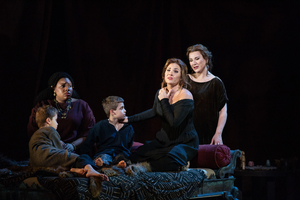 When Spyres made his entrance early in the opera, I was a little concerned that he was in some kind of vocal distress, with his voice sounding rather rough and lacking in finesse in his introductory aria. Happily, that cleared up and he was fine before the opera went on too long. He was able to show us that Pollione was truly a man in love, though not with the woman who most demanded it, and he pulled off the duality of the role convincingly.
Spyres has that quality to his voice that is often attributed to the best Italian singers--that "ping"--as well as the ability to bring off the demands at both ends of his voice in a way that show that the label "baritenor" is not just a gimmick but the real thing when describing him.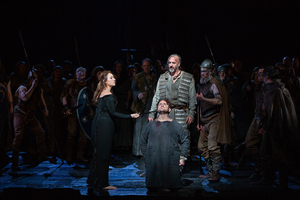 The last of the quartet of principals was that fine bass-baritone Christian Van Horn, as Norma's father, Oroveso, who didn't hesitate about showing us the most base part of his personality, as he seemed to relish in the thought of defiling the conquering Romans. His towering figure and commanding voice were startlingly impressive, yet was also convincing when he needed to yield to Norma's request to watch over her children when she knew her death was inevitable.
Tenor Yongzhao Yu, in his Met debut as Flavio, and soprano Brittany Olivia Logan, in the role of Clotilde (once, long ago, the role of Sutherland's Covent Garden debut), did fine work as the companions of Pollione and Norma, respectively, both small but key roles. One would be negligent not to mention the wonderful work of the Met chorus under Donald Palumbo.
I can't say I am a big fan of David McVicar's production, staged this time around by Eric Sean Fogel (who at least kept the troops from colliding). That includes Robert Jones's scenic design--with Norma's home looking like a giant, overturned bird's nest, with no sense of scale, and her trip to the pyre in the finale left to our imagination, being two of the more egregious elements--the overly dark lighting by Paule Constable, and the muted costumes by Moritz Junge.
As always with this opera, you can forgive the sins of the production when the singing is good--and Yoncheva and company certainly lived up to that.
Further Met performances of NORMA will continue through the matinee on March 25 at 12pm EST. For more information, see the Met's website.