Review: Met Audience Tips Its Hat to FEDORA on New Year's Eve
Yoncheva, Beczala and Feola Lead New McVicar Production of Rarely Seen Giordano Work, Conducted by Armiliato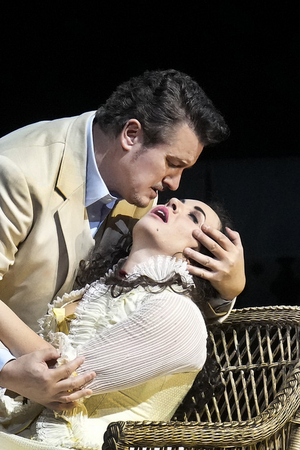 Musicologist Joseph Kerman is probably most widely remembered for calling Puccini's TOSCA "a shabby little shocker." I wonder whether he'd have something similar to say about Giordano's FEDORA, which brought the Met audience to its feet on New Year's Eve?
The two works are based on source material provided by French playwright Victorien Sardou (a favorite of Sarah Bernhardt), though TOSCA had a little more meat on its bones, with a little more wit and style. TOSCA's also much easier to follow, despite, perhaps, a lack of connective tissue from act to act.
The paucity of cohesion didn't seem to matter much to the audience on Saturday night's gala premiere of the 1898 work that had its debut in Milan, conducted by the composer, who also has ANDREA CHENIER to his credit.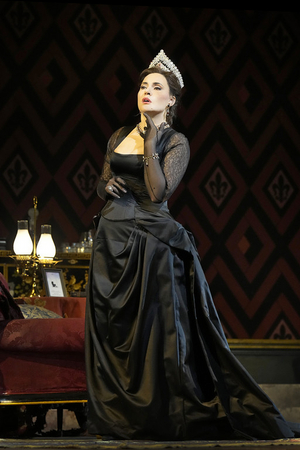 Soprano Sonya Yoncheva in the title role (Princess Fedora Romazoff) and tenor Piotr Beczala as Loris Ipanov, who killed the princess's fiancée but nonetheless becomes her lover, were in fine form, sounding forceful and full voiced and perfectly at home with the material. The soprano, in particular, seemed more at home in the title role than in any other recent performance I've heard from her at the Met.
They were ably assisted by soprano Rosa Feola, as Fedora's cousin Countess Olga, who, for me at least, was shown to better effect than she was in her heralded turn as Gilda in the debut of the current production of RIGOLETTO, showing personality and verve, as well as a lovely voice. Others in the cast were Richard Bernstein (Boroff), Scott Scully (Rouvel) and Lucas Meacham (De Sireix).
The result: The opera seemed to supply the audience with a helluva good time, despite a plot that even left the creators of the production scratching their heads, as detailed in a New York Times feature a couple of days earlier, and enough melodrama for a half-dozen silent movies. (It made me long for the days before subtitles came to the Met.) The production's creators made much of the difficulties those involved seemed to have making sense of Colautti's libretto
When the overture began, with the Met orchestra in fine fettle under Marco Armiliato, I thought we were in for a Puccini wannabe--not the worst way to pass an evening. Later, however, Giordano seemed to forget where he was heading and the orchestra sounded like it had taken a detour to the Highlands and I half-expected the curtain to reveal the choristers (ably led, as always, by Donald Palumbo) dressed in kilts as a Scottish Guard.
David McVicar's production had an ornate but generic set by Charles Edwards that could have served up a TRAVIATA on an off night, with lighting by Adam Silverman, and gorgeous, over-the-top costumes by Brigitte Reiffenstuel (particularly for Yoncheva).
It seemed a fitting farewell to the good old days. I wonder how many more we'll see like this (even the upcoming DON GIOVANNI has a stark, brutalist look to it), now that the Met's planning to skew its productions toward contemporary works like THE HOURS, FIRE SHUT UP IN MY BONES and opening night next season, DEAD MAN WALKING. (And, perhaps, how long it'll take to see an about-face...?)