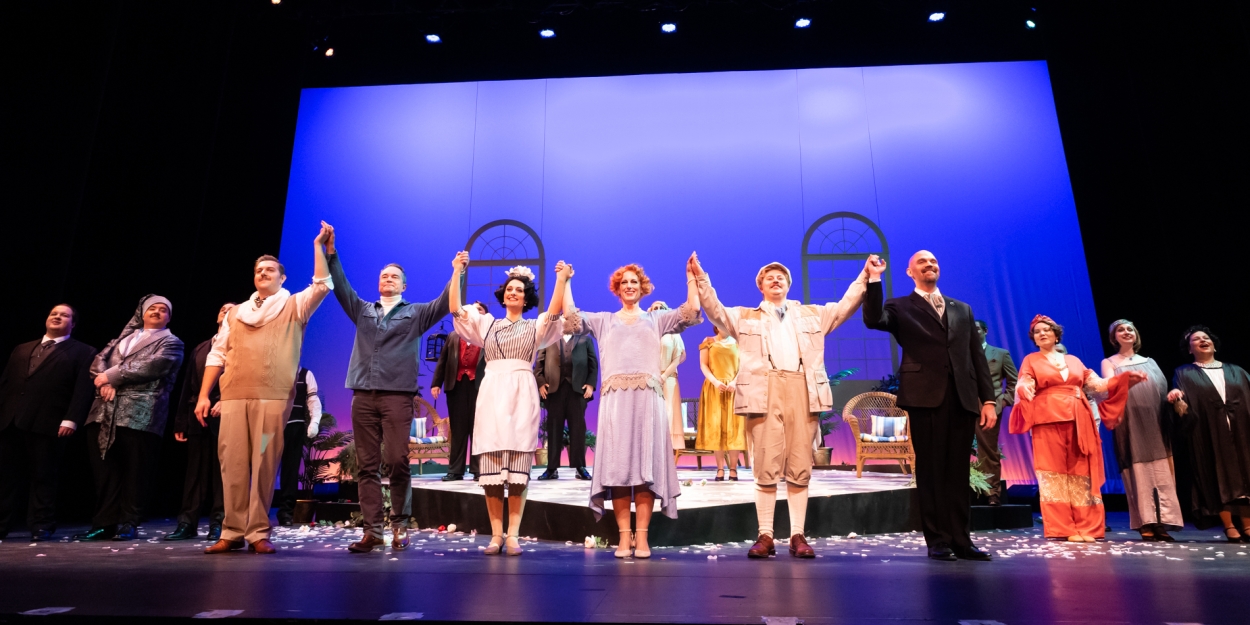 Review: LA RONDINE at Winter Opera
Winter Opera's production played November 18 - 20
When you're feeling sentimental there's nothing like Puccini.
Winter Opera has presented a truly gorgeous production of Puccini's La Rondine (The Swallow). Puccini is the supreme master of romantic melody, and in Rondine he outdoes himself. I love this opera, my heart having been beguiled early by one lilting, gently syncopated romantic waltz refrain that recurs again and again like the memory of a distant sweet infatuation.
The design elements of this production embrace the tone of Puccini's opera more perfectly than one could ever imagine. It's a tone of nostalgic romance. Scenic Designer Scott Loebl and Lighting Designer Michael Sullivan give us quite the perfect atmosphere for a Parisian mansion, a Left Bank restaurant, and a villa on the Riviera. They are simplified, uncluttered, with always a vast cerulean sky as background. Costumer Amy Hopkins dresses the cast exquisitely and in rich variety in the comfortably artsy high fashion of the early 1920's. Lights, set, costumes all display a deft coordination of color--softly romantic in support of Puccini's music.
Stage Director Eric Gibson works wonders in uniting all these design talents and in his blocking--the movement of the actors. Such care is taken with each tiny moment. In the large scenes (Acts 1 and 2 where the stage is full of people and movement) Gibson so gracefully manages to place each person just where they should be at just the right moment--and all so naturally. This director is so sensitive to every emotional turn. His is a rare gift.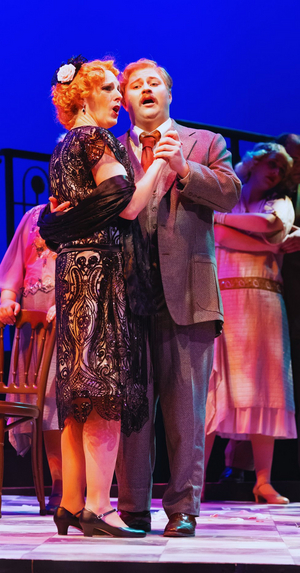 In Act 1, in a very classy soirée, we meet Magda, a woman most comfortably "kept" by the wealthy Rambaldo. We meet the poet Prunier who is the lover of Magda's flirtatious maid, Lisette. As a poet, of course, he can't afford to marry someone as poor as Lisette--but he loves her.
Love is back in fashion in Paris, and the party talk about the nature of love kindles in Magda a nostalgic yearning for the kind of love she knew in her youth--before her life became filled with all the money and fashion and cynicism. Hey presto! In comes a country boy-the handsome, innocent Ruggero, the son of an old friend of Rambaldo. In the crowd he's scarcely aware of Magda.
In an after-party at a restaurant popular with students and artists--the very restaurant where she first fell in love-Magda and Ruggero meet and, of course, fall in love. Shades of Traviata, she leaves her rich protector for a life of true love in the country (well, in a villa on the Riviera).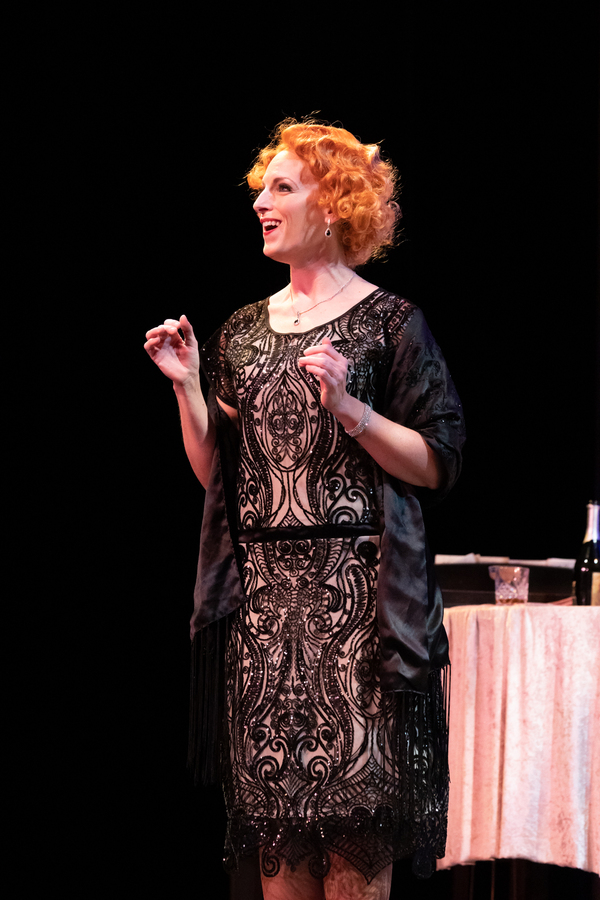 But when Ruggero proposes marriage (and children) she realizes that her past would bring shame to his family--and so she leaves him. Like the swallow, who migrates toward the sun-but always returns--she goes back to her loveless life in Paris.
Karen Kanakis brings a superb voice and diction, as well as striking vitality and stage presence to the role of Magda. She has become quite a star in St. Louis opera, with recent fine performances in leading roles in Suour Angelica, La fanciulla del West, and Falstaff one after another.
Ruggero is sung by Nathan Schafer whose strong clear tenor voice is perfect for the role. Nicholas Huff sings Prunier, the poet. He fills the role not only with his fine voice, but with a lovely facility with all the wit and humor it demands. Lisette, the maid, is sung by Lauren Nash Silberstein, and she's an utter delight--fresh, quick, smart, and quite delicious. (And when she borrows her mistress' clothes for the evening she "cleans up real nice.")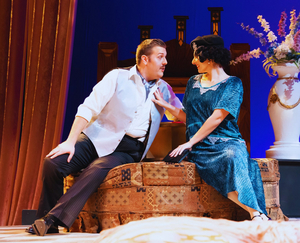 Rambaldo is sung by baritone Jacob Lassetter. Rich in voice, bald, with a trim beard, he resonates power and the confidence that comes with old wealth-but he also shows the gentleman's restraint appropriate for the role.
The smaller roles are all overflowing with vocal talent to treat your ear. But let me mention just one who will utterly capture your eye: Charles McCall, as Crebillon, is grace incarnate. His every move, his every posture, seated or standing-is naturally, subtly beautiful.
Scott Schoonover conducted the excellent orchestra into the very essence of romantic Puccini.
Winter Opera's production of Puccini's La Rondine played at the Kirkwood Arts Center November 18 and 20th. It was sponsored by Mary Pillsbury. And it was quite perfect.
(Photos by Rebecca Haas)