Opera Memphis Announces Trio Of Honors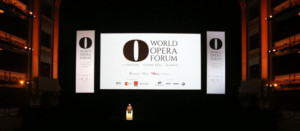 After finishing another exciting Midtown Opera Festival, Opera Memphis is celebrating success on both the national and international stage. The company's innovative programming and community engagement efforts earned General Director Ned Canty a coveted seat as North American delegate to the first World Opera Forum, OPERA America announced that it will fund expansion of the McCleave Project, and the NEA has awarded Opera Memphis its highest level of support, an Art Works grant.

"All three of these share a common theme, and that is innovation" says Opera Memphis General Director Ned Canty. "The World Opera Forum was a chance to share our model with colleagues from across the globe, and the OPERA America and NEA support will allow us to continue innovating."

The World Opera Forum took place April 12-15 in Madrid. Opera America and Opera Europa selected the delegates from their member organizations, convening a small group of leaders representing companies from North and South America, Europe, Asia, Africa and Australia. The forum focused on four topics - opera's cultural heritage, new work, audience diversity, and advocacy. Industry leaders in each area were invited to lead discussion.

Canty was invited to speak about opera advocacy, discussing ways companies can make the case for their public value in a democratic society. He was selected based on Opera Memphis' groundbreaking community engagement and outreach work, in particular 30 Days of Opera and the McCleave Project. It is, therefore, no coincidence that those two projects are the primary focus of the other exciting pieces of Opera Memphis news: the recent announcements of support from the National Endowment for the Arts and OPERA America.

National Endowment for the Arts Chairman Jane Chu has approved more than $25 million in grants as part of the NEA's first major funding announcement for fiscal year 2018. Included in this announcement is an Art Works grant of $25,000 to Opera Memphis to fund its signature program, 30 Days of Opera. The Art Works category is the NEA's largest funding category and supports projects that focus on the creation of art that meets the highest standards of excellence, public engagement with diverse and excellent art, lifelong learning in the arts, and/or the strengthening of communities through the arts.

"It is energizing to see the impact that the arts are making throughout the United States. These NEA-supported projects, such as 30 Days of Opera, are good examples of how the arts build stronger and more vibrant communities, improve well-being, prepare our children to succeed, and increase the quality of our lives," said NEA Chairman Jane Chu. "At the National Endowment for the Arts, we believe that all people should have access to the joy, opportunities, and connections the arts bring."

In addition to this NEA support, Opera Memphis has secured funding though an OPERA America Innovation Grant (funded by the Ann and Gordon Getty Foundation) to expand its McCleave Project. Innovation Grants support exceptional projects that can strengthen the field's most important areas of practice, including artistic vitality, audience experience, organizational effectiveness and community connections.

"Thanks to the profound generosity of the Ann and Gordon Getty Foundation, our member companies have received support to explore new strategies and experiments - to expand the boundaries of their current practices and nimbly adapt to an ever-changing field," stated Marc A. Scorca, President/CEO of OPERA America. "These grants benefit more than just the recipients; through the lessons learned, companies throughout North America will be able to replicate and adopt good ideas, and ultimately contribute to a stronger art form."

With these funds, Opera Memphis will expand initiatives organized around the legacy of African-American soprano Florence Cole Talbert-McCleave. Working with Latino Memphis, Opera Memphis will present Spanish language programming and facilitated community conversations with African-American and Latino communities in Memphis. In addition, 2018 will see the creation of a McCleave Fellowship for singers, directors, and coaches of color, the first of its kind. Through these efforts, Opera Memphis seeks to move beyond inherited opera traditions in partnership with the community.

"We are more excited than ever about the future of opera in Memphis." says Ned Canty, "With the support of the national and international opera community and our generous local supporters, we are better positioned than ever to make Opera Memphis the definition of a twenty-first century opera company."

Opera Memphis will celebrate these achievements and announce its 2018-19 Season at a concert on Sunday, April 29 at 3:00 at Clark Opera Memphis Center. Titled Looking Forward/Looking Back, it provides a look at exciting things to come. Tickets are $10 and may be purchased at operamemphis.org/omakase or 901.202.4533.
ABOUT OPERA MEMPHIS
Opera Memphis was founded in 1956 and has grown into a world-class opera company. Widely respected for its innovative approach to outreach and audience development, Opera Memphis has become a nationally recognized thought leader on the process of evolving to meet the needs of 21st century audiences. For more information on upcoming Opera Memphis performances, call 901-257-3100 or visit www.operamemphis.org. To keep up with the latest news and happenings, follow Opera Memphis on facebook.com/operamemphis or on Twitter as @operamemphis.