Grander Than Before, Opera Columbus and Columbus Symphony Bring RIGOLETTO Back to Columbus 
A "dream-like" collaboration between the Columbus Symphony and Opera Columbus allows for the grand return of a favorite Verdi opera.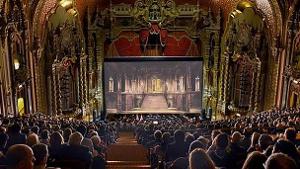 For the first time in nearly a quarter century, Rigoletto will return in grand scale to Columbus thanks to a remarkable collaboration between Opera Columbus and the Columbus Symphony at the Ohio Theatre March 31 and April 1. Sparked by a mutual passion for grand opera, epic staging, and Rigoletto in particular, Opera Columbus' Julia Noulin-Mérat and Columbus Symphony's Rossen Milanov and Daniel Walshaw worked together to bring forward the biggest production Columbus has seen in years.
"Working together has been an absolute dream," said Walshaw, Chief Operating Officer of the Columbus Symphony. "Julia, Rossen, and I shared a vision of bringing grand opera to Columbus, and we are over the moon to see this production come to life."
In addition to the collaboration between their two cultural organizations, Walshaw and Noulin-Merat have also found great support with the Columbus Association for the Performing Arts (CAPA). Rigoletto will bring the opera from its home base of the Southern Theatre to the Ohio Theatre, with a larger seating capacity and orchestra pit.
"We have a fantastic partner in Rossen, Walshaw, and the Columbus Symphony," said Noulin-Mérat, Opera Columbus' General Director + CEO. "Because of this, we're really able to expand the scale of the work here - everything is bigger, which is such a thrilling way to work. The sets and costumes are more ornate, we're able to bring in singers from The Metropolitan Opera, even the theatre itself is bigger."
A Verdi favorite, Rigoletto is set in the rich and decadent Italian Renaissance and features some of opera's most famous arias. Rigoletto, a cursed court jester of the lustful Duke of Mantua, obsessively protects his daughter, Gilda. But when Gilda falls in love with the man her father loathes, Rigoletto's thirst for vengeance and desperate attempt to stop fate bring about his own tragic undoing.
Milanov serves as musical director for the production, joined by Eve Summer as stage director. Milanov and Summer helm a cast including Aubry Ballaro, a District Winner in the 2022 Metropolitan Opera Laffont Competition, who makes both her Opera Columbus and role debuts as Gilda; Hyung Yun joins Opera Columbus for the first time singing the title role, which he recently covered at The Metropolitan Opera; and David Blalock, fresh off a run of Dialogues des Carmelites at The Metropolitan Opera, returns to Opera Columbus as the Duke of Mantua. The Columbus Symphony Orchestra plays both performances.
"We are thrilled to bring Eve Summer back as our stage director, following her incredible success and powerful storytelling with our Tosca last season," said Noulin-Mérat, "Our Maria de Buenos Aires was our biggest box office hit in 10 years and our Alice Tierney sold out in two days, this is a record-breaking season for us all in Columbus, making Rigoletto a must-see show of the year."
Rigoletto will be performed in Italian with English supertitles at the Ohio Theatre March 31 and April 1 at 7:30 p.m. Performances run approximately 2 hours and 20 minutes with one intermission. Ticket prices range from $9.84 - $88.50. For tickets and additional information, please visit https://cloud.broadwayworld.com/rec/ticketclick.cfm?fromlink=2230912®id=52&articlelink=https%3A%2F%2Fwww.operacolumbus.org%2Frigoletto%2F?utm_source=BWW2022&utm_medium=referral&utm_campaign=article&utm_content=bottombuybutton1.