BWW Reviews: RIGOLETTO is Another Triumph at Union Avenue Opera
Rigoletto
by Giuseppe Verdi
Union Avenue Opera
July 31, 2015
Review by Steve Callahan
The Union Avenue Opera continues its 21st season with a first-rate production of an old favorite, Verdi's "Rigoletto". Verdi had produced some fifteen operas, with varying success, before Rigoletto appeared in 1851, but it was only with this work that the world truly realized what an inexhaustible mother-lode of melodic beauty it had found in Verdi's genius. It is still his second most produced work (after "Tosca") and Verdi is still the most produced of all opera composers. So "Rigoletto" is a favorite among favorites-and deservedly so.
In this dark and brooding production all those treasured melodies are sumptuously revisited. The setting is Renaissance Mantua where Rigoletto is the hunch-backed jester-cum-procurer to the libertine Duke. The jester's one treasure in life is his beautiful daughter, Gilda. The girl is fresh from her convent school and Rigoletto guards her with jealous protectiveness against the dangers of the corrupt and decadent world which surrounds them. She is, in the "Gollum" sense, his "Precious".
The plot, from a story by Victor Hugo, is pure operatic melodrama at its most melodramatic. But no-one goes to "Rigoletto" for the plot; we go for the astonishingly beautiful music. And this production delivers that music superbly.
The very demanding title role is sung by Jordan Shanahan, who gave us that powerfully wicked Alberich in last season's "Siegfried." This production quite simply belongs to Mr. Shanahan. He triumphs! He's not a large man, but he wields a wonderfully large and powerful voice. The very space seems to fit it like a glove. I sat amazed as this beautiful voice ascended with ever-increasing power into the very heights of vengeful commitment. What's more, Mr. Shanahan is a gifted actor-physically quick and agile. He's capable of expressing these vast, operatically inflated passions with inescapable believability and truth. At the end his roaring grief is devastating. It's a glorious performance.
This splendid leading performance is supported by a large cast of very fine voices. Gilda is beautifully sung by Lacy Sauter, who sang that gorgeous Blanche in last season's "Streetcar Named Desire." Here she uses a tight, intense vibrato that conveys a lovely sense of trembling purity and innocence.
James Callon is excellent in the role of the villainous Duke. He sings with such ease. The entire role seems to be written precisely to his "sweet spot"-his tessitura. He even manages to persuade us that for a moment this debauched roué truly loves Gilda.
Patrick Blackwell brings a mighty baritone to the role of Count Monterone. When this outraged father of one of the Duke's victims calls out, "My voice will THUNDER!" it does indeed thunder wond'rously.
Sparafucile, the assassin, is given a strong, menacing performance by Mark Freiman. Kristee Haney does beautiful work as his sister, Maddalena. She moves as beautifully as she sings. Such a tempting wench!
The level of excellence carries through the smaller roles: Debby Lennon as Gilda's nurse, and Anthony Heinemann, Robert Garner, Andy Papas, Eleanora Benedict, Rebecca Hatlelid and Winston Sullivan as members of the court.
Among the many outstanding musical moments are:
The Act 2 duet between Rigoletto and Gilda ("Figlia Mio Padre!")
Gilda's duet with the Duke where her voice steps oh, so lightly around the Duke's melody-then intertwines with his voice.
Gilda's "Caro Nome"-again delicately stepping down the steps of pitch as she embraces the Duke's "beloved name."
The "Weep Child" duet ("Piangi Fanciulla") where Rigoletto consoles his daughter.
The Duke's song of seduction to Maddalena
That most exquisite of all operatic quartets, which this cast sings quite deliciously.
Rigoletto's duet with the dying Gilda ("Lassù in cielo"). Miss Sauter makes us believe that Gilda truly sees her mother waiting for her in Heaven.
I was particularly impressed with handling and performance of the large male chorus. I've rarely seen such detailed attention to a crowd scene. Always, from the grim orgy of the opening scene to the merry abduction to the scenes at court each man is a distinct individual with quite natural movement and motivation. And musically, of course, this chorus is very important for the opera-and very successful in this production. Stage director Tim Ocel deserves high praise.
The orchestra, conducted by Scott Schoonover, does lovely work. There were a few very special moments when the passionate celli seemed surprisingly close and intimate.
Scenic designer Kyra Bishop and lighting designer Paige Seber give us a world that bespeaks the moral squalor and corruption of its inhabitants. Dark and shadow-filled, the walls seem to be peeling from some abhorrent green-black leprosy. And yet this set, which seems so different, was built on the same infrastructure as that elegant Don Giovanni set. (Donors please note: Union Avenue Opera is using your money frugally but very effectively.)
Costumes by Teresa Doggett are beautiful and well-fitted. They add to the dark, dark, very dark look of this production. Verdi's use of an all-male chorus adds its own dark shade to things. I yearned for a little more contrast-some flash of light or color-but even the jester's motley is muted.
I'm so glad that this company sings in the opera's original language. With an opera such as this a minimally understood romance language serves as a rather effective shield for our modern minds against the patent melodramatic absurdities of the plot. (I mean, really! The girl, stabbed in the heart, stuffed in a sack and presumed dead revives long enough to sing a heartfelt duet with her father!) Without a literal understanding of the words we can relish the rich passion of the story-and receive it as one might receive an animal's beautiful howling at the moon, or the keenings, the ululations, the mourning chants which characterize primitive cultures. Literal understanding would only diminish-even taint-our belief in these passions.
In Union Avenue's splendid production you can embrace the passion and musical magnificence of Verdi's Rigoletto. It plays through August 8.
Photos courtesy of Union Avenue Opera and John Lamb.
A native Kansan I have a BA (Math and Theatre) and MA (Theatre). I was working on a PhD in Theatre when IBM sniffed my math background and lured me away with money enough to feed my (then two) chil... (read more about this author)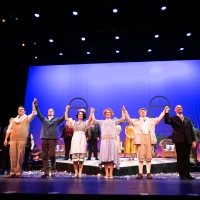 Review: LA RONDINE at Winter Opera

November 25, 2022

Winter Opera has presented a truly gorgeous production of Puccini's La Rondine (The Swallow). Puccini is the supreme master of romantic melody, and in Rondine he outdoes himself. I love this opera, my heart having been beguiled early by one lilting, gently syncopated romantic waltz refrain that recurs again and again like the memory of a distant sweet infatuation.
---
Review: THE GOOD SHIP ST. LOUIS at Upstream Theater

November 14, 2022

The world premiere of 'The Good Ship St. Louis' is beautiful, theatrical, stylish, poetic, rich. It's a gracefully told tale of doomed refugees.
---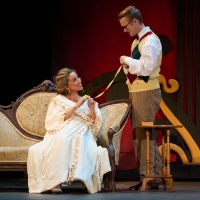 Review: A LITTLE NIGHT MUSIC at Union Avenue Opera

August 25, 2022

This, Sondheim's most charming work, receives a splendid production at Union Avenue Opera. Yesterday I mentioned to two of my kids that we'd just seen A Little Night Music. Now they had both memorized most of Sweeney Todd some forty years ago while in grade school or junior high, so I was appalled to find that neither of them was familiar with this earlier Sondheim masterpiece. What sort of wretchedly deprived childhood had we given them?!
---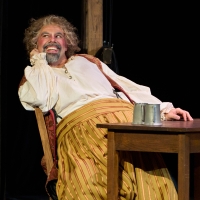 Review: FALSTAFF at Union Avenue Opera

August 1, 2022

Verdi's Falstaff is another glittering gem in the train of Union Avenue Opera. I'm not a big fan of 're-purposing' classic plays. Poor Shakespeare! He's been subjected to such vandalism over the years with modern 'concept' versions of his works. No, I do not want to go to see a trendy lesbian-Hamlet-on-Mars!
---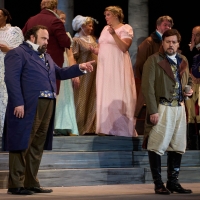 Review: EUGENE ONEGIN at Union Avenue Opera

July 11, 2022

Glorious voices fill Tchaikovsky's masterpiece with beauty. After the tribulations of the pandemic the Union Avenue Opera returns to its lovely home. Here, in the nave of the Union Avenue Christian Church, the company presents first-class opera up-close and intimate. They open their 28th season with a superb production of Tchaikovsky's Eugene Onegin.
---