Review: Will Albert Herring ever shed his innocence?
The Union Avenue Opera just gets better and better. As the opener for their twenty-third season they are presenting a simply splendid production of Benjamin Britten's Albert Herring.
As usual, the performance takes place in the nave of the Union Avenue Christian Church - so this is one of the most intimate venues for opera that you're likely to find.
Founder and music director Scott Schoonover has, as always, assembled a cast of superb voices. Among the many Union Avenue productions I've seen I don't recall a one where the quality of voices was more uniformly fine or more ideally chosen to fit perfectly one with another.
Benjamin Britten wrote fourteen operas and Albert Herring is the only comic one of the lot. The tale, taken from a story by Guy de Maupassant, concerns a small Suffolk village, Loxford. It's 1900 and the leaders of the town are meeting to select the girl who will reign as their annual Queen of the May. The wealthy and domineering Lady Billows is the festival's benefactor, and she rigidly insists that the chosen girl must be pure as the driven snow. One after another Loxford maiden is suggested, but Miss Pike, Lady Billows' keen and dedicated housekeeper, keeps up on every juicy morsel of village gossip; she quickly discredits each candidate for some shameful indiscretion.
What's to be done? Is there not a single virgin in Loxford? Well, there is one. But he's male! Innocent young Albert Herring is truly Virtue incarnate - but only because he has grown up under the oppressive thumb of his widowed mother. Nevertheless he is Virtuous. So why not a King of the May?
Scenic designer Kyra Bishop once again makes wonderful, imaginative use of the small stage. The downstage area is used for Lady Billows' home and for the May Festival Luncheon. Upstage we have the Herring green-grocery store. It took me a while to realize that what I was looking at was in fact a huge apple crate. What an inspired device! During the evening there is a little play with apples - a little theft, a chomp or two. It's a lovely motif, as this opera is itself like an apple - tasty, happy, crisp. And, of course, an apple is the very emblem of a fall from innocence.
The incomparable Christine Brewer returns to the Union Avenue stage as Lady Billows (a role she previously performed at Santa Fe Opera). She's a marvel - a gorgeous voice and a commanding stage presence.
Tenor David Walton sings Albert, and he captures all the frustration and shyness of this repressed innocent. Albert is chagrined at being chosen King of the May and we suffer with him as, dressed all in virginal white and with a crown of orange blossoms atop his straw boater, he fumblingly accepts the monetary prize. (In today's world this would be some $3,000.) Walton has the perfect voice for this role, and he's most impressive in Act 2, scene 2, which is almost completely his soliloquy. Alone in his shop, a little tipsy, he longs for some romance in his life.
There's a cast of thirteen. There are no real arias and there is no chorus, as such, but frequently we have nine or ten voices singing together, each with its own vocal line. The result is a cornucopia - or better a kaleidoscope of beautiful music. There is lovely complexity and counterpoint. When, in Act 3, the town wakes to find Albert missing - and assumes that he is dead - there is first a beautiful quartet and then a nine-voiced threnody of mourning - each principal soaring out in a brief solo over an almost chanting collection of other voices. Most beautiful indeed.
Nathaniel Buttram and Holly Janz sing Sid and Nancy who inspire Albert's envy at their open delight in the pleasures of love - and who naughtily pour some rum into his lemonade at the festival luncheon. Both are bright and attractive and perfect for these roles.
Debra Hillabrand as Miss Pike, Leann Schuering as the teacher, David Dillard as the vicar, Anthony Heineman as the mayor and Mark Freiman as the police superintendent all do splendid work. Mr. Freiman, with a bobby's helmet, a grand Victorian moustache and a beautiful comic swagger was another reason why I kept expecting someone to break out into a Gilbert and Sullivan patter song.
Janara Kellerman sings the role of Albert's mother most beautifully, and Gina Malone and Victoria Botero are delightful and convincing as village children. (They look so small!) They are joined by a real kid, Seth Drake, in various mischief - and in a charming singing lesson where Miss Schuering urges them to replace their dropped "H's". (Echoes of "The Rain in Spain".)
Stage director Tim Ocel, who has directed Doubt, The Queen of Spades and Rigoletto for Union Avenue, again shows sheer mastery of his art. Britten's music is programmatic in a very detailed way; a musical phrase will often correspond to a specific movement or gesture or to a children's game with a bouncing ball. Sid's whistling for his sweetheart is supported by an harmonic glissando on a violin. Mr. Ocel gives his actors just the right movement to embody such musical phrases.
Costumer Teresa Doggett again brings pure perfection to the dressing of these folk, and David Levitt's lighting is gracefully supportive but unobtrusive.
All in all Albert Herring is another gem in the glittering wake of Union Avenue Opera. It continues through July 15.
Photos by John Lamb
(This review was first published on KDHX, St. Louis.)
A native Kansan I have a BA (Math and Theatre) and MA (Theatre). I was working on a PhD in Theatre when IBM sniffed my math background and lured me away with money enough to feed my (then two) chil... (read more about this author)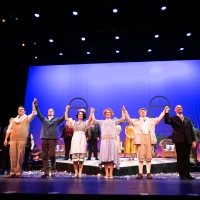 Review: LA RONDINE at Winter Opera

November 25, 2022

Winter Opera has presented a truly gorgeous production of Puccini's La Rondine (The Swallow). Puccini is the supreme master of romantic melody, and in Rondine he outdoes himself. I love this opera, my heart having been beguiled early by one lilting, gently syncopated romantic waltz refrain that recurs again and again like the memory of a distant sweet infatuation.
---
Review: THE GOOD SHIP ST. LOUIS at Upstream Theater

November 14, 2022

The world premiere of 'The Good Ship St. Louis' is beautiful, theatrical, stylish, poetic, rich. It's a gracefully told tale of doomed refugees.
---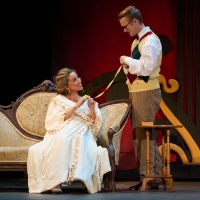 Review: A LITTLE NIGHT MUSIC at Union Avenue Opera

August 25, 2022

This, Sondheim's most charming work, receives a splendid production at Union Avenue Opera. Yesterday I mentioned to two of my kids that we'd just seen A Little Night Music. Now they had both memorized most of Sweeney Todd some forty years ago while in grade school or junior high, so I was appalled to find that neither of them was familiar with this earlier Sondheim masterpiece. What sort of wretchedly deprived childhood had we given them?!
---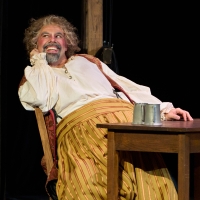 Review: FALSTAFF at Union Avenue Opera

August 1, 2022

Verdi's Falstaff is another glittering gem in the train of Union Avenue Opera. I'm not a big fan of 're-purposing' classic plays. Poor Shakespeare! He's been subjected to such vandalism over the years with modern 'concept' versions of his works. No, I do not want to go to see a trendy lesbian-Hamlet-on-Mars!
---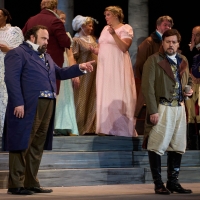 Review: EUGENE ONEGIN at Union Avenue Opera

July 11, 2022

Glorious voices fill Tchaikovsky's masterpiece with beauty. After the tribulations of the pandemic the Union Avenue Opera returns to its lovely home. Here, in the nave of the Union Avenue Christian Church, the company presents first-class opera up-close and intimate. They open their 28th season with a superb production of Tchaikovsky's Eugene Onegin.
---