Review: Utopia Opera Takes on Thea Musgrave's STORY OF HARRIET TUBMAN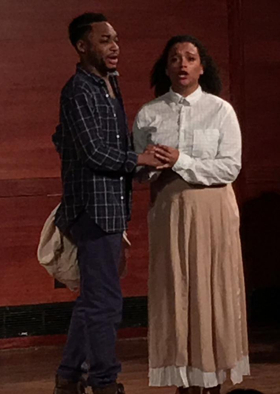 Short on financial resources but long on ambition, Utopia Opera started its eighth season in Hunter College's Lang Concert Hall with a stirring New York premiere: Thea Musgrave's THE STORY OF HARRIET TUBMAN, a 90-minute chamber version of her full-length, two-act HARRIET, THE WOMAN CALLED MOSES, which debuted in 1985 at the Virginia Opera. Musgrave specifically made the reduction, in 1993, with its excellent orchestration by composer Julian Grant, so that smaller companies could have access to the work.
This weekend's premiere--there are three more performances next weekend--was an interesting, semi-staged affair with some fervent portrayals by its cast of about two dozen, most notably the stellar soprano MaKayla McDonald as Harriet; mezzo Karmesha Peake as her mother, Rit; bass Virdell Williams as her father, Ben; and baritone Markel Reed as her fiance, Josiah.
Directed by Viktoria IV King, the performance featured an impressive musical ensemble under William Remmers, the company's Artistic and Musical Director, that gave the score its due. (You can hear the riveting Peake, with soprano Christine Lyons, on YouTube, in an excerpt from the opera as heard in Musgrave's 90th birthday concert on May 27.)
Musgrave wove her own versions of spirituals (eg, "Let My People Go" and "Swing Low, Sweet Chariot") into the a lyrical fabric of the piece. Leighton Kerner in The Village Voice called her style "lyricism for the post-Britten era" and, certainly in this instance, I heartily agree. This includes the use of a variety of styles, with the use of counterpoint for the singers and some fascinating writing for winds and cello particularly memorable.
While I am not familiar with the full-length version of Musgrave's opera--which has never been performed in NY--I found the story of Tubman's triumphs and tribulations as portrayed in the libretto (by Musgrave herself) to be riveting material, loosely based on Tubman's history. Nonetheless, I found the use of narration in various parts of the work to be cumbersome, detracting from the drama, even with a score as compelling as this one.
The story of the former slave who, at one time, had a $40,000 bounty on her head as an activist and conductor on the Underground Railroad, may seem an unusual subject for a Scottish-born musician to latch onto, but, in fact, Musgrave has lived in this country longer than in Scotland. As she told me when I interviewed her in May (during her birthday celebration), "You always are where you've come from--Scotland is still there for me, at my vast age--and it becomes parts of your personality, but you react to new things wherever you live."
She moved to Virginia in the '70s, when her husband, Peter Mark, founded the Virginia Opera and it opened up a new world for her. She told me that it not only provided the US debut for her opera MARY, QUEEN OF SCOTS but also gave her an introduction to the US racial politics of the time, which led to the opera about Tubman and the Underground Railroad. It also gave her insights into writing for the voice, which is certainly shown to great effect in the work being performed here.
"I never would have written 'Harriet Tubman' (that is, HARRIET, THE WOMAN CALLED MOSES) if I didn't live in America," she affirmed. "I think the important thing is to find your own individual voice that, hopefully, can speak to others."
In another of his "insights," the guy in the White House--while he was still vying for the Republican nomination--said that he opposed plans to replace former president Andrew Jackson with Tubman on the face of the $20 bill. According to The Guardian, he told NBC's Today Show that the move was an act of "pure political correctness"--a non-fact, if I ever heard one. He was probably trying to hold the place for himself.
###
Later in the season, Utopia will perform Gilbert & Sullivan's THE SORCERER (2/2019), Benjamin Britten's ALBERT HERRING (4/2019) and, notably, the New York premiere of SOME LIGHT EMERGES by Laura Kaminsky and librettists Mark Campbell and Kimberly Reed (6/2019).