Review: Oratorio Society Gives SANCTUARY to the Underground Railroad at Carnegie Hall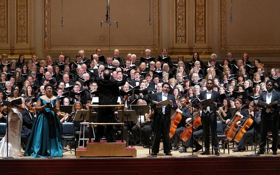 The world premiere performance of SANCTUARY ROAD (subtitled "An Oratorio Based on the Writings of William Still, a Conductor for the Underground Railroad"), by composer Paul Moravec and librettist Mark Campbell, performed by the Oratorio Society of New York under Kent Tritle, burst forth from the stage of Carnegie Hall the other night. It was filled with energy, humanity and, of course, musicality from all involved.
This newly born work--for orchestra, chorus and a quintet of soloists--clearly came from deep in the souls of Moravec and Campbell, and the performers as well, because it left such a vivid impression, as led by Tritle. Although it was commissioned by the Oratorio Society for its marshalled forces, which provided a riveting, pulsating wall of sound, commenting on and supporting the story being told, the stellar soloists were key to its effectiveness.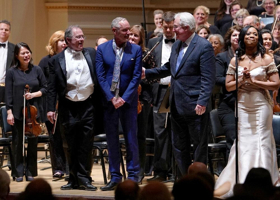 Moravec's powerful gift for melody and a thrusting line gave each of the soloists an opportunity to shine in rendering a variety of characters. The bass-baritone of Dashon Burton was filled with dignity as William Still, whose writings provided the source for the libretto ("Write it down. Write it. Write. Record. Recount. Chronicle. Write it down. Every word....") and he provided a sure and solid sound to narrate the story--sad, worried but always moving forward.
But it was the quartet portraying the "passengers" on his railroad that thrilled. The luscious voices of soprano Laquita Mitchell and mezzo Raehann Bryce-Davis, the sweet sound of tenor Joshua Blue, and the soothing baritone of Malcolm J. Merriweather brought the score to life for us, together or in solo. While none of them was familiar to me, I couldn't imagine any other singers who would have sung of the dreams, hopes and fears of the slaves on their way (hopefully) to freedom with more passion.
Several arias stood out: "The Same Train--Ellen Craft," telling of a slave in disguise suddenly sitting across from her master's brother, brought out the richness of Bryce-Davis's voice with its soaring melody; "This Side Up--Henry 'Box' Brown," the story of a man traveling north in a packing crate, showcased Merriwether's baritone and humor (as well as the horns and string bass); "Run," in three parts, giving Blue a showcase, with its pulsating, pouncing line and interplay with the chorus; and "Rain--Clarissa Davis," providing Mitchell a gorgeous line supported by oboe and strings.
"Which comes first, the words or the music?" Moravec asks in the program, then answers quickly: "I always naturally begin with the words, in this case Mark Campbell's libretto based on William Stillman's monumental The Underground Railroad Records, published in 1872...." His faith in Campbell's work is well founded.
Campbell has a gift for finely distilling source material down to its purest essence and telling impossibly complex stories "of ordinary people living through extraordinary times" (says Moravec), in fewer words than anyone would think possible. (The piece lasts less than an hour, with no feeling of anything from the source material being short changed or rushed.) In SANCTUARY ROAD, he has melded the specific with the general, painting moving pictures in tandem with the composer, finding excitement and fear from words on a page. The pair have worked together before--notably on the opera, THE SHINING--and their familiarity with one another's strengths is clear.
Preceding SANCTUARY ROAD, as the concert opener, was another world premiere for the Oratorio Society, Behzad Ranjbaran's WE ARE ONE. While it is more modest in ambition than SANCTUARY, Ranjbaran's juxtaposition of words and music--and its reiterated call for peace--is nonetheless moving in its own way. It will surely find its message of peace a popular one.
It uses five texts to offer us hope for the future and wonderfully showing off the forces of the Oratorio Society. It begins with a cacophonous setting of a statement about peace by Benito Juarez, president of Mexico in the mid-19th century, before dropping in intensity to deliver its message: "Among individuals, as among nations, respect for the rights of others is peace." (Clearly, the current administration is not familiar with these words.) The word "peace" was then repeated in 12 languages.
This was followed by "Bani Adam (Human Beings)," a Persian poem by Sa'di, from the 13th century, with a heady, fragrant mix of melody and dissonce; a quiet setting combining the use of horns and the purity of a capella chanting in the Hebrew greeting, "Shalom (Peace)"; another repetition of "peace" in 12 languages; and "Salam (Peace)," a plea for tolerance by Ibn Arani, a 13th-century Andalusian mystic Sufi poet writing in Arabic, with a building use of strings for intensity.
The work finishes with "We Shall Overcome," the spiritual and anthem of the Civil Rights movement, here without most of the familiar melody but something more spiky and layered, combined with more a capella singing. It ends, once more, with the repeated use of "peace," this time in 20 languages with celebratory trumpet calls.