Click Here for More Articles on OPERA - ST LOUIS
BWW Review: H.M.S. Pinafore is a Bright, Merry Musical Romp!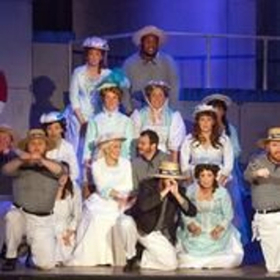 Pinafore (launched in 1878) was not Gilbert and Sullivan's first comic opera, but it was their first smash hit, and it's a grand show-case for the splendid musical and satirical gifts of this amazing pair. With numbers ranging from jolly music-hall songs, to stirring choruses, to duets, trios, madrigals and outright romantic arias Gilbert and Sullivan are magically able to simultaneously mock and sweetly embrace grand opera, melodrama, the class structure, the Royal Navy, and patriotism-as well as the very idea of being English.
Pinafore reflects a time when the British Empire was at its zenith and the Royal Navy was the empire's implementer and world-wide policeman. Britain did literally rule the waves.
H.M.S. Pinafore or The Lass that Loved a Sailor takes place on the deck of that eponymous man-o'-war. The crew are all honest, hard-working Jack Tars under the command of their beloved Captain Corcoran, who is a model of benevolence and decorum. Young Ralph Rackstraw is in love with Josephine, "A Maiden Fair to See"-but she is the Captain's daughter, and he a lowly fore-topman. So she hesitates to accept Ralph's proposal though she is already in love with him. Moreover, her father has promised her hand to Sir Joseph, the First Lord of the Admiralty.
When Sir Joseph arrives aboard with his female entourage (his sisters and his cousins whom he numbers by the dozens) we find that he is old and portly and certainly not attractive-and he's about the stupidest pompous British twit one could imagine. Josephine finds him repulsive. Thinking that her reluctance to marry him is due to her feeling unworthy to wed one of his exalted position Sir Joseph persuades her that "love levels all ranks". But he is later to regret this little lecture, since it encourages Josephine to elope with Ralph.
This new liberal concept that all men are equal is enthusiastically embraced by the entire crew-except for Dick Deadeye, the ship's cynic. He betrays the elopement plot to the Captain. In his outrage the supremely genteel Captain is driven to utter the abhorred 'D' word.
Well, in the end the jovial Buttercup, a vendor of snacks and tobacco, gadgets and ribbons, reveals a long-kept secret which surprisingly (but to the content of all) makes Ralph the Captain's social superior. As in a proper comedy the evening ends with three prospective weddings.
The Union Avenue production is blessed with great talent. Leann Schuering sings a most lovely Josephine. Her voice embodies the purity that this maiden radiates. In Act 2, as she struggles with her heart and her conscience, she triumphs in a true aria-"The hours creep on apace". Should she forsake the upper-middle-class comforts of her father's home for the squalor of life with a low-born sailor? Here, in a brilliant stroke, stage director Eric Gibson gives her a fantasy life with Ralph: he wears a Stanley Kowalski undershirt and roughly juggles first one, then two, then three babies.
Anthony Heinemann brings a strong light tenor to the role of Ralph. He captures those very high notes with ease and grace.
Cpt. Corcoran is sung by Thomas Gunther, and for me his performance is, by a nose, the most impressive one in the evening. Such power and clarity-and such a sense of Gilbert & Sullivan. His Act 2 solo, "Why is everything either at sixes or at sevens?" is simply gorgeous.
Steven Condy makes the Rt. Hon. Sir Joseph Porter, K.C.B. a comic delight. His merry ramble about how despite having absolutely no maritime experience he came to be "the ruler of the Queen's na-vee" mocks all unworthy holders of power--and Condy nails it.
Katherine Calcamuggio sings Buttercup, and she sings it with sweet power and clarity. Moreover, she masters that over-the-top melodramatic style that G&S were so eager to spoof.
Dick Deadeye, in the person of Jacob Lassetter, is another who brings a beautiful touch of melodrama to the Pinafore. Fine work.
And Erin Haupt, a Union Avenue veteran, is a delight as the rather prim Cousin Hebe, who is shaken with alarm when the polite Captain is driven to say, "damme".
There are musical riches beyond what one expects in "operetta". Choral numbers, especially, exemplify this. The chorus of sailors has moments of wonderful mellowness, and there is a particularly charming a cappella song--"A British tar is a
so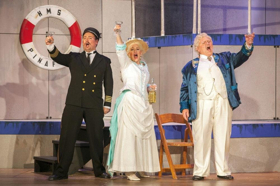 aring soul". At the end of Act 1 the female relatives join the sailors in a swelling, soaring stage-full-of-singing choral number.
The trio, "Never mind the why and wherefore", with Josephine, the Captain and Sir Joseph, is a highlight. It's a very merry romp, with the sweet soprano tripping lightly above the male voices.
At the final curtain there are three (count them, three!) happy couples to be wed:
Ralph and Josephine,
Buttercup and the Captain, and
Sir Joseph and Hebe.
If we follow the story carefully there are elements of these matings which must give us pause: Ralph must be old enough to be Josephine's father, Buttercup must be old enough to be Cpt. Corcoran's mother, and Sir Joseph is marrying his first cousin! But in the swiftly paced silliness that swamps this ship either we don't notice all this, or, swept away in the merriment we simply say, "Who cares?"
Scott Schoonover once again wields the baton and wields it with fine effect.
Technical aspects of the production are impressive, though I was surprised to find myself aboard a steamer--with three great stacks--rather than on a square-rigger. (What exactly does Ralph, a "fore-topman", do on a steam-ship?) Was designer Kyra Bishop Sanford being cleverly economical by employing a ship from a production of Anything Goes? Anyway it's attractive and it works.
Teresa Doggett, as usual, gives us excellent period costumes with beautiful dresses for all those ladies, though there was a noticeable lack of bell-bottom trousers. And Sir Joseph, who so proudly embraces his role as "Monarch of the Sea", appears in civvies rather than the traditional epaulettes and knee-breeches a la Lord Nelson.
H.M.S. Pinafore is a great serving of musical and comic delight. It continues at the Union Avenue Opera through July 14.