BWW Review: A Diverse Week at BAM's Next Wave Fest, Balancing Glass's SATYAGRAHA and a SAVAGE WINTER (REISE) without the Schubert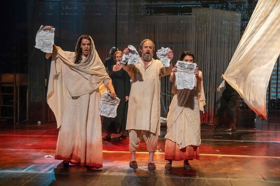 To say that this was an unusual week for opera-goers venturing into BAM's Next Wave Festival would be an understatement--but then the unexpected is what makes it is an indispensable component of the New York arts scene.
Philip Glass's SATYAGRAHA
It started out with a reimagining of a modern classic: Philip Glass's SATYAGRAHA (1980), in an audacious production by Tilde Björfors that shouldn't have worked but did so brilliantly. It joined the worlds of circus and acrobatics with Glass's unique view of how to tell the story of Gandhi and the nonviolent defense of persecuted Indian immigrants in South Africa. The result was an unusual kind of balance to the story in a work that is more frequently shown with a more sober, more somber flavor.
Make no mistake: This production, combining Swedish forces from the Folkoperan and Circus Cirkor, hardly makes light of the struggles depicted in the story. It just does it in a way that portrays the struggle in a less realistic and more expressionist way, though using the same Sanskrit text taken from the Bhagavad Gita that it always has, a nonlibretto by Constance DeJong in a nontranslation translation.
Glass's minimalist score, arranged by Anders Hogstedt, was given a stunning performance by Matthew Wood leading an orchestra of 21, and some imaginative, striking singers, include tenor Leif Aruhn-Solen as a dulcet-toned Gandhi, mezzo Karolina Blixt as the soaring Kasurbai/Mrs. Alexander and resonant bass Johan Schinkler as Parsi Rustomji/Krishna. (The use of acrobatic doubles was a clever way of waving the disparate styles together.) The production--performed in BAM's deconstructed Harvey Theatre--was by Bjorfors and Dan Potra. Scheduled for just four performances, the audience reception indicated that it could have supported much more.
(A different take on the production appears elsewhere in these pages.)
Douglas J. Cuomo's SAVAGE WINTER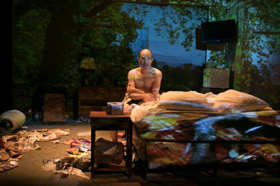 The last time I heard Wilhelm Muller's 24 poems about longing and loneliness, it was a recording of the song cycle WINTERREISE by Franz Schubert, performed by tenor Jonas Kaufmann in a style that was the epitome of eloquence, drama and urgency.
This time around--under the name SAVAGE WINTER--as performed in BAM's intimate Fisher Theatre on Ashland Place, the text still relies on Muller's original poems of love and loss, though adapted by composer Douglas J. Cuomo in a variety of ways that might have surprised Muller. The best news was his compelling, new musical score, for tenor with piano, guitar and trumpet. The music has the variety and searing qualities--and very occasional light-heartedness--in ways that could be compelling and inviting or nerve-wracking and irritating. It made Cuomo seem like a real find.
But that's not to say that it was an easy work to take as a dramatic piece, as directed by Jonathan Moore in a replica of a trashed (and trash-filled) motel room designed by Breendan McNeel, with video design by Joseph Seamans.
And yet, and surprisingly, I believe the new work, lasting about 75 minutes, holds its own quite nicely against the Schubert. I say "surprisingly" because even though the piece didn't convince me that adding the production values to Muller's poems improved the music's impact, the score survived quite well, running the gamut of styles from classic Chet Baker to atonal.
The composer has taken the poems and has chosen to reinterpret the texts in different ways. Some are (largely) literal translations of the originals, while others are now instrumental. Most have just become springboards for the composer's own interpretations, with some key emotional phrases repeated, "sometimes obsessively," as he says in the program notes, in the most overwrought aspects of the piece.
Cuomo and director Moore found an extraordinary collaborator in tenor Tony Boutte, who was not afraid to take on whatever was thrown at him, including phrases that might have made dogs howl. The original's urgency is still there in the Boutte's performance as the Protagonist, though much of it now seems to come not from his heart but from a bottle of Jim Beam that is part of the debris filling the motel room: pizza boxes, empty bags from potato chips--you get the picture.
Opera creators continue to go through a litany of ways for the art to reinvent itself--certainly in the 21st century, it can't be more AIDA, LA BOHEME and CARMEN. Yet at SAVAGE WINTER, I found myself wondering whether what I was hearing would have been better served as a song cycle, a la WINTERREISE, rather than watching a tormented man tearing his pillow apart and throwing the feathers about the stage.
According to the director, the messy motel room is at least partially a metaphysical space, for a man "on a journey of reflection, confronting his demons his fears, his grief." As the Schubert version of the protagonist's journey proves, a piece doesn't have to take place in a realistic world (or with the tenor in his underwear) to get the point across that he is in turmoil.
Turning the story into an opera may make it more viable for modern audiences who are used to seeing movies and television explain things in physical detail but I question whether it does the music any favors--particularly a score that is as inviting as this one.
SAVAGE WINTER is a co-production of American Opera Projects and Pittsburgh Opera, where it had its premiere in February 2018, originally called ASHES & SNOW.
Related Articles
View More Opera

Stories