Latest Articles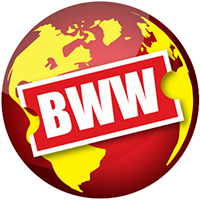 Lauren Waller Goes The Distance On New Single
by BWW News Desk - April 25, 2019
Lauren's artist arc has been profound. She's journeyed from shackling shyness as a teen, stealthily writing songs, singing, and performing in private, unbeknownst to her family, to morphing into an indie pop siren with a sleek and sensual pop sensibility. Her latest EP is the high watermark release,... (
more...
)

Camille Trust Releases New Single 'Lavender'
by TV News Desk - April 22, 2019
Pop-Soul siren Camille Trust has released an introspective and powerful new single and video entitled "Lavender." Unveiled this past Friday, April 19th, the song is Trust's most personal work yet and has since received critical acclaim, including a feature in TIME Magazine's '5 Songs You Need to Lis... (
more...
)

Zia Benjamin is Playing By Her Own Rules On New Single RUDIE
by BWW News Desk - April 12, 2019
Zia Benjamin, the Jamaican songstress who has penned and been featured on hits from the likes of Sean Paul to Major Lazer, brings her soulful sound to the forefront in 2019.... (
more...
)

Former AMERICAN IDOL Finalist Elise Testone To Release Second LP
by BWW News Desk - April 09, 2019
Soulful singer/songwriter ELISE TESTONE, a former American Idol finalist and powerhouse vocalist whose incredible stage presence and bluesy maturity rank with the best, is releasing her long-awaited sophomore album, This Is Love, on April 17 and immediately mounting an East Coast Tour that includes ... (
more...
)

Reckless Kelly To Make Grand Ole Opry Debut This Saturday, On Tour Now
by BWW News Desk - April 05, 2019
Tomorrow, April 6, the Austin, Texas-based country rock bandReckless Kelly will make their Grand Ole Opry debut after more than 20 years of recording and touring. Fans around the world can tune in live via a mobile app, SiriusXM Satellite Radio, Nashville's 650 AM WSM, and the Opry website and WSM 6... (
more...
)

Tristen Releases New Single DREAM WITHIN A DREAM
by BWW News Desk - April 05, 2019
'Dream Within a Dream' is the new 7-inch single from pop savant Tristen, out May 10 via Louisville's This Man Records. Crafted from Edgar Allan Poe's classic poem, the single - like the mononymous singer-songwriter and musician known for her 'knack for penning an infectious hook' (Entertainment Week... (
more...
)

Tim Bluhm Releases Acclaimed Album SORTA SURVIVING
by BWW News Desk - March 29, 2019
Today, Tim Bluhm releases his new full-length solo album Sorta Surviving via Blue Rose Music. Known as the frontman for praised rock outfit The Mother Hips, Sorta Surviving is a testament to Bluhm's versatility as an artist and honed skill as a songwriter. Recorded while coping with a recent divorce... (
more...
)

K.Flay Shares BAD VIBES Video
by BWW News Desk - March 19, 2019
Two-time Grammy Award-nominated Night Street/Interscope Records artist K.Flay has shared the official video for the new single 'Bad Vibes'. The video was directed by Lorraine Nicholson and stars actress Kathryn Gallagher ('Annika' from the Netflix series 'You') alongside K.Flay.... (
more...
)

Helms Alee Dives Deep Into Marine Psychedelia With INTERACHNID
by BWW News Desk - February 20, 2019
After more than a decade of existence, five studio albums, and a slew of EPs, it's easy to imagine Helms Alee continuing on in perpetuity as one of those tightly-guarded artists with an extensive catalog of treasures just waiting for the uninitiated to discover the depths of their riches.   But thin... (
more...
)

The Brother Brothers Premiere New Song SIREN SONG, Touring with Dead Horses, Mipso
by BWW News Desk - February 19, 2019
The Brother Brothers have shared their first new material since the release of debut album Some People I Know last fall on Compass Records. Brooklyn Veganpremiered 'Siren Song' today, saying 'If you're not familiar with The Brother Brothers, they often recall the close harmonies and gentle melodies ... (
more...
)