Latest Articles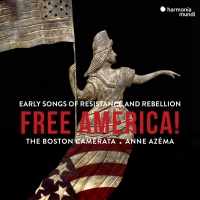 Boston Camerata: New Album + Tour of Rebellious Early American Music
by TV News Desk - August 22, 2019
The Boston Camerata, cited as a?oeAmerica's foremost early music ensemblea?? by Le Monde, embarks on a celebration of music from the time of the American Revolution with the release of Free America! Songs of Resistance and Rebellion (1790-1860), a new project recorded by Harmonia Mundi. The album re... (
more...
)

John Greaves To Release New Album 'Life Size'
by TV News Desk - November 05, 2018
British bass guitarist and composer John Greaves, best known as a member of Henry Cow and his collaborative albums with Peter Blegvad is releasing a new album titled "Life Size" on Manticore Records on November 30, 2018. John was also a member of National Health and Soft Heap, and has recorded sever... (
more...
)

Violinist Olivia De Prato Releases Debut Solo Album STREYA
by TV News Desk - February 13, 2018
Olivia De Prato, co-founder and first violinist of the Mivos Quartet, announces the March 2, 2018 release of her debut solo album,Streya, on New Focus Recordings. A passionate advocate for new music, De Prato chose to record music by six composers with whom she has collaborated closely since moving ... (
more...
)
German Label Brain Releases Expansive Box Set
by BWW News Desk - March 10, 2017
Founded in 1972, German label Brain now commands a status and reputation among listeners and collectors all over the world that would have been unimaginable at the time. Today, it is regarded as one of the most important label outlets for German rock music of the 1970s, a genre generally referred to... (
more...
)
First Annual 'Kids Music Day' to Be Celebrated October 7
by BWW News Desk - September 26, 2016
The First Annual 'Kids Music Day' will be celebrated on Friday, Oct. 7. On this special day, the organization Keep Music Aliveis partnering with music schools across the nation to help promote the importance of including music in children's education.... (
more...
)