Matmos share excerpt 'Warm Opening' from new album The Consuming Flame, out Friday Aug. 21st
The Consuming Flame, due out Friday, features contributions from 99 different musicians, sculpted by Matmos into a kaleidoscopic 3-hour assemblage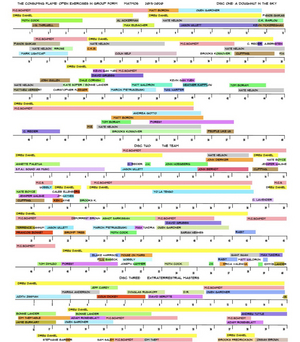 Just ahead of the August 21st release of their ambitious new 3xCD album The Consuming Flame: Open Exercises in Group Form, Matmos have shared the excerpt from final disc EXTRATERRESTRIAL MASTERS, "Warm Opening", featuring Oneohtrix Point Never. The excerpt builds Daniel Lopatin's scattered synth textures into a minimalist groove, a vista of pop-infused bliss.
The Consuming Flame
is intended to be heard as one continuous experience, but has been divided into three discs, each of which has digital index points for the convenience of the listener, offering handholds and rest-stops along the journey. The length is not meant to be exhausting or pompous, but instead to shift the listener's attention repeatedly along a path, and to deliberately refuse to hold in one place, style, mood, genre or level of density for too long, in order to induce a sensation of drift within forward movement. The album moves beyond the confines of established longform genres like drone and ambient as well as traditional song structures. The album was composed through the social act of invitation, and the album's 99 participants are, even for Matmos, wildly eclectic. Some are collaborators that have worked with Matmos for many years (
J. Lesser
,
Jon "Wobbly" Leidecker
,
Mark Lightcap
,
Josh Quillen
of
So Percussion
,
Vicki Bennett
) and some are near total strangers found through open calls on internet forums for contributions at 99 beats per minute. There are players from the conservatory-trained world of "new music" (
Kate Soper
,
Bonnie Lander
,
Ashot Sarkissjan
,
Jennifer Walshe
) and figures from the extreme music underground (
Blake Harrison
of
Pig Destroyer
,
Kevin Gan Yuen
of
Sutekh Hexen
, Terence
Hannum
of
Locrian
), as well as auteurs from the world of "noise" music (
Twig Harper
,
Moth Cock
,
Bromp Treb
,
Id M Theft Able
) as well as writers (
Douglas Rushkoff
,
Colin Dickey
) and conceptual artists (
Heather Kapplow
). There are distinguished alumni and contemporary luminaries of electronic music (
Jan St. Werner
and
Andi Toma
of
Mouse on Mars
,
Daniel Lopatin
,
DeForrest Brown Jr.
,
J. G. Thirlwell
,
Matthew Herbert
,
Rabit
,
Robin Stewart
and
Harry Wright
of
Giant Swan
) and artists associated with indie rock and folk traditions (
Ira Kaplan
,
Georgia Hubley
and
James McNew
of
Yo La Tengo
,
Marisa Anderson
). There are undergraduates who took M.C. Schmidt's "Sound As Music" course during the final year of
The San Francisco Art Institute's
existence. In honor of its fiercely independent tradition of outsider creativity, the album is dedicated to the memory of the now closed art school.