Innervision Records Adds to Roster with Vocalist, Guitarist & Keyboardist Jay Soto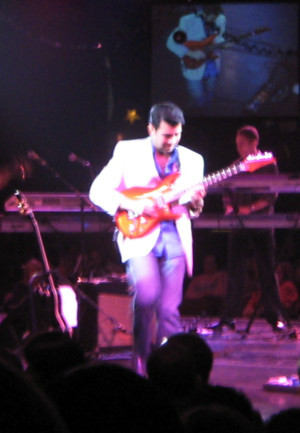 Innervision Records adds to its growing roster with vocalist, guitarist and keyboardist Jay Soto.
The multi-talented musician will debut his new release "On The Verge" in early 2018 and perform at the 5th annual Innervision Records After Namm Jamm in late January at Spaghettini in Seal Beach, CA.
Jay Soto nationally acclaimed, multi-talented musician/singer from Phoenix, Arizona has spent virtually a lifetime honing his craft as a vocalist, guitarist, pianist, songwriter, producer and performer. He's performed and recorded with some of the biggest names in the industry including Jeff Lorber, Jeffrey Osborne, Paul Brown, Craig Chaquico, Everette Harp, Eric Darius, Gregg Karukas, Candy Dulfer, Euge Groove, Acoustic Alchemy, Boney James, Michael Lington and the list goes on. He also has been a music director within the Diocese of Phoenix for over 20 years.
Recently Jay finished production on his most ambitious album to date, his debut vocal album and debut on Innervision Records, "On The Verge". The album stretches beyond his notable Smooth Jazz sound by including Adult Contemporary, Pop and R&B into the mix and will feature Jay's mastery of the voice, guitar and keys.
"We're excited to have such talent like Jay Soto join the family." says GM Steve Belkin. "We're looking forward to seeing Jay in action at the 5th annual Innervision Records After Namm Jamm." The After Namm Jamm will be on Sunday, January 28th at Spaghettini in Seal Beach, CA, and features several artists from the Innervision roster.
Innervision Records - www.innervisionrecords.com - is an innovative record label with a special focus on operating within the ever-changing music industry and revolutionizing the way the artist-label relationship works. Innervision specializes in Groove/Smooth Urban Jazz, Jazz, Chill , Neo-Soul and World Music. Innervision is dedicated to infusing fresh, new styles of music, and raising the level of the music you hear by bringing your airwaves, internet and satellite radio great independent music created by artists with a passion for music. This passion, coupled with Innervisions rejection of the music industry's corporate model, enables Innervision Records to bring unique and refreshing music to the masses.