Detroit Rebellion Premiere Video For New Single SEE YOU NEXT YEAR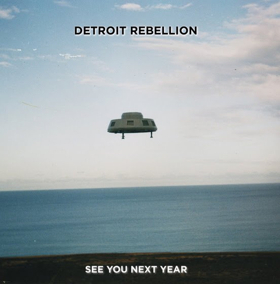 Providence, Rhode Island duo Detroit Rebellion has premiered a video today for the title-track single off their upcoming album, See You Next Year, today via New Noise - share via YouTube - prior to the album's arrival, August 24 on Bodan Kuma. Discussing the single, singer/songwriter/guitarist Jeff Toste stated, "This song is about what it is to be in fashion - that it often seems more important to be part of something new than of lasting value. We shot the video in what we thought was an abandoned mill area. When security surrounded us they said... We've seen people with drugs back here, guns back here, but we ain't never seen nobody in no space suits before."
The follow up to their 2017 debut album, The Man, See You Next Year continues to find Toste exploring a world of gritty blues and garage rock with drummer Micaiah Castro. Taking their name from the violent upheaval that shook Detroit in the summer of 1967, Toste felt it an appropriate label for a genre of music created to simultaneously soothe the soul, as well as wrestle with the problems that troubles it. See You Next Year takes the energy and the attitude up a notch, immediately obvious on lead track, "Wrong Number", which is driven by frantic vocals and spirited drum work, delivered like a jab in the face. Spurts of post-punk energy, timely touches of reverb, and bursts of anger and indignation mark tunes like the three-minute blast "Black." While See You Next Year is more raw and aggressive than its predecessor, it never strays too far from moody, thinking-man's blues, with its hints of jazz and haunting guitar. It is a record for which the right energy outweighed precise lyrical clarity, harkening back to traditional blues in spirit, if not necessarily in structure.
Related Articles
View More Music

Stories
More Hot Stories For You