Chinese Hip Hop Duo DMOB Storms HBO's SILICON VALLEY and Tours America in May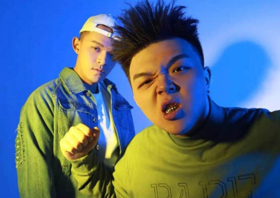 Hip hop is blowing up in China right now. Americans just got a taste of it on HBO's Silicon Valley when character Jian-Yang leaves for China to develop New Facebook, New Snapchat, and New New Internet, accompanied by a track by Chinese superstar hip hop duo DMOB. The track, called "Luxury Life," is a remake of a song by Atlanta's MadeinTYO.
"I wanted to use the song to demonstrate how Chinese technique is different than American rap," says After Journey, who raps alongside emcee BOOM in the group DMOB. "I sing things like 'I want a big house. I want a nice car," but it's meant to be ironic. Because I don't want more money or more cars. I just mean you can only accomplish things if you have big balls."
This is DMOB's first tour in America, but After Journey says the dialogue between American hip hop and China has a precedent.
"I grew up playing basketball and all we listened to was hip hop," says After Journey, who is 26. "A lot of the CDs we could get had holes drilled in them by the government, because you weren't allowed to sell imports. So we could only listen to one or two tracks off the CDs. But I remember listening to Wu-Tang Clan, who really respected Chinese and Japanese cultures. Even Kendrick Lamar's latest video has Asian influence."
After Journey studied abroad in Australia before college and went to the local record store every day. This gave him a bit of a head start by the time he went to Beijing for college, where he studied sound design. When he graduated in 2015 he continued as a musician and has risen fast in China's hip hop scene. He's now a judge on Rap in China, a very popular reality TV show akin to The Voice, but for hip hop. He came across his collaborator BOOM, who won Xinjiang's rap championship, on Weibo, which many refer to as "China's Twitter." Boom, age 27, studied international business in Beijing and has also been focused on music since graduation.
The two rappers don't see themselves as creating a Chinese facsimile of an American form. "Hip hop is now an international type of music," says After Journey. "Everyone is making it: Koreans, Italians, French. But we try to do it in our own style. In Mandarin, wordplay is different than English. We have four different tones in our language so we can play with that aspect. And because each word is one unit in Mandarin, there is a kind of rhythm we can use that is different than with English. We use words like a drum. It's hard to explain!"
The group is constantly carving a new path for hip hop in China. A song by DMOB called "Breakup, Just Breakup" was released as a music video tacked onto the end of a movie called "Ex 3," which was a sequel of a movie about a breakup between a girlfriend and boyfriend. The video was seen by the 20 billion ticket buyers (yes, 20 billion!). They were also the first hip hop group to have a song--"I Got My Slash"--featured in a major car commercial.
So it's not surprising that DMOB's "Luxury Life" was selected to represent the new China in a major American TV show. How might they feel about how Silicon Valley's main Chinese character is representing China?
"Lots of Chinese people think he is bad, bad," After Journey explains. "They think he is a bad representation of Chinese people. But I think Jianyang is hip hop. He has got balls, man! When Jianyang says 'This house is mine!", that is so hip hop!"
Catch DMOB on their debut American tour:
05/04/2018 Boston, MA -- Royale Nightclub, 8 pm
05/06/2018 New York, NY -- Dark House Warehouse, 9:30 pm
05/09/2018 Chicago, IL -- House of Blues, 8:30 pm
05/10/2018 San Francisco, CA -- 1015 Folsom Club, 8:30 pm
05/13/2018 Los Angeles, CA -- The Mayan, 8:00 pm