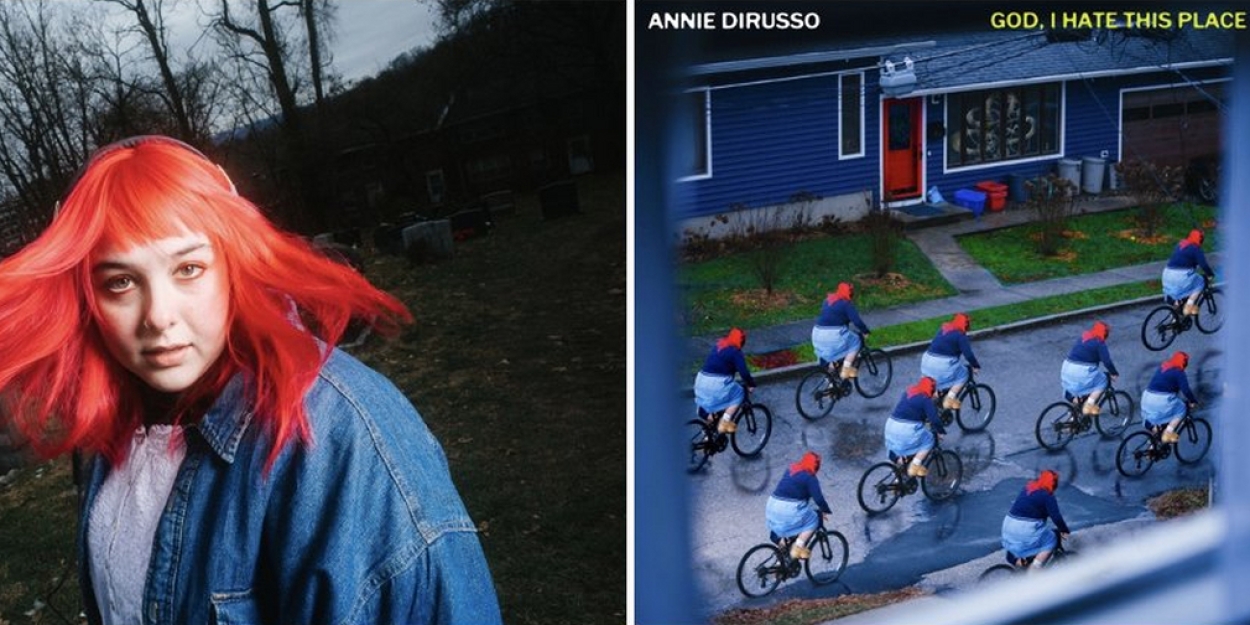 Annie DiRusso Announces Her New EP 'God, I Hate This Place'
The new EP will be released on February 24th.
Annie DiRusso announces her new EP God, I Hate This Place, which will be released on February 24th, and shares its first single, "Emerson." The song, which opens with the staggering line "baptized by a pedophile in a church that reeks of oak and death," is named after the street she grew up on and hits on the dissonance between acknowledging the space between who you were and who you've become.
"I'm not a religious person anymore, but I was raised Catholic, and I found that to be a very ironic beginning to my life. Going back to my childhood bedroom after being away, I immediately regress back to a 15-year-old version of myself," she says.
"Being home turns me back into who I was- a past self. The lines can get so blurred between the person you've become, the person you used to be, and the person you want to be. The thread that ties them all together is that you can only ever be exactly who you are. This realization can be so limiting, while also so liberating." Listen to "Emerson" here and pre-save the God, I Hate This Place EP here.
DiRusso spoke to Nylon about her new song and EP, and they say of DiRusso's music, "The 23-year-old musician is a scathing songwriter and on her latest single she writes with a serrated intensity about pains of growing up. Yet, despite the heaviness of its content, "Emerson"- named after the street she grew up on - feels like a huge wave of relief rolling off of her shoulders, its driving guitar line like an exit conduit for her boiled-over grief. At the end, the song gathers into a pool of catharsis." Nylon today also premieres the song's live music video. The video was directed by Neil Shukla.
Annie DiRusso today also confirms here 27-date "God, I Love This Tour" in cities including Chicago, Philadelphia, Brooklyn, Nashville, and Austin (full dates below). Tickets for all dates will go on sale here on Friday, February 10th at 10am Local Time. DiRusso recently also announced that she will support Ruston Kelly on tour for four dates in Louisville, Birmingham, Raleigh, and Charlotte. Tickets for these dates are one sale now here.
If 'Emerson,' which opens the EP, is about the space between discomfort and comfort, 'Body' is about not finding peace in the ache at all. "It's incredibly uncomfortable," Annie says of the vulnerable track. "I think "Body" is a song that's really important to my story. I wrote it with Caroline Culver, she's my best friend and roommate down in Nashville, and my friend Kennedy Floethe.
After reflecting on a recent relationship that pushed my insecurities to the surface, we wrote the first line of the song. "He loves my face but not my body/ Should I lose weight just so he wants me" came to play. "Saying those words out loud and singing them was freeing for me," DiRusso says.
In 'Frisco' Annie transforms the delirium and exhaustion of being sick on the road, into a story about realizing that no matter where you go, you take yourself with you. After being on tour for weeks, she tested positive for covid in Texas and found herself stranded in a tiny hotel room in Frisco with nothing to do but think.
"There was an amalgamation of things," she says. "I was just so sick in this hotel room alone in Frisco, Texas coming down from the highs of the tour and then this big low. I started to have a similar experience to picturing people at my funeral, wondering what people would say, or do, or think if they saw me now. Like 'What if my ex could see me here on my deathbed in Frisco, Texas?'"
She took a hot shower, and her ex's face popped into her mind, the opening lyrics "Guess I'm gonna die alone in this hotel room like all the greats / I took a really hot shower and I saw your face" soon followed. She wrote the rest of the synth-laden track in varying stages of her sickness, yearning to get out of Texas, before finally heading back home. "In the end, my mom flew to Frisco because I couldn't fly and she drove me all the way back to Nashville," she says.
"Then there was that feeling of getting back home and still having all those same thoughts and realizing Frisco wasn't the problem. The EP is named after that line, "god, I hate this place." I'm not talking about Frisco and I'm not talking about my hometown. I'm talking about my dark state of mind when writing these songs. These intense feelings exist inside of me-they don't live in my house in Nashville, my hotel room in Frisco or my childhood bedroom."
"Nauseous," takes a journey back to Annie's childhood bedroom. She wrote the song on "a really old guitar that's so poorly kept up with, it hurts to play" as she lay in bed dealing with a bout of nausea. The teenage angst-driven track perfectly encapsulates messy love.
At one moment of the track, she asks, "What if I stayed here and gave it up? / What if I cleaned my room then we fed?" "That's me asking 'What could I possibly do to make this work and is that even worth it?'," she says. "That was the thesis statement of 'Nauseous'. I could put on a million different faces, and it still wouldn't be right, but I'm still yearning for someone and wanting something that's just not right."

The EP ends on the succinct and heartfelt 'Hybrid', a track that meets '90s grunge with Annie's trademark honest-to-a-fault lyricism. "I love you but it's no use / It's no good / I don't love you how I should" she howls at the chorus over synth and rising guitars. "I wanted this song to be pretty short and pretty concise," she says. "It talks about not feeling like you're loving people correctly and even that's very subjective. That's where that line, 'I grabbed your arm' comes from. That's not really how you love someone, you have to let things go."

God, I Hate This Place follows multiple banner years for the songwriter who went viral on TikTok in 2020, with her heart-open guitar track, 'Nine Months'. Since then, she's toured with the likes of Samia, Declan McKenna, and even HAIM who describe her as "fing incredible" and "inspiring".
Her growing cult following clearly agrees with that sentiment, selling out her headline dates in Boston, Chicago, Los Angeles, Brooklyn, and Nashville. The Nashville Scene in a recent live review, called her a "masterful rocker" and said her set "offered a great showcase for her incisive songs." V Magazine noted she's "single handedly bringing back that raging rock sound" and Alt Press commented "she's set to skyrocket." Rolling Stone also highlighted her appearance at Sea.Here.Now festival, including her photo in their best-of gallery.
DiRusso recently shared her song "Call It All Off "of which Consequence says, "She mixes her feelings of alienation and social paralysis with fuzzed-out guitars and crystal clear vocals, and though she's singing about surrendering and closing herself off, she sounds liberated.'
Listen to the new single here:
Annie DiRusso Tour Dates Supporting Ruston Kelly
April 12 - Louisville, KY at Mercury Ballroom
April 13 - Birmingham, AL at Iron City
April 15 - Raleigh, NC at Lincoln Theater
April 16 - Charlotte, NC at The Underground
Annie DiRusso Headlining "God, I Love This Tour" Dates
April 28 - Madison, WI at University of Wisconsin - Madison; Union South Sett
April 30 - Milwaukee, WI at The Back Room @ Colectivo
May 1 - Chicago, IL at Lincoln Hall
May 2 - Indianapolis, IN at Hi-Fi
May 3 - Columbus, OH at The Basement
May 5 - Toronto, ON at Velvet Underground
May 6 - Montreal, QC at L'Esco
May 7 - Cambridge, MA at The Sinclair
May 9 - Philadelphia, PA at The Foundry at The Fillmore
May 11 - Brooklyn, NY at Music Hall of Williamsburg
May 13 - Washington D.C. at Union Stage
May 15 - Richmond, VA at Richmond Music Hall
May 16 - Carrboro, NC at Cat's Cradle (back room)
May 20 - Atlanta, GA at Terminal West
May 31 - Nashville, TN at The Basement East
June 2 - Dallas, TX at Club Dada
June 3 - Houston, TX at White Oak Music Hall - Upstairs
June 4 - Austin, TX at Antone's
June 7 - Santa Ana, CA at Constellation Room
June 8 - Los Angeles, CA at Troubadour
June 10 - San Francisco, CA at Café du Nord
June 12 - Portland, OR at Polaris Hall
June 13 - Seattle, WA at Barboza
June 16 - Boise, ID at 9th St. Parallel at Knitting Factory
June 17 - Salt Lake City, UT at Kilby Court
June 18 - Denver, CO at Globe Hall
June 20 - Kansas City, MO at recordBar