Acclaimed Canadian Artist David Myles Releases New Album 'Real Love'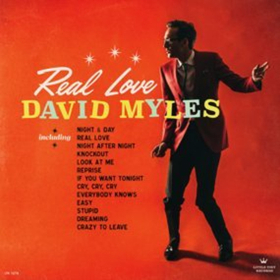 Juno Award-winning Canadian artist David Myles' highly anticipated album, Real Love, is out today via Little Tiny Records. Album purchase is available HERE. Of the album Myles says, "It's a record I've always wanted to make...a danceable, fun record that harkens back to the early days of rock 'n roll."
Last week, the video for the single "Look At Me" premiered at The Big Takeover, who describes it as, "jauntily upbeat." The video was shot at Joshua Tree National Park in California and features Myles performing in his patent leather shoes and bolo tie. Earlier, the album's first single "Real Love" debuted at Magnet Magazine.
The 13-track LP marks Myles' tenth album and his second full-length U.S. release. Written entirely by Myles and produced by Daniel Ledwell, Real Love is a departure from his previous record in that it is fully electric. It features members of his touring trio-Kyle Cunjak on bass and Allan Jeffries on guitar-plus Joshua Van Tassel on drums and additional vocals by Mahalia and Reeny Smith.
Drawing from American roots music, Real Love mixes full-bodied arrangements and dance rhythms with classic rock 'n' roll structures. It follows 2015's So Far, which All Music described as "a smooth, sophisticated collection of tracks," and about which No Depression noted, "[Myles'] low-key, unassuming style ingratiates him from the first notes forward." Guitar Worldfurthered, "[it's] a toe-tapping acoustic rockabilly-ish delight."
Myles' sound traverses musical time periods and genres, crisscrossing folk, roots, pop, jazz and country. His embrace of varied styles and tastes has resulted in numerous collaborations-most recently, with hip hop star Classified, Grammy Award-winner Alex Cuba and Quebec's Jean Francois Brault. His collaboration with Classified, "Inner Ninja," netted a Juno Award (Canada's equivalent of the Grammy) for Rap Recording of the Year in 2013 and stands as the best-selling rap single in Canadian history.
A native of New Brunswick, Myles was brought up practicing Canada's Royal Conservatory repertoire on trumpet. After earning a political science degree and briefly pursuing politics, Myles deviated. During his third year in college he bought a $30 plywood guitar while studying Chinese abroad and changed course from law school to music. Since then he has recorded ten albums, accumulated numerous accolades in his home country and built a dedicated live following where, in addition to his songwriting and musicianship, he is widely recognized for his signature suits and animated stage presence.
REAL LOVE TRACK LIST
1. Night & Day
2. Real Love
3. Night After Night
4. Knock Out
5. Look At Me
6. Reprise
7. If You Want Tonight
8. Cry, Cry, Cry
9. Everybody Knows
10. Easy
11. Stupid
12. Dreaming
13. Crazy To Leave