Review: ROMEO AND JULIET at Ottawa's National Arts Centre
A sumptuous, romantic production showcasing the skill of the National Ballet of Canada.
The National Ballet of Canada's production of Shakespeare's Romeo and Juliet under the helm of its new Artistic Director, Hope Muir, is simply sublime. Originally performed in 1940, Sergei Prokofiev's classical ballet was adapted by Alexei Ratmansky for the National Ballet's 60th anniversary in 2011. This version brings a sumptuous, romantic production to the National Arts Centre's Southam Hall, with relatively simple, but convincing sets transporting the audience to sixteenth century Verona. The staging and costumes were designed by Richard Hudson, famous for the Tony-award winning design of The Lion King on Broadway. Hudson took inspiration from Renaissance paintings when designing this production and it works wonderfully to bring the story to life on the stage. The subtle earth tones of the sets allow the elaborate costumes made with luxurious textiles to stand out against the backdrop. Because this is a more recent production of Romeo and Juliet, technology has enabled more seamless transitions between sets than other productions, allowing the story to flow freely with less interruption.
Prokofiev's score is resounding, with changes in tempo used to compliment the story. Likewise, elements of the choreography are used to enhance the characters' personalities and shifts in the overall mood . When we first meet Juliet (Chelsy Meiss), she dances playfully around her Nurse (Rebekah Rimsay) with lithe, agile movements, culminating in a joyful bounce onto her four-poster bed, symbolizing her youthfulness. As the story progresses, and as she faces more obstacles to her happiness, Juliet's movements become more dramatic and less carefree, emphasizing her growing maturity.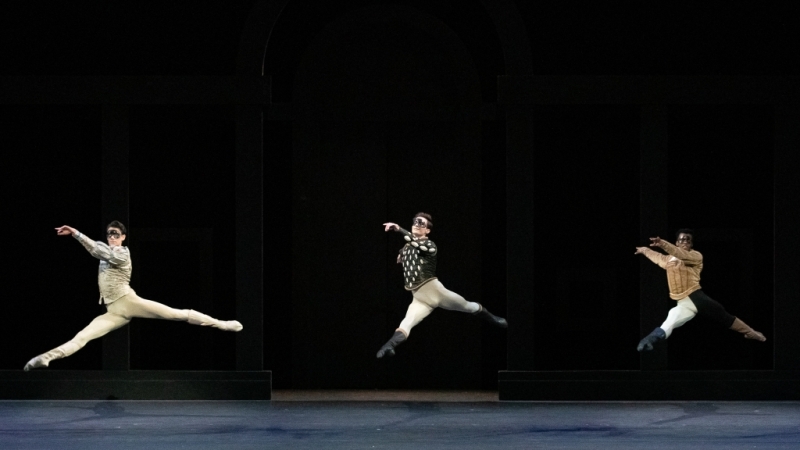 Performances were outstanding all around. Every dancer was graceful and executed every step beautifully. Ben Rudisin made his debut as Romeo the night I attended, but you would have thought he had been dancing this role forever. Meiss threw herself into the role of Juliet, conveying the passion and depth of her character - from innocence to budding maturity, through to the desperate moments of the final act. Peng-Fei Jiang and Albjon Gjorllaku also made their debuts, as a menacing Tybalt and playful Benvolio, respectively. Christopher Gerty's Paris added a soft side to the character, showing a concern for Juliet that was quite touching. The jovial Mercutio, played by Jack Bertinshaw, was a crowd favourite, earning a deserved extra loud round of applause at the curtain call.
My favourite moment of the show was a combination of all the its elements working together in perfect harmony: the music, lighting (Jennifer Tipton), stage design, and choreography. When Juliet seeks help from Friar Lawrence (Teagan Richman-Taylor, also debuting), and they hatch their doomed plan, the future, as it is meant to be played out, is enacted behind a semi translucent upholstered curtain, creating an almost dreamlike vision. The romantic, tragic ending was also exquisitely performed; even though we all know how it ends for the star-crossed lovers, the Capulet and Montagues' sorrow was palpable to the audience.
A very limited engagement, Romeo and Juliet is at the National Arts Centre only until February 4th, but I hope the audience's very vocal appreciation for the National Ballet will ensure a return to Ottawa soon. Click here for more information on Romeo and Juliet and here to see all upcoming dance events at the National Arts Centre.