BWW Review: MOMIX's OPUS CACTUS is a Revelation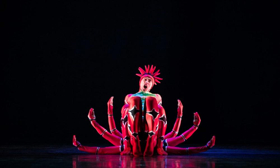 For 37 years, MOMIX has defied traditional boundaries in both choreography and set design, but it expands far beyond that. Moses Pendleton and the entire company are notorious for consistently creating complex, dizzying universes and inviting the audience to join their new realities. And one thing is certain: Every ride is an incredible, unforgettable journey.
On June 28, 2017, the audience at The Joyce Theater was treated to a MOMIX classic, Optus Cactus. Celebrating the resplendent colors, textures, and landscape of the American Southwest, the program began with "Desert Storm", as glow-in-the-dark orbs steadily crisscrossed across the stage. With tranquil pacing and cadence, the intensity continued to build, as music from Adam Plack and Johnny Soames brought the tension to a new height and kicked off the entire performance.
With every piece, the company took on different forms seamlessly - pole-vaulters, insects, sunrays, and even a menacing four-person Gila lizard. But no matter their appearance, the dancers' adept versatility blended into a synchronous cloud of movement and musicality to create emotional nuance. Aside from the company's adaptability, it's their flawless technique that makes them fluid and supple, able to execute exciting acrobatics and maintain their poise with utter ease.
The program reached its crux in Part II's "Dream Catcher", in which the company's dance captains, Steven Ezra and Rebecca Rasmussen, conformed to a vast metallic orb, spinning through the space like threads stitching together to create a transcendent quilt. The duo bobbed and weaved through the dream catcher's lines and curves, echoing its shape with their own musculature. It was more than dance or movement. It was poetry in motion that couldn't possibly be expressed in any other way.
And as much intensity and passion were expressed throughout the entire program, the finale piece, "First Contact" was an entire culmination of the evening's brilliance, complete with assisted flying, twirling in the air, and partner work bubbling with a mellow, melancholy mood.
A feast for the eyes, this performance will linger in my subconscious for years to come.
Photo Credit: Charles Azzopardi

Related Articles View More Dance

Stories