Interview: The Story of Trailblazing Ballerina RAVEN WILKINSON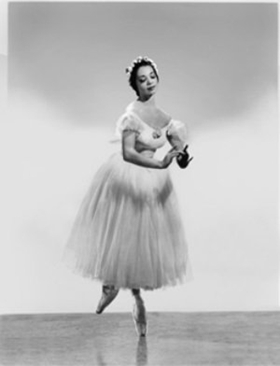 Trailblazer: The Story of Ballerina Raven Wilkinson is a new children's book, that tells the little-known story of the world-renowned Raven Wilkinson- the first African American woman to dance for a major classical ballet company. This biography was written by Leda Schubert with illustrations by Theodore Taylor III and a forward by ABT Principal dancer Misty Copeland.
I had the lovely opportunity to speak with Raven Wilkinson to learn more about her story and the release of her book.
Q: How were you first introduced to ballet and what was it about ballet that made you fall in love with the art form?
A: Ever since I was a child, I loved to move to music. My mom recognized this in me and took me to see a performance by the Ballet Russe de Monte Carlo. I had never seen anyone move like that. During the show, I remember I asked my mother, "Is that man real?" I was so fascinated! I personally fell in love with the beauty of ballet and the precision. Some people feel ballet is restrictive and that contemporary dance was more expressive. But I feel ballet is expressive. It is also colorful and joyous. There is so much beauty and grace.
Q: When you auditioned for the Ballet Russe, how did you feel when you were cut? How did you feel when you made the company after two previous tries?
A: I loved ballet and wanted to dance in the company. I knew that Sergei Denham, the Director of the Ballet Russe, held large auditions every year in New York. As I was preparing to audition, a friend of mine told me they [the company] couldn't take me because of my race. But I auditioned anyway. I had auditioned twice and still didn't make it. I went again for a third time, and I assumed I didn't get into the company as I hadn't made it before. I was called into the studio to speak with Mr. Denham and he asked me "How would you like to be in the Ballet Russe de Monte Carlo?" I almost fainted! I couldn't believe it, I was so happy.
Q: What were some challenges that you faced while in the Ballet Russe? Did you ever feel like quitting because of racism?
A: I enjoyed being in the company. I didn't have any issues my first two years. I even had a solo waltz in Les Sylphides that Mr. Denham gave me. It wasn't until year three, did the problems start. In 1957, there was an issue with a hotel manager in Atlanta. Word had gotten around that a negro was in the company. When the manager had asked me if I was black, I didn't lie. I was not embarrassed about who I was. In fear of the hotel getting bombed, the manager ordered me to leave the hotel.
Mr. Denham sent me back home to New York, until I could rejoin the company when they came back up north to Baltimore. My fellow dancers supported me, however it was hard for them to not have me travel with the company. But it was often too dangerous for me to be with the company in the deep south. There were some times I chose not to perform and would stay behind. It was very emotional. I then decided that it was time for me to leave the Ballet Russe when the Ballet Mistress told me that I had reached my limit in the company and encouraged me to do African dance instead. I was so discouraged, tired, and stressed.
Q: How did you end up dancing in Europe? How was it different from performing in the United States?
A: Although I left the Ballet Russe, I wanted to be in a company so bad. I continued to dance doing a few small things here and there. I had gotten asked if I would be interested in going to Europe and was offered a position in the Dutch National Ballet in Holland. I loved Holland! The country was diverse and had an influence of the Dutch, Asia, and the Caribbean. There, the people were more interested in who I was rather than what I was.
After seven years, I left the Dutch National Ballet. I loved being in Holland, but I missed my home and returned to New York. After I came back, I found myself walking by Lincoln Center. I thought to myself, "Too bad I never got to dance there." Soon after, I got a call from the New York City Opera. I got some dance jobs, and even some acting roles. I stayed with the company for 37 years! I was so lucky and fortunate.
Q: How has it been for you to see Misty Copeland and her rise to fame?
A: I first saw her when she was only thirteen years old. And I knew she would be the one! I kept looking out for her but couldn't find her. I later found out that she was in ABT. I went to go see her the night she performed the lead in Swan Lake. I was so proud of her. This was a role I was told a black person would never dance. She is so talented and a very lovely person both on and off the stage. It's like she has a magic formula that others don't have.
Q: What is your hope for those who read this book?
A: This is a book for the children. I want them to have a clear vision and not get discouraged by a hope or dream. We all have dreams, but we have to keep on trying and hoping. We have something within us to stand up for. We need to have faith in ourselves. Life can get you depressed, but we have to believe and never give up. I find that many didn't even try to have a career in ballet because of race. But you never know, it's not always about race.

The book, Trailblazer: The Story of Ballerina Raven Wilkinson is an excellent read. I'm sure that it will prove to be an inspiration to us all (old and young) alike. It beautifully tells the story of Ms. Wilkinson and her experience as the first African American ballerina to dance with a major American touring troupe. I loved it! And I plan to keep it and share her story, as it truly deserves to be told! It is the perfect gift for Black History Month and is available on Amazon and wherever books are sold.
Photo courtesy of Raven Wilkinson