BWW Dance Interview: Kyle Abraham Talks Live! The Realest M.C and More!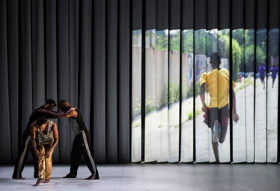 KYLE ABRAHAM is a 2017-18 Joyce Creative Residency Artist, 2016 Doris Duke Recipient, 2015 City Center Choreographer in Residence, a 2013 MacArthur Fellow, and a New York Live Arts Resident Commissioned Artist for 2012-2014.
Abraham received a prestigious Bessie Award for Outstanding Performance in Dance for his work in The Radio Show and a Princess Grace Award for Choreography in 2010. He was selected as one of Dance Magazine's "25 To Watch" for 2009. He recently choreographed a new work for New York City Ballet, and his commission for Paul Taylor Dance will premiere at Lincoln Center this fall..
In 2011, OUT magazine labeled Abraham the "best and brightest creative talent to emerge in New York City in the age of Obama. "
Abraham's "Live! The Realest MC," runs April 4 - 6 at 7:30 pm at NYU Skirball and features dancers Matthew Baker, Tamisha Guy, Keerati Jinakunwiphat, Claude "CJ" Johnson, Catherine Ellis Kirk, Marcella Lewis, and Jeremy "Jae" Neal.
Just wanted to begin by asking what it feels like to be labeled a genius.
It's all very subjective. I don't think along those lines. I received an award that has the word 'Genius' in it, but I don't believe that in any way it means that I am a genius.
You grew up in Pittsburgh. I went to undergraduate college at Carnegie Mellon and graduate work at the University of Pittsburgh. The burgh seems to have shaped a great deal of your work. Tell me, in what way?
My work is profoundly shaped by my growing up in Pittsburgh. I tend to breathe in the environment I grew up in, especially in Live! the Realist MC. There's an industrial element to the landscape I was interested in. I think it has a lot to do with me wanting to tell this kind of queer experience from an industrial city, with a sort of hip-hop vibe to it, so that the Pittsburgh roots come through. There's a lot of duality in the work that relates to my life in Pittsburgh, growing up in in a predominantly black neighborhood that was very separated from a lot of the city in a way, but still close enough to put me in danger of gang violence in the city.
I'm a huge lover of jazz music, but also history and tradition. A lot has to do with the influx of jazz musicians who traveled from New York to Chicago and made stops in Pittsburgh along the way. I've always loved learning about the culture and the history of the city. Going to the same high school as artists like Andy Warhol instilled a sense of subtle pride in me that sense that propelled me to make my work better and better, to keep pushing myself and never resting on anyone's notion of what success might be. I don't think I've achieved the level of success yet since so much of that has to do with finding a balance of success in your work and happiness in your private life.
When did you first become interested in dance, and what did you first study?
My parents were wonderful, supportive people. They introduced me to the arts at a young age. I was taking private piano and private painting classes early as first grade. They really wanted me to be well-rounded. At the same time, I was also playing sports, and going with my father and my sister to basketball games. My parents worked in the public school system and were educators. Their way of life, the way they treated other people, the appreciation that they had for the arts, definitely came through in my love of the form as well.
I know you've heard this before, but how was it growing up as a black man in Pittsburgh?
A lot of my schooling, even when I went to a school that had a lot of black students, did not have many black students in my classes. There may have been only two of us in a class. When you have certain classes like gym or AP courses, or lunchtime (which was a terror for me), that was the time when I would be picked on. I wasn't like the majority of black students in my class, because I didn't talk or walk like them. But what I tried to do, at a certain point, was try to go unnoticed. I tried to find spaces where I could hide.
The city is very layered. It can be very segregated in ways. There are undoubtedly black neighborhoods in Pittsburgh, and the two high schools I attended were in those neighborhoods, especially in my senior year, where rival gangs were very commonplace.
The history of black families in Pittsburgh is a significant one, and it always brings up strong feelings in me. I am still made aware of its racial injustice.
Where did you study dance in college?
I did my undergraduate studies at SUNY Purchase and my graduate training at NYU. I went for dance, but I always wanted to focus more on choreography.
I'm going to skip many years because I want to focus on "Live! The Real MC," which you will be reviving. What was the impetus for choreographing this work?
I made a solo called Inventing Pookie Jenkins, which was my idea of looking at my experience in high school, and the idea of going unnoticed. I started thinking about the story of Pinocchio, drawing connections between this quest to be a real boy with a hip-hop persona. The turning point moment for me, in high school, was being in art class reciting rap lyrics. A lot of that finds its way into my choreography because there was something that I would see in the halls, in guys who were walking to class reciting these lyrics--that was a kind of personification of masculinity or the male body with gravitas and grandiose bravado. That became a quest for a real boy--in the same way that this hip-hop thing was a quest for a real man. I was playing with that story and playing with that idea of a puppet coming to life. In terms of some of the movement quality, whoever is doing my role in "Live! The
Realest M.C.," it starts to live in that idea.
This is this the first time someone is doing your role?
Yes. We started touring a year and a half ago, which was the first time I wasn't in it. This will also be the first time I'm not performing it in New York. Jeremy Jae Neal has been doing it on tour and will do it at Skirball. There are three men in the company, so if I'm in it, someone's not getting on stage.
Now that you're revisiting it eight years after its premiere, and having someone else dance the lead, how do you feel?
Being outside of the work was a great experience for me and enabled me to see everything in full. It was good to think about my role in relation to everyone else and my duality with one or two of the other performers in the work, so a lot of significant changes and questions were coming up after I stepped out to look in.
Are you teaching him everything yourself, or do you have a rehearsal director do that?
I have two people that run rehearsals when I'm not in New York - Tamisha Guy and Matthew Baker, but they can't make directorial changes without me. They maintain quality and get all the performers ready.
I saw the original in 2011 when it premiered at the Kitchen. I remember a figure in sequins rising from the floor to perform a powerful solo. Or is my mind playing tricks with me?
That's still there!
Like everyone else, you've matured and grown since that performance. How does this version talk to an audience of 2019 that's different from 2011?
It's hard to say really because a New York audience is not like any other. So I don't know how New York will connect with the work, but it's been well received along the tour. We did ten shows in Paris back to back this past summer, and we performed it in Finland, where it was well received. But it's not the U.S., and the political climate is different, so I don't know.
It's always a unique thing when the question comes up about what's changed and what hasn't in terms of the way people perceive things at certain times. But if you're a black American, nothing has changed. People were spitting on us and making us feel inferior for a very long time, so I don't feel any different with the current president in office-- if that's where people try to perceive in this work. We can still pull up many cases of queer bodies or trans bodies that are being murdered and not being viewed as a hate crime. That has not been changed.
Another reason for bringing this work back is because Jay Wegman, Skirball's director, really wanted to have in the season, and it is essential as it's the 50th anniversary of Stonewall.
Why should people come and see these performances?
This might well be the last time that Live! The Realest M.C. will be performed, at least for the next ten years.
To have the opportunity to see an evening's length work eight years after its premiere will be interesting for those who have already seen it, not to mention those that have not. This will be an excellent time for New Yorkers to revisit the show.
What's coming up?
A. There's a lot that hasn't been announced, so I can't say too much. The company's about to go on an international tour, and I've been commissioned to create a new work for Paul Taylor Company, premiering at Lincoln Center in October.
Photo: Julien Benhamou.