Park Avenue Chamber Symphony Presents PICTURES: RE-IMAGINED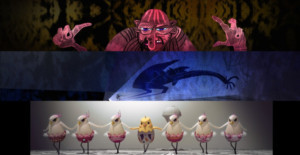 On Saturday, May 18th at 8PM at CMT Auditorium in New York City, the Park Avenue Chamber Symphony led by Maestro David Bernard, will perform the New York Premiere of an animated interpretation of Mussorgsky's "Pictures at an Exhibition" set to live music. Bringing rich fantasy, whimsy and adventure to every moment of the score, this USC School of Cinematic Arts animated interpretation was commissioned by Michael Tilson Thomas for the 2011 gala opening of Miami's high-tech Frank Gehry-designed New World Center. Tickets for this event are available online from Eventbrite: http://bit.ly/PACSPictures
" 'Pictures at an Exhibition' is a nexus of inspiration," says David Bernard. "Mussorgky's evocative piano score inspired Ravel's brilliant orchestration which in turn inspired this incredible animation. The synthesis of each component the music, the orchestration and the visuals--will bring the audience an unforgettable experience that is built through an unbroken chain of inspiration connecting the 19th, 20th and 21st centuries. It is breathtaking, and not to be missed."
At this event, the animated film will be synchronized dynamically to the orchestra's performance using Ion Concert Media's innovative software Muséik. Rather than using the customary method of constraining the performance with a pre-determined click-track, Muséik dynamically syncs the pacing of the video to the live performance.
The film was directed by the Grammy-winning team of Michael Patterson and Candace Reckinger and animated by a team of 11 students and graduates of the USC School of Cinematic Arts in Los Angeles.
"We try not to be overly literal or too direct with the storytelling," says Director Michael Patterson. "When people go and hear music, they really like their imaginations to wander. They like to feel the music and not be told everything literally. So we're really careful."
"Each of the paintings immerse you into a world suggested by the music and by the theme of the original piece of artwork that that section of the music is about," says Director Candace Reckinger. "You make your way through each picture, many of which are depicting aspects of Russian life. There's an old Italian Castle. There are the peasants. There's a marketplace. Eventually, the promenade becomes somber, and you go down into the catacombs below Paris and contemplate death and Mussorgsky reflects on the death of his friend at such a young age."
The program will also include Wagner's Overture to Tannhäuser and Mozart's Violin Concerto No. 3 performed by Serin Park, winner of the Special Music School concerto competition. In addition to regular concert seating, limited InisdeOut Seating (Inside the Orchestra) is also available.
ABOUT THE ARTISTS
DAVID BERNARD has gained recognition for his dramatic and incisive conducting in the United Stated and in over 20 countries on four continents. He serves as Music Director of the Park Avenue Chamber Symphony and the Massapequa Philharmonic, and as conductor of the Eglevsky Ballet's annual performances of Tchaikovsky's The Nutcracker at Long Island's Tilles Center for the Performing Arts. A multiple First Prize winner of the Orchestral Conducting Competition of The American Prize, Bernard was described in the judges' remarks as, a first-rate conductor phenomenal performance masterly in shaping, phrasing, technique and expressivity.
Noted recent performances include a Lincoln Center performance of Stravinsky's The Rite of Spring ( Conducting from memory, David Bernard led a transcendent performance vivid expertly choreographed. , LucidCulture) and a Carnegie Hall performance of Beethoven's Ninth Symphony ( taught and dramatic , superconductor).
Bernard's recordings have received enthusiastic critical praise. His release of Tchaikovsky's Path tique was lauded by Gramophone Magazine as an impressively elegant, thoughtful, well balanced and sophisticated Tchaikovsky Path tique. Of his Beethoven Symphony No. 9 release, The Arts Desk proclaimed Scintillating Beethoven Edge-of-the-seat playing it's a winner: dramatic, witty, eloquent and boasting some startling choral work in the last movement. His complete recorded Beethoven symphony cycle was praised by Fanfare magazine for its intensity, spontaneity, propulsive rhythm, textural clarity, dynamic control, and well-judged phrasing . Of his recent premiere recording of new editions of Stravinsky's The Rite of Spring and The Firebird, The Art Music Lounge proclaimed this is THE preferred recording of The Rite because of its authenticity as well as the almost startling boldness of approach, and The Arts Desk proclaimed The playing is impressive the finer details hit home with pleasing immediacy under David Bernard's baton. This performance is a zinger.
Particularly active throughout the greater New York City area, David Bernard has appeared as a guest conductor with orchestras including the Brooklyn Symphony, the Greater Newburgh Symphony Orchestra, the Island Symphony Orchestra, the Litha Symphony, Manhattan School of Music, the Massapequa Philharmonic, the New York Symphonic Arts Ensemble, the Putnam Symphony and the South Shore Symphony. Devoted to the music of our own time, he has presented world premi res of scores by Bruce Adolphe, Chris Caswell, John Mackey, Ted Rosenthal and Jake Runestad, and distinguished concert collaborators have included Anna Lee, Jeffrey Biegel, Carter Brey, David Chan, Catherine Cho, Adrian Daurov, Pedro N*E*R*D az, Edith Dowd, Stanley Drucker, Bart Feller, Ryu Goto, Whoopi Goldberg, Sirena Huang, Judith Ingolfsson, Yevgeny Kutik, Anna Lee, Jessica Lee, Kristin Lee, Jon Manasse, Anthony McGill, Spencer Myer, Todd Phillips, Kristin Sampson and Cameron Schutza.
Bernard has worked with the Edwin F. Kalmus editorial team, led by Clinton F. Nieweg, retired librarian of the Philadelphia Orchestra, developing new editions of Stravinsky's The Rite of Spring and The Firebird Suite 1919 Version, which has been published in 2016. In addition, he has published his own editions of Mozart's Clarinet Concerto, K. 622, and Schumann's Symphony No. 2, Op. 61.
David Bernard is an acclaimed orchestra builder--under his leadership, both the Park Avenue Chamber Symphony and the Massapequa Philharmonic have thrived with growing audiences, expanded ensembles and increased critical acclaim. Bernard is the developer of the InsideOut concert format, where audiences sit inside the orchestra during concerts. David Bernard's InsideOut concerts with the Park Avenue Chamber Symphony and the Massapequa Philharmonic have been acclaimed by WQXR, Newsday, ClassicalWorld and the Epoch Times, bringing an unsurpassed experience and level of engagement for the audiences of all ages.
Michael Patterson is a director, designer and animation artist working in visual music and immersive design. His animated film Commuter, along with 7 Patterson + Reckinger music videos, are in The Museum of Modern Art's permanent collection. He is currently a professor in the School of Cinematic Arts at the University of Southern California.
After graduate studies at CalArts with artist Jules Engel, Mike was brought to the attention of record executives with his Student Academy Award-winning animated short Commuter. Employing his unmistakable drawing style, he began his career in music videos in 1985 by animating the epic MTV hit Take on Me for A-Ha. Teaming up with his wife Candace Reckinger, they directed a string of MTV hits that include, Suzanne Vega's Luka, Sting's Be Still My Beating Heart and Opposites Attract featuring Paula Abdul and MC Skat Kat, which won the Grammy Award for Best Music Video in 1990. Their videos have received MTV, Billboard, MVPA, and American Music Awards..
In his 20 years directing TV commercials, Patterson worked extensively in a mixed media style, merging live action with animation and motion graphics. While directing at Rhythm and Hues Studios, his national TV spots earned numerous awards including two Clios and airings on the Superbowl.
Patterson began teaching at USC in 2007 and continued his work in visual music by expanding into live and immersive forms. In 2010, Patterson and Reckinger collaborated with symphony conductor Michael Tilson Thomas and a team of their USC students and graduates to create an expansive 5-screen visualization of Mussorgsky's Pictures at an Exhibition. The 35-minute live work immersed the classical music audience in animated imagery. It premiered in January 2011 with live orchestra at the gala opening of Frank Gehry's New World Center in Miami Beach, Florida. In 2012, Mike and Candace directed another team of students to create a fully animated music video for Jeff Lynne's Electric Light Orchestra classic, Mr. Blue Sky. In 2015, Mike and Candace created and performed 7 visual music works for live performance. These include Arcadiana by composer Thomas Ad s, And so the Wind Blew by Gene Koshinski, sqsqsqsqqsqqqqqqqq by Tristan Perich and Mideragami by Veronika Krausas.
To celebrate the opening of the USC Village campus in 2017, Mike and Candace directed an animated visualization of Make Our Garden Grow by Leonard Bernstein from his operetta, Candide. The massive projection-mapped animation work spanned 5 buildings and the 9-story Village tower. The piece was performed with live symphony orchestra, chorus and soloists.
Mike produces and co-created Rhythms + Visions / Expanded + Live (2011, 2013, 2017), these immersive outdoor experiences feature contemporary visual music and live music performances by internationally renown visual artists and musicians. These large-scale outdoor events feature original visual music, projections, interactive installations and VR. In June of 2018, Mike directed and designed projection exhibits and lighting for Getty Unshuttered, an outdoor experience at the Getty Center Museum, Los Angeles.
Patterson and Reckinger's music videos has been featured museum exhibitions. Animation artwork and storyboards from A-Ha's Take on Me and Paula Abdul and MC Skat Kat's Opposites Attract appeared in the Rock and Roll Hall of Fame exhibit, Stay Tuned: Rock on TV and Spectacle: The Music Video, the first ever museum exhibit to celebrate the art form of the music video.
Patterson received his B.F.A. in graphic design from University of Illinois Urbana-Champaign in 1980 and attended the M.F.A. program in Film Graphics at CalArts in 1981/84. He has been a member of the Directors Guild of America since 1993.
Candace Reckinger is an artist-director specializing in hybrid media and visual music using a mix of animation and photography. Her work ventures beyond the boundaries of conventional narrative exploring the border between the figurative and the abstract, the mythic and experiential, and the tension between movement and stillness. Her inspiration emerges from myth, landscape and music.
In the mid 80s-90s, with her husband Mike Patterson, she co-directed music videos for MTV that pioneered a mixed media approach often featuring animation. Together they created the animation for the pop culture icon Take on Me by Norwegian band A-ha, followed by a string of hits including Suzanne Vega's Luka, which won an MTV moon man for Best Female Video, Sting's Be Still My Beating Heart , awarded Women in FIlm's Best Music Video, and Opposites Attract, featuring Paul Abdul and MC Skat Kat, which won the Grammy. In 2006, seven Patterson+Reckinger videos were added to the permanent collection of the Museum of Modern Art.
In 2011, Candace collaborated with Mike Patterson and conductor Michael Tilson Thomas to create an live performance, animated 5-screen visualization of Mussorgsky's Pictures at an Exhibition for the opening festivities of The New World Center in Miami, the world's first multi-media symphonic concert hall which was designed by Frank Gehry.
She produced and co-directed Rhythms + Visions / Expanded + Live I and II in 2011 and 2013. which transformed large architectural spaces into virtual worlds using animated projections, inflatables, live music and lighting. Audiences were immersed in a physical experience as they explored sound visualizations, performances and interactive installations. The events gathered internationally renowned visual music artists work from the US, Europe and Japan in a curated gallery exhibition.
Candace currently is collaborating with composers to create immersive projected visuals for live music performance.
Serin Isabelle Park had solo performances with Allentown Symphony Orchestra with conductor Diane Wittry, Orchestra of Camerata, Concert Festival Orchestra, and Juilliard Precollege String Ensemble with conductor Radu Paponiu. She also had Masterclasses with Ilya Gringolts in Geneva,
and Dmitry Berlinsky in NYC. Born in NYC, Serin began her violin studies at age of five with Dr. Solim Shin. Since then she has performed multiple occasions at Miller Symphony Hall, Carnegie Hall, Merkin Hall, Dimenna Center, Steinway Hall in NYC, Francis Auditorium at Mary Baldwin
College, University of Music Franz Liszt in Weimar Germany, Bruno Walter Auditorium at Lincoln Center, and Centre des Arts at Geneva Switzerland. She is four times first place winner in New York Music Competition. Also won first places in Adelphi Chamber Orchestra Competition, G.
Gershwin International Music Competition, Golden Key Music Festival, and Camerata Artists International Competition. She has grand prizes at Crescendo and National Artists Competition. As aspiring musician Serin accomplished grade five in Music Theory of Associated Board of the
Royal Schools of Music at age of nine. She also had lessons with Lisa Kim from NY Philharmonic, Yu Jeong Lee, Francesca dePasquale, and piano instructions with So Hyun Ahn At age of ten Serin was admitted to Juilliard Pre-college under Catherine Cho, where she received as
loan the 3 4 size violin labeled Antonio Gragnani of Livorno dated 1798 on generous donation by Doublestop Foundation. Her performance in HeifeitzPEG program was selected one of the Top 10 Heifeitz Videos of the Summer 2016. And in 2018 she had been selected to participate in Menuhin
Competition at Geneva, Switzerland. Recipient of President's Award for Academic Excellence and award from the US Senate for contribution to the Artistic Value, Serin is 9th grader at Special Music School High School in NYC, who enjoys reading in her free time. Serin currently studies with Catherine Cho in her fifth year at Juilliard Pre-College, and plays a 1740 Venetian violin by Domenico Bussano.
Related Articles
View More Classical Music

Stories
More Hot Stories For You