Composer Robert Honstein to Release LOST AND FOUND, New Album Of Percussion Works
Honstein's Lost and Found features percussion trio Tigue, duo New Morse Code, and solo percussionist Michael Compitello.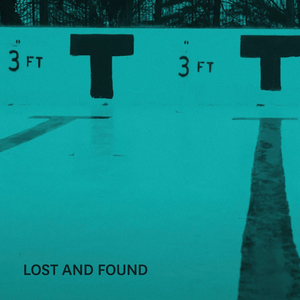 On Friday, March 24, 2023, composer Robert Honstein will release a portrait album of works for percussion, Lost and Found, on New Focus Recordings. Drawing inspiration from early memories and his experience as a new parent, Honstein's Lost and Found features percussion trio Tigue, duo New Morse Code, and solo percussionist Michael Compitello in three multi-movement works that capture the amplitude of wonder, confusion, and delight of the early childhood years with sophistication and authenticity. On release day, famed musical instrument manufacturer Vic Firth will premiere a new music video by Four/Ten Media, filmed in a Philadelphia swimming pool, for the album's title piece.
In his expansive and insightful liner notes, violist and writer Doyle Armbrust (Spektral Quartet), writes of the album, "My attention whips toward the long-range melodic arcs that define this music. The marimba's characteristic resonance shares responsibility, but just listen to how far out on the horizon these lines travel." He credits Michael Compitello's contribution to this project, "Mike Compitello's scene painting deserves a commendation now, before we cocoon ourselves in towels and depart this waterpark. His foreground and backgrounding of voices is so seamless, so sculptural, that just as with great animation, the medium disappears and all that remains is sensation."
The album opens with the creatively fluid percussive trio Tigue in Honstein's Index of Possibility (2013), which explores the secret world of sound in everyday objects. Using found sounds, homemade constructions, and cheap toys, Index unlocks a sonic palette exploding with color and variety. Cast in six movements, a wistful lullaby tune, "Repose," begins the piece. A kind of idée fixe, Repose will return two times, framing the three larger movements - "Flicker," "Flow," and "Burst." After barreling through "Burst," the final "Repose" brings the music to a hushed conclusion. While virtually the same as the opening, this last "Repose'' feels somehow transformed, touched by the long journey. Index of Possibility was commissioned by Tigue, Smoke and Mirrors, and Sonore Percussion and premiered June 13, 2013 by Tigue, JACK space, Brooklyn, NY.
Down Down Baby (2016), performed here by percussion duo New Morse Code, is inspired by the classic childhood clapping game of the same name. Kids stand in a circle, clapping hands in choreographed patterns while singing a simple rhyming song. Honstein says, "When I began the piece, my son was four months old. As a new Dad I often found myself trying to remember what being a kid was like. At the same time, perhaps with a bit less frequency, I was also thinking about how to approach cello and percussion in a completely new way. The two thoughts merged and I started to wonder if I were a kid with no prior knowledge of cellos and percussion what would I do? My immediate answer - I would hit and pluck in every possible way other than the normal way." In "Follow the Leader," the players discover their new instrument, exploring a series of sounds and imitating each other as they go. Next is a brief "Daydream," a moment of repose before a spirited "Singing Lesson" and a beguiling "Strange Dance." After a second short "Daydream," the piece concludes with the title track, "Down Down Baby," a kind of virtuosic romp through intricately coordinated hand gestures and interlocking rhythms. Down Down Baby was commissioned by New Morse Code and developed with the support of the Avaloch Farm Music Institute.
Closing the album is the title work, Lost and Found (2018) for solo marimba, inspired by Honstein's college summer job as a lifeguard at his home town's community pool. He remembers, "In the back of the guard room lived a pile of miscellaneous items - towels, goggles, shirts, and various other things left by patrons. The lost and found was both forgettable and fascinating, mostly inconsequential, but occasionally irresistible. At the end of that summer, I surreptitiously took home a T-Shirt from the pile. It remained one of my favorite shirts for over a decade, only recently tidied out of rotation (thank you Marie Kondo). In a way, this piece is also a rediscovery of lost musical materials. The original idea for the Marimba preparations developed years ago at the start of another project. After meticulously cataloging and sampling all the sounds for that project, I rather abruptly changed course and soon forgot about the unusual collection of objects. Affectionately referred to as 'Janky Marimba', the idea resurfaced when Mike Compitello approached me about writing a solo piece. The result, Lost and Found, integrates objects and normal Marimba tones to create a kind of hybrid-sound, freely weaving together both altered and normal notes to build a series of distinctive textures and timbres."
Cast in seven movements, Lost and Found was commissioned by Michael Compitello and a consortium of thirty three percussionists, including: Megan Arns, Mark Boseman, Michael Burritt, Matthew Carey, Benjamin Charles, Gabriel Costache, Gwen Dease, Corey Denham, Matthew Ernster, Thomas Faulkner, Maria Finkelmeier, Ben Fraley, Adam Groh, Piero Guimares, Sean Harvey, Ji Hye Jung, Ayano Kataoka, Tony Kirk, Terry Longshore, Colin Malloy, Dan Morphy, Chris Jackson, Yun Ju Pan, Robert Rocheteau, Matt Sharrock, Chris Sies, Neil Sisauyhoat, John Smigielski, Jeff Stern, Jen Torrence, Mike Truesdell, Eric Willie and Andrew Wright. It was premiered September 22, 2019 by Michael Compitello on the Tribeca New Music Festival at the Cell Theater, New York, NY.
About Robert Honstein

Celebrated for his "waves of colorful sounds" (The New York Times) and "smart, appealing works" (The New Yorker), Robert Honstein (b. 1980) is a New York based composer of orchestral, chamber, and vocal music. Raised in New Jersey, Honstein creates music rooted in performance and personal narrative. His background as a pianist and singer brings a deep love of instrumental and vocal practice to collaborations with leading musicians from around the world.
Fueled by an omnivorous musical appetite, Honstein's compositions are noted for their "dry humor" (San Francisco Classical Voice), "breathless eruptions" (The New York Times) and "devilishly fun writing" (The Arts Fuse). He combines a fascination with narrative, environment, and everyday experience to create "deeply contemplative" (Bandcamp) works that probe the vicissitudes of contemporary life from the banal to the sublime. A growing interest in story-telling, physicality and expressive embodiment infuses his work with a direct, evocative sensibility that is equal parts riotous frenzy, austere lyricism, and minimalist-tinged romanticism.
Leading orchestras, ensembles and soloists from around the world have performed Honstein's music including the Chicago Symphony, Albany Symphony, Orchestre Symphonique du Mulhouse, Slovenian National Theater Opera and Ballet Ljubljana, American Composers Orchestra, Eighth Blackbird, Ensemble Dal Niente, Present Music, Pittsburgh New Music Ensemble, Third Angle New Music, New Music Detroit, Quince, Mivos Quartet, Del Sol Quartet, Argus Quartet, Hub New Music, Chatterbird, TIGUE, New Morse Code, Colin Currie, Theo Bleckmann, Doug Perkins, Michael Burritt, Karl Larson, Michael Compitello and Ashley Bathgate, among others. A keen interest in interdisciplinary collaboration has led to projects with artists across many disciplines, including photographer Chris McCaw, projection designer Hannash Wasileski, graphic designer Laura Grey, and director Daniel Fish. His music has also been choreographed by numerous dance companies such as the Cincinnati Ballet, National Ballet of Canada, Nancy Karp and Dancers, Urbanity Dance, and Frame Dance, among others.
Robert Honstein has received awards, grants, and recognition from Carnegie Hall, the Barlow Foundation, Copland House, the New York Youth Symphony, ASCAP, the Albany Symphony, New Music USA, and the League of American Orchestras. His work has been featured at festivals around the United States, including the Tanglewood Music Center, the Cabrillo Festival of Contemporary Music, and the Bang on a Can Summer Institute. He has also received residencies at the MacDowell Colony, Copland House, and I-Park.
Honstein is a founding member of the New York-based composer collective Sleeping Giant, a group of "five talented guys" (The New Yorker) that are "rapidly gaining notice for their daring innovations, stylistic range and acute attention to instrumental nuance" (WQXR). Projects have included evening length works for Eighth Blackbird, Ensemble ACJW and the Deviant Septet as well as a multi-year residency with the Albany Symphony. Hand Eye for Eighth Blackbird was released on Cedille Records to critical acclaim, while the Giants most recent project Ash was released on New Amsterdam Records with cellist Ashley Bathgate.
With a commitment to building community around the music of our time, Honstein co-founded Fast Forward Austin, an annual marathon new music festival in Austin, TX and Times Two, a Boston-based concert series that paired artists from diverse backgrounds in a laid back, accessible context. As an educator, Robert Honstein has participated in outreach projects around the country, while also serving as Program Manager and Composition Faculty at NYU, Steinhardt.
His debut album, RE: You, was released by New Focus Recordings in 2014 and his second album, Night Scenes from the Ospedale, a collaboration with the Sebastians, was released on Soundspells Productions in 2015. In 2018, his album An Economy of Means, featuring Doug Perkins and Karl Larson was released on New Focus Recordings. NPR included his piece Pulse from Eighth Blackbird's Hand Eye as one of their top 100 songs of 2016. Pulse was also featured on NPR's Tiny Desk concert series featuring Eighth Blackbird.
Robert Honstein's original score to the Showtime Documentary The Real Charlie Chaplin was nominated for a 2022 News and Documentary Emmy for best original score. Recent commissions include, Juvenalia, a percussion concerto for Colin Currie, Endless Landscape, a chamber orchestra work for Ensemble Connect, and Lost and Found, a work for prepared solo marimba, for Michael Compitello and a consortium of percussionists. Upcoming projects include new works for Duo Vis, No Exit New Music Ensemble, and flutist Michael Avitable. Learn more at www.roberthonstein.com.
Learn More:
www.michaelcompitello.com
Lost and Found Tracklist

Robert Honstein - An Index of Possibility for percussion trio (2013)
1. Repose 1 [4:49]
2. Flicker [4:49]
3. Flow [4:59]
4. Repose 2 - Burst [5:13]
5. Repose 3 [2:02]
Tigue (Matt Evans, Amy Garapic, and Carson Mood, percussion)
Robert Honstein - Down Down Baby for percussion quartet (2016)
6. Follow the Leader [6:50]
7. Daydream 1 [1:02]
8. Singing Lesson [3:15]
9. Strange Dance [3:31]
10. Daydream 2 [1:05]
11. Down Down Baby [5:37]
New Morse Code (Hannah Collins, cello; Michael Compitello, percussion)
Robert Honstein - Lost and Found for prepared marimba (2018)
12. Spiders 1 [1:24]
13. Half Asleep [3:57]
14. Shakedown [4:39]
15. Spiders 2 [0:56]
16. Everything is OK [ 4:39]
17. Spiders 3 [1:18]
18. Coda [5:11]
Michael Compitello, percussion
Total Time: 65:16
AN INDEX OF POSSIBILITY, track 1-5
Recorded by Tigue (Matt Evans, Amy Garapic and Carson Moody)
Engineered, edited and mixed by Ryan Streber
January- August, 2014
Oktaven Audio, Yonkers, NY
DOWN DOWN BABY, track 6-11
Recorded by New Morse Code (Hannah Collins and Michael Compitello)
Engineered, edited, mixed by Ryan Streber
January- September, 2017 and November, 2021
Oktaven Audio, Mt. Vernon, NY
LOST AND FOUND, track 12-18
Recorded by Michael Compitello
Produced by Doug Perkins
Engineered by Stephen Burns
June 2020 through March 2022
Shirk Studios, Chicago, IL
Additional producing by Doug Perkins
Mastering by Ryan Streber
Design by Grey Studio
Photography: Stills from Lost and Found, Four/Ten Media
Liner Notes by Doyle Armbrust
FCR318