11th Edition Of The Montreal/New Musics International Festival To Feature New Music From Here And Abroad
The public is invited to hear the musical creations of some of the most innovative composers and performers on the local, national and international scenes.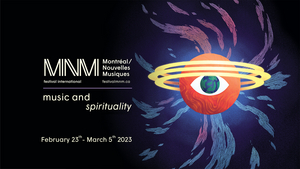 The Société de musique contemporaine du Québec (SMCQ) resents the complete program of the Montreal/New Musics international festival (MNM). This 11th edition will take place from February 23 to March 5, 2023, with the theme "Music and Spirituality". The public is invited to hear the musical creations of some of the most innovative and passionate composers and performers on the local, national and international scenes.
SMCQ Artistic Director Ana Sokolovic notes, "Since the dawn of humanity, music has accompanied spirituality, which is addressed in our festival in a broad and open way by evoking the search for meaning, hope and liberation in the face of our global challenges. Following a virtual edition in 2021, MNM 2023 marks a return to the stage and the artists are excited to be reunited with their audiences. I am sure that these reunions will be magical, unforgettable and 'spiritual' moments. Creative music is an extraordinary adventure, sometimes demanding, always full of discovery and emotion."
17 concerts and a grand night of musical discoveries
MNM 2023 is a 10-day celebration of some 70 musical works, including 20 premieres. Created by 60 composers, these works will be performed by nearly 400 musicians and other artists in 17 concerts.
The festival opens with a creation by composer Katia Makdissi-Warren performed by the Ensemble Obiora et Ensemble de la SMCQ under the direction of Cristian Gort (SMCQ principal conductor). A master in the art of building bridges between cultures, she brings together two thousand-year-old traditions with an orchestra and four Inuit and Breton singers. The program will be rounded off with Symphonie minute by José Evangelista, who recently passed away.
The First Nations are also on the program with another not-to-be-missed event at the Maison symphonique: Notinikew by Andrew Balfour, one of Canada's great Indigenous voices. This Cree-born composer highlights the history of Indigenous soldiers who fought for liberty in Europe during the First World War and were denied their rights and freedoms upon their return home.
In Golgot(h)a Walter Boudreau's passion joins that of Christ to musically revisit the Way of the Cross with poems by Raôul Duguay and narration by Pierre Lebeau.
The SMCQ Ensemble joins forces with I Musici and Louise Bessette under the direction of Jean-François Rivest to offer Messiaen en deux temps, an inspired and inspiring concert by a composer deeply imbued´ with spirituality in a work which stands out for its universality.
New music from here
Several creations by local composers are part of this eclectic programme.
Temps de carnaval invites us to discover a new piece by Jean Lesage in a program that resonates through time performed by the McGill Symphony Orchestra under the direction of Alexis Hauser.
Composer Simon Bertrand echoes Zen Buddhism in a spiritually inspired program by Ensemble Innovations en concert, that'd also features pieces by Gilles Tremblay, Morton Feldman and Arvo Pärt.
Orchestre Nouvelle Génération offers a visual and choreographic fresco on the myth of the Golem with music by Yuliya Zakharava in a pictorial universe by Natasha Turovsky and a gestural universe by Lina Cruz.
Additionally, Simon Martin invites us, in his new version of Musique d'art, to follow his exploration of the natural harmony of acoustic instruments. Direction of Cristian Gort.
New music from abroad
This 11th edition also features international musical groups.
The French ensemble Court-circuit, renowned in Europe for its risk-taking and virtuosity, presents different generations of French, Canadian and American composers.
The award-winning l'ensemble mdi from Milan, will give us a taste of Italian and Canadian chamber music. The program includes a commission by Salvatore Sciarrino, one of the most frequently performed composers in Europe today, in its continental premiere, and a world premiere by Lorenzo Troiani. Also on the program are works by local composers Maxime McKinley and Stacy Brown.
Accordion virtuoso Snežana Nešic, offers two creations by Quebec composers Jean Lesage and Jimmie LeBlanc in a free solo concert that stretches the theme of spirituality to new horizons.
As for the SHHH! Ensemble from Ottawa, the piano and percussion duo explores the nature of creativity, meditation, the afterlife and ... Scotch whisky!
Unusual new music
MNM also features musical inventions and sound technology.
During the "Nuit blanche de Montréal", night owls can take advantage of La Grande Nuit, a state of the art facility that explores the different nuances of sound in an 32 speaker immersive dome! Free admission.
In L'art de se réinventer, the ensemble Totem Contemporain joins forces with the Ensemble Cairn (France) to create unheard-of sounds from its invented instruments, in tandem with classical instruments. An highly unique musical encounter!
And for those who wish to develop their gift of ubiquity, a concert given simultaneously on two continents will be offered by the musicians from Montreal's Quasar Saxophone Quartet and Germany's Mixtura Ensemble.
Finally, the Illuminations by composers Brian Cherney and Benjamin Britten performed by the Orchestre classique de Montréal will conclude these 10 days of new and exceptional music.
Colloquia, conferences and other meetings of the third kind
In addition to its fifteen concerts, MNM presents two international colloquia on the theme of "Music and Transcendence in the Post-Humanist Era", two study days and a conference (Golgotha, Messiaen and Boudreau) before the Golgo(t)a concert.
The full program is available on the website: www.festivalmnm.ca.