Veteran Stage Director Susan Moore Jordan Publishes 'And This Shall Be For Music'
Jordan has published 15 novels and one non-fiction work in the 10 years since she turned 75.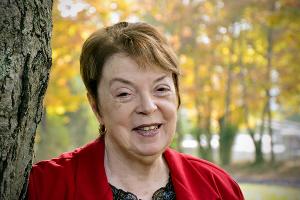 Susan Moore Jordan is a stage director and voice teacher based in Stroudsburg, PA, who just recently observed her 85th birthday.
But unlike others who've reached that milestone, Jordan celebrated her birthday by checking the sales figures for the 16 books - 15 novels and one non-fiction work -- she's published in the 10 years since she turned 75, and then resuming work on her 17th book.
Jordan's most recent novel, just released on Amazon.com, is "And This Shall Be for Music." As with all of her books, it draws heavily on Jordan's decades of theatrical and musical experience. Three young musicians - a soprano, a tenor, and a pianist - pursue their career dreams despite the tragedy that befalls one of them, and along the way the soprano discovers that there may be more satisfying alternatives to an operatic career.
Jordan's one non-fiction title, "More Fog, Please," is a "how-to" based on her 31 years of directing high school music theater productions at Stroudsburg and East Stroudsburg High Schools, and community music theater for Pocono Lively Arts and Black Sheep Productions. "More Fog" is her best-selling title and for a time was No.1 in its category on Amazon.com.
"There's no way I could write without incorporating music into the stories," says Jordan. "It's the most powerful force in the universe, with the power to heal us, inspire us, and serve as a a universal form of communication that spans geographic and cultural boundaries. I am fortunate that it has been such a huge force in my own life."
Along with her prolific writing career, Jordan remains busy as a vocal music teacher with nine students at present. Since she began teaching in 1979, most of her students have gone on to college undergraduate if not graduate study, followed by professional careers as singers, music educators, and arts administrators.
Her most prominent alumnus is the baritone Thomas Lehman, who joined Deutsche Oper Berlin in 2015 and now sings principal and leading roles with that and other European opera houses. Jordan is presently working with another young baritone who she feels has similar potential.
Jordan's writing career began in May 2013 with a challenge from a theater colleague. Facing a summer with no community theater productions to direct, she was questioning how she'd be able to fill her time when that colleague suggested she write a book.
Jordan had just directed a high school production of Rodgers & Hammerstein's "Carousel," and during rehearsals had told her cast and crew a true story from her own high school days in Oak Ridge, TN. There, on the eve of auditions for "Carousel," the parents and brother-in-law of a fellow student were shot and killed by an estranged family member -- and yet that student went on with her audition, won and ultimately triumphed in the leading role of Julie.
"Write that story," said Jordan's colleague. "And write it in the first person."
It took Jordan only four months to write and publish "How I Grew Up," the first of three novels in her "Carousel Trilogy." The second, "Eli's Heart," was the story of another high school musical colleague in love with a young virtuoso pianist facing early death from a rare heart defect. (Jordan had met the late pianist Samuel Sanders, then a teenager who was already living that story, when he visited Oak Ridge.) Book three, "You Are My Song," followed the path of a young tenor in "Carousel" on his pursuit of an operatic career. For that book, Jordan drew on her own experience of being married to a tenor while he was trying to build a career.
And then the "spinoffs" followed. Two brothers who had avoided the murderous attack prior to "Carousel" went on to survive combat during the Vietnam war, and each relied on music in different ways to drive the healing process. Their stories became "Memories of Jake" and "Man with No Yesterdays," books one and two of "The Cameron Saga." Book three, about the daughter of one of those brothers, is the just-released "And This Shall Be for Music."
Along the way, Jordan also added "Jamie's Children," about the musical prodigy offspring of the tenor from "You Are My Song," to the "Carousel Trilogy" to make it a quartet.
In 2018, Jordan ventured into the "cozy mystery" genre with a lead character named Augusta McKee - an alluring, quite independent voice teacher, opera singer, and amateur sleuth of a certain age - who partners with a police detective to solve her cases and ultimately becomes his romantic partner as well. There are now eight books in the Augusta McKee series, the latest of which is "The Case of the Bogus Beatle," and Jordan is presently working on a ninth.
The characters and much of the action in all of Jordan's novels are rooted in Cincinnati. As Susan Moore, she had begun studies at the College-Conservatory of Music in 1955 as a vocal performance major and quickly became immersed in the city's long and rich musical culture. As a youngster in Oak Ridge, TN, she had grown up in a household where music was always present, and had fallen in love with opera via the Metropolitan Opera broadcasts at age 14.
While at the College-Conservatory, Susan Moore met and married the tenor Samuel Jordan, who was pursuing a professional career in the United States and Europe. Three children quickly followed, and she interrupted her studies to take on fulltime work as an arts administrator at the Edgecliff College Festival of Fine Arts and the Cincinnati Shakespeare Festival to help support the family. (She completed her bachelor's degree at Thomas Edison State University in 1986 at age 48.)
Meanwhile, as Samuel Jordan had become increasingly frustrated with his lack of career progress as a singer, he had also begun mastering the skill of hand-engraving press-ready musical scores and parts for music publishers. In 1971 the Jordan family moved from Cincinnati to Stroudsburg so he could be closer to his clients.
Susan followed her husband into the music engraving business, opened her vocal studio in 1979, and began her stage directing career five years later. When her husband passed away in 2007, she also became the sole proprietor of the engraving business. That business ultimately produced diminishing returns as computer-based music notation software enabled publishers to bring that aspect of their operations in-house.
"Keeping busy on many different fronts became second nature to me long ago," says Jordan. "Fortunately, most of the things I needed to do in order to survive and help provide for our family were things that I enjoyed. Obviously the publishing career was something I could never have anticipated, but the process of creating characters and developing their stories quickly became something I enjoy just as much as teaching young singers and watching them develop."
In 2019 Jordan wrote an article on her self-publishing career for The Guardian, and soon thereafter a camera crew from NBC's "Today Show" visited Stroudsburg to film her for a "Super Seniors" segment. (At that point, she had published a mere 10 books at the age of 81.) While the number of titles in print has now increased to 16, she shows no indication of slowing down.
All of Susan Moore Jordan's books are available for purchase in e-book and print formats at Amazon.com. More information about the author and her books, as well as her 40+ blogs on musical and other subjects, can be found at https://www.susanmoorejordan.com.