New Children's Book Teaches Importance of Kindness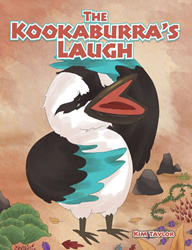 Author
Kim Taylor
has always loved reading to her children and grandchildren. As a Registered Nurse in Aged Care, Taylor knows the importance of being moral and kind to others and is an advocate for early childhood literacy which inspired her to write her new children's book "The Kookaburra's Laugh."
The story follows Kenny the Kookaburra as he greedily sets out to deceive Kylie the Kookaburra so he can steal her food. Kylie's instinct is to trust Kenny, as that is her nature. However, Kenny's cunning scheme backfires spectacularly and he becomes the laughing stock of the Australian bush as he learns a lesson he will never forget. The story imparts the message that lies and deceit are not the path to success.
"The key theme is the moral lesson," said Taylor. "It is important to teach children to be kind and a good person as these lessons will stay with them as adults."
"The Kookaburra's Laugh" will resonate with children as they follow along with Kenny's misadventure in this easy-to-read children's picture book and learn the important message of being a good person.
"The Kookaburra's Laugh"
By Kim Taylor
ISBN: 978-1-5043-1043-7
Available at Amazon, Barnes & Noble and the Balboa Press Bookstore
About the author
Author Kim Taylor is a mother, grandmother and Registered Nurse by profession. She believes the early introduction of reading creates a loving bond with the child and introduces a learning of words and sounds which improves their reading and vocabulary skills. Taylor lives in Hunter Valley, New South Wales, Australia.
For Review Copies & General Inquiries Contact:
LAVIDGE - Phoenix
Lauren Dickerson
ldickerson(at)lavidge.com
480-998-2600
Related Articles View More Books

Stories
More Hot Stories For You