NEA Translation Grant Brings Lost World of French Indochina to Life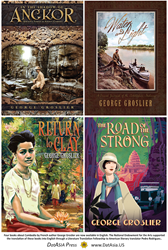 A larger-than-life figure in Southeast Asia, George Groslier travelled deep into Cambodian jungles documenting nearly forgotten millennium-old temples, conducted the first study of the kingdom's sacred dance tradition, and later organized the country's National Museum and School of Fine Arts. If not for the tragic events of World War II, his archives and legacy would have survived to the present day. But Groslier was murdered by his Japanese interrogators in June 1945, and his French compatriots were keen to forget that France's Vichy régime had collaborated with Nazi Germany and Japan during the war.
In addition, Groslier had made a number of political enemies over the years. First, he worked directly for future French Prime Minister Albert Sarraut, often competing with (and outperforming) historical projects run by other government agencies. Further, Groslier's books describe some unsavory practices of his compatriots, and he wrote as an authority-which he was-on the country's age-old art outside of French academic channels: a true scholar but without the diplomas…
In Groslier's era, France administered Cambodia, Laos and Vietnam under the colonial umbrella of Indochina. Born in Cambodia in 1887, he published eleven books and dozens of academic papers during his lifetime. While a few French copies of his books remain, his works were never accessible to the English-speaking public. Until 2012, that is, when the National Endowment for the Arts granted a fellowship to American literary translator Pedro Rodríguez to support the translation of travelogues and novels by Groslier into English for the first time.
The National Endowment for the Arts was established by Congress in 1965 as an independent agency of the federal government. Since the inception of the literary translation program in 1981, the NEA has awarded 455 translation fellowships for projects representing in 69 languages from 82 countries.
Over the last six years, Mr. Rodriguez has completed English translations for four of Groslier's books. DatAsia Press published them as English language editions, with forewords by modern scholars, supplemental articles, photos, maps, and the original French text.
DatAsia published the first translation in 2014, "In the Shadow of Angkor-Unknown Temples of Ancient Cambodia" in which Groslier describes his 1913-14 trek across Cambodia documenting the country's Khmer monuments, built in the 11th and 12th centuries when the Angkorean empire dominated the region. His expedition included a visit to the mountaintop temple of Preah Vihear-now a UNESCO World Heritage Site. A foreword by Cambodian history scholar Milton Osborne opens the edition, which also includes detailed maps and 75 illustrations.
Also in 2014, "Return to Clay-A Romance of Colonial Cambodia", a novel first published in 1925 that earned Groslier France's Grand Prix de Littérature Coloniale. The story features a Frenchman who turns his back on his French heritage and marriage to adopt what he believes is a genuine Cambodian way of life, complete with a Cambodian mistress. French literary scholar Professor Henri Copin contributed a foreword to this edition, as well as to the two subsequent translations.
In 2016, DatAsia published "Water and Light-A Travel Journal of the Cambodian Mekong", an account of Groslier's 2,000-kilometer (1,250 miles) journey along the Mekong River in 1929 to inspect Buddhist pagodas across Indochina. Dedicated to George Groslier's daughter Nicole, who helped reissue her father's works, this special full-color edition includes Groslier's original photos, and more than 70 hand-tinted illustrations.
On November 1, 2017, DatAsia released the final Groslier translation: "The Road of the Strong-A Romance of Colonial Cambodia". Set in Cambodia's then rural northwest, the novel revolves around a Frenchman charged with developing the nation's road system, a wealthy industrialist, and his wife who harbours a secret. The volume includes 100 illustrations, background notes and the essay, "Colonial Battambang Today," a feature article describing the book's primary setting; a city now seeking UNESCO World Heritage status for its French colonial heritage.
In her preface to the NEA's publication, "The Art of Empathy: Celebrating Literature in Translation", Chairman Jane Chu writes "Bringing other voices to the American public, voices that we might not hear otherwise, makes this country as a whole a better place." In the four translations by Mr. Rodriguez, Anglophones around the world can now experience early 20th century Cambodia through the expert eyes of George Groslier for the first time.
DatAsia Press specializes in fiction and non-fiction books about Cambodia, Laos, Thailand and Vietnam from centuries past through the 20th century. Its publications include academic analysis, expanded restorations of rare, obscure and out-of-print works, and other works of literature in French and English translations. http://www.DatAsia.us
Related Articles View More Books

Stories
More Hot Stories For You