Braille Urns, A New Era in the Death Care Industry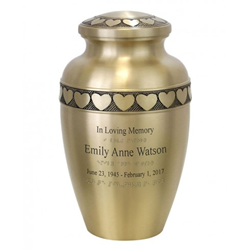 In The Light Urns
, a leading company in the urn and death care industry, is providing many people with options to choose from a variety of custom urns. A new method arriving to the scene is the addition of the Braille writing system for the visually impaired. This service is offered for every type of urn sold. Using various printing and design techniques, custom urns can be created for every individual. Whether the urn is brass, wood, ceramic, marble, or glass, each material can accommodate names and messages written in Braille. In The Light Urns is not only an industry leader in the urn and death care field, but is also the only company that offers
Braille urns
to the families of the visually impaired, in addition to their regular urns, keepsakes, and jewelry lines.
Cremation rates are on the rise as a much more flexible and customizable way to honor those who have passed on. Cremation is often preferable to an elaborate and costly funeral service. With cremation, there is no need to arrange a casket, chapel service, pallbearers, funeral cars, cemetery plots, or grave markers. Cremation also provides the luxury of spending as much time as needed with a loved one without being rushed through a funeral service. Ashes can be kept in an urn forever, allowing family members and friends to come together and commemorate a life without the stress and pressure of traveling for a funeral.
Losing a loved one is one of the most difficult things anyone should have to go through. The cremation and funeral process is designed to commemorate the life of a loved one and to give grieving relatives and friends the opportunity to say goodbye. Keeping up with the advancement of the tech industry, urns can be designed to remember and celebrate the life of a loved one in a specially constructed way that represents the essence of every personality. With cremation becoming the more popular choice for many, In the Light Urns is incorporating custom and accessible ways that allows for every family member to partake in this experience.
Related Articles View More Books

Stories
Industry Classifieds
More Hot Stories For You