Book Offers Grace as an Alternative to Religion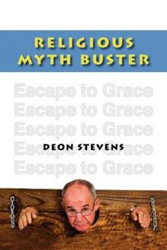 Author Deon Stevens has a burning desire to help believers find their way back to a meaningful divine relationship - uncluttered by pointless religion. In his published book "Religious Myth Buster: Escape to Grace" (published by Xlibris UK), Stevens exposes religion for distancing believers' from the good that God has planned for them. He reveals fresh scriptural insights into a religious free relationship with a Heavenly Father who is passionately in love with them.
To purchase and know more about the book, readers may visit http://www.xlibris.com/Bookstore/BookSearchResults.aspx?Search=Deon%20Stevens.
Stevens advocates that believers have a choice, either to bow to the demands of religion, or to walk away from it into the embrace of a passionate divine lover. He also observes that, by and large, the church has drifted from the grace that Paul so passionately championed. Often churches have oodles of grace for sinners, yet hardly a drop for saints. In the book, the author poses a relevant question: "Must we change ourselves in order to win God's acceptance, or has He made us acceptable without our help?"
"Believers are often left wondering why their most ardent attempts at getting God's attention don't work. Surely there must be more to divine relationships than un-fulfilment! The good news is that there most certainly is-God offers supreme fulfillment through His marvelous grace without the help of religion," the author says.
An excerpt from the book:
Although God loves us regardless, sadly many sincere believers forego this blood bough privilege, never getting to luxuriate in it. This perfect divine love affair is only enjoyed by those who are convinced that God's love comes without strings attached. Those who have made this discover need no persuasion - they know that graceless religion is a myth! We simply do not have to achieve a certain level of holy living to get God's attention-our best attempts at piety cannot persuade Him to love us one iota more.
"Religious Myth Buster"
By Deon Stevens
Softcover | 6 x 9in | 218 pages | ISBN 9781453566329
Available at Amazon and Barnes & Noble
About the Author
Deon Stevens spent half a lifetime devoted to "meaningless religion." The hollowness of it drove him to seek something more meaningful. What he found was a blissful dimension of God's unconditional love and acceptance. Stevens is the author of "Last Will and Testament," "Frankie's Kingdom," "Love Empowering Capsules," "How Extreme is Grace?" and "Supreme Fulfillment."
Related Articles View More Books

Stories
More Hot Stories For You