BWW Review: Kenny Leon Reminds Us: Take You With You Wherever You Go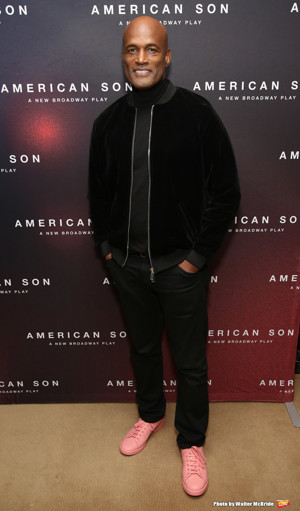 Few directors working today can honestly say that their careers span so many genres of the entertainment industry. Live television. Theatre. The list goes on and on. But Tony Award-winner Kenny Leon can easily claim such an honor. With a resume spanning three decades, Leon has more than proven his place as one of the American theatre's most preeminent and prolific directors. Most recently represented on Broadway with his acclaimed production of American Son (starring Kerry Washington and Steven Pasquale and soon to be filmed for an upcoming release on Netflix), Leon has proved time and again to be a director for a new generation, impressing upon his audiences the importance of racial matters in our country. And now, he humbly shares his success in a memoir entitled Take You Wherever You Go (released in 2018 from Grand Central Publishing), in which he shares his deep passion for directing through the lens of his humble upbringings in Tallahassee and St. Petersburg, Florida.
The inspiration for the title comes from Leon's grandmother and heroine, Grandma Mamie Wilson, who frequently appears as a source of pride and honor in the memoir. What Leon does remarkably well is maintain the sometimes difficult and delicate high-wire act of balancing career triumphs with personal grounding. He offers the reader a true insight into both his creative process (with quotes and stories from the likes of Ariana Grande, Denzel Washington, Samuel L. Jackson and Harry Belafonte), while periodically reminding us that his feet are firmly planted on the ground as just Kenny from Tallahassee, FL. Literally. He is well known for his impressive and stylized sneaker collection that he unapologetically wears in rehearsals and on red carpets, which earned him an unofficial deal from Adidas.
Mr. Leon's achievements know no bounds, as he takes us on a career and life journey from his long tenure as artistic director of the famed Alliance Theatre in Atlanta for more than a decade to Broadway to television (Hairspray Live on NBC and A Raisin in the Sun on ABC) and back to Atlanta, where he still serves as artistic director of his own Kenny Leon's True Colors Theatre Company. Leon constantly reminds us, however, that despite his vast success in all mediums of entertainment, success akin to his is achievable by anyone who puts forth hard work and perseverance; just as his Grandma Mamie taught him so many years ago on the porch of her small house in Florida where she helped to raise the young Leon.
Leon has had innumerable life and career highs that have all seemed serendipitious and in direct proportion to his strong personality and work ethic. The most essential ingredient being trust, which he reminds us of when speaking casually of working with the likes of Phylicia Rashad and others. But there were also several tense moments in his life, which he never shies away from divulging. He occasionally mentions the father figures in his life (a stepfather and biological father who were both rather absent in both Kenny's youth and adulthood) and his somewhat difficult marriage to Carol Mitchell (an actress who he met in his early acting days who would later develop kidney disease and subsequently pass away just after their divorce).
Despite these unavoidable happenings in Kenny's life, however, he always found comfort and solace in pushing forward and always returning to his work as a director. His artistic palette at his artistic home of many years, the Alliance Theatre in downtown Atlanta, afforded Leon many of his earlier directorial successes. Not only does he chronicle these triumphs with stories about his earlier work on masterpieces such as his idol August Wilson's Fences, but he also goes on to document some minor challenges. One of these challenges, remarkably, was with one of entertainment and theatre's biggest corporations: Disney Theatrical. In one story, Leon actually recounts a story with several of Disney Theatricals' power players (including President & Producer, Thomas Schumacher). He explains the delicate balance he maintained between the Alliance Theatre and the corporate theatre icon during their initial out-of-town tryout of Disney's Aida and the challenges presented (both technical and artistic), including a 5-ton pyramid that was the central set piece in the show. The $10 million set piece was subsequently scrapped altogether after breaking down several times during the show's run at the Alliance. He also recounts initial trepidation he had over accepting the offer to have the Alliance be Aida's out-of-town home for Disney, recalling fears he had that Disney's head honchos would come in and take over his theatrical house. Eventually all artistic fears were allayed and technical snafus fixed. How? By doing what he does best and creating a sense of community and overall trust. But had Leon not taken the wheel as a strong and confident director, the production that ran on Broadway for over four years may not have been as successful.
Above all else, what Leon instills in the reader is that regardless of one's career or life circumstances, it is vitally essential to always remain true to one self and stick to one's character and vision. It is a testament not only to his legend as one of Broadway's most sought-after directors currently working today, but a tribute to the values, work ethic, and love that his loving Grandma Mamie instilled in him so many years ago. As she once said to him, "Don't worry about anybody else. Just take you." To add to Grandma Mamie's sentiment: yes, and take this book with you as well.
Take You Wherever You Go
Book by Kenny Leon
Forward by Samuel L. Jackson
Related Articles View More Books

Stories
William Cortez-Statham is a theatrical writer and administrator living in New York City. He has previously performed all over the country as well as in (read more...)