Student Blog: 8 Albums and Discographies That NEED to be Turned into Jukebox Musicals - IMMEDIATELY!
This is probably slightly self-indulgent.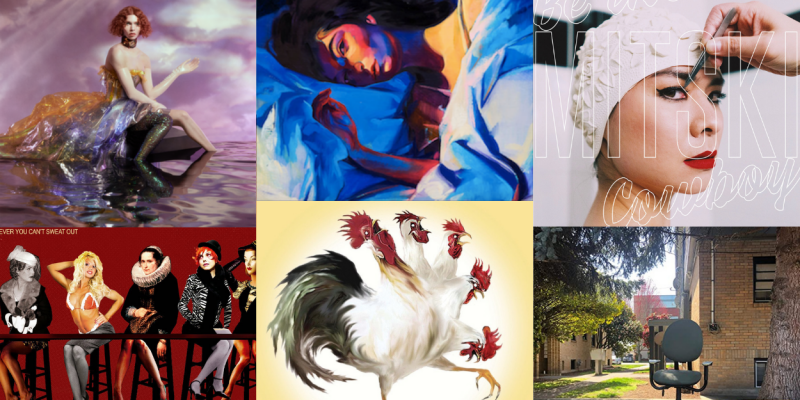 It took me a good 5 years after my emo phase to begin listening to music that wasn't a cast album - and pretty much every single album and song I listen to gets staged in my head. This beautiful curse has lead to many full-scale productions in my head based on several talented artists, spanning several genres. Without further ado, here are ten albums and discographies that belong on the stage (in my humble opinion).
1. A Fever You Can't Sweat Out - Panic! at the Disco
I loved Panic! during my emo days, and I always find myself coming back to them. Their debut LP is so theatrical that it practically jumps from the radio onto the stage: images of Pierrot and harlequins on a weathered, nearly broken stage (with the required dust and ivy, of course) fill my head. A jukebox musical based entirely in this album might be hard to pull off, so I believe it would be appropriate to pull songs from their next album, Pretty. Odd. With an appropriate book writer and orchestrator, I believe this show would have a comfortable home Off-Broadway, or maybe even Broadway.
2. Penelope Scott (Various Albums)
Penelope Scott is one of the most talented young songwriters to come out of this generation. Many of her songs have this sense of perfect imperfection - capturing stories and feelings that are hard to explain. Many of her songs off of her debut album, The Junkyard 2, feel like a Gen Z Bill Finn musical. While she explores electronic sounds in her more recent album Public Void, her off-kilter sound could be right at home in a small theatre, telling a story of 20-somethings and their distaste with society, complete with a touch of body horror and pessimism.
3. Hozier (Various Albums)
Yes, we've all heard the jokes about Hozier's music sounding like how a bog body feels, but I truly believe that Hozier's work would translate excellently to theatre. Exploding into the mainstream with "Take Me to Church", Hozier has since released another full-length album that, when combined with his first, creates a story of love and ache. I could see a Hozier jukebox musical staged in the round with actors playing instruments.
4. Oil of Every Pearl's Un-Insides - SOPHIE
This one seems quite out of place compared to the others. I truly believe that Sophie's genius could translate to theatre in a very specific way. She is proclaimed the mother of hyperpop, which is a genre that would be hard to translate to the stage, especially in song. I think that this album specifically could lend itself very well to dance performance and the occasional singing performance. SOPHIE's work pairs well with 3d computer graphics and flashing lights, all things that I believe could make a very compelling performance from an ensemble of dancers and singers, a la Oscar at the Crown.
5. Mitski (Various Albums)
Mitski is the person we turn to for our sad songs - there are even playlists that rank Mitski's songs in order of sadness. Her songwriting is very poetic, which could lend itself well to staging. I could see her songs being used in a coming-of-age story, high school or college. Songs like Class of 2013 and A Pearl detail very specific traumas that could be extended through theatre performance, and writing around Mitski's genius lyrics would not be hard - the pieces of the story simply fall into place.
6. Mother Mother (Various Albums)
Although I am currently writing my ideal Mother Mother movie musical (in my head, mind you), I will indulge you all with some ideas that their music gave me.
Mother Mother blew up on the internet in summer of 2020, bringing their sound to many teens on TikTok. Their earlier folk sound conjures forests, chicken coops, and ghost towns. Their lyrics tell self-contained stories - stories that could be used as vignettes, with the band or a narrator connecting them. Pulling from multiple albums, songs could be strung together to create a cohesive narrative.
7. Midnight Oil - Diesel and Dust
This concept album about the struggles of Indigenous Australians could certainly translate well to a musical. If cast and written correctly, this entire album could be easily mounted for the stage. I think an Australian premiere would suit this show, as it would need to cast Indigenous Australians. The sound would suit an immersive set design including red and orange colors as the main focus.
8. Melodrama - Lorde
This one might be self-explanatory.
Many people analyzing this album say that it chronicles the events of a house party, or the thoughts after. I think this would do GREAT as a musical about a party, even if Lorde hasn't confirmed this storyline. Some songs are even reprised! This album would translate well to the stage with an intimate staging.
So, did any of these jukebox musical ideas pique your interest? Do you have any ideas for your own? I hope these ideas inspired you!