Serge Clivo Returns To The Regent Theatre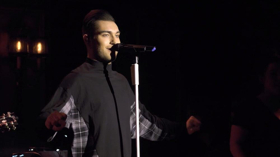 Back by popular demand, singer, recording artist and award-nominated actor, Serge Clivio, returns to The Regent Theatre on Saturday, February 23rd at 7:30pm with a brand new one-night-only concert.
After premiering his first headlining concert Sticks & Stones on The Regent Theatre stage in February of 2018, Serge and his talented band booked, sold-out and played legendary venues like New York City's Cutting Room and Feinstein's/54 Below. Now, in returning a year later with brand new material, he will debut an all-new show that demonstrates all the poise and confidence this young, up-and-coming singer, actor and recording artist has acquired. This show is personalized for The Regent Theatre and will feature brand new songs that were all hand-picked by Serge. The audience will get a taste of all the different genres that shaped Serge into the artist he is today. You can expect to hear some pop/rock classics, brand new originals and even a jazz standard or two!
Backed by his incredible band, Serge returns to The Regent's stage less than a month after an encore performance at Feinstein's/54 Below, which was titled An Evening with Serge Clivio ...(and Friends)! At the helm of the band is Broadway's Mike Stapleton, currently found playing in the orchestra pit of the hit musical Wicked at The Gershwin Theatre. The show also features Serge's 3 backup singers, NYU Graduate and RENT 20th Anniversary Tour star, David Merino; New York-based actor and singer, Eddy Cavazos and actress of the stage and screen, Molly Keane-Dreyer. Berklee College graduates Eric Derwallis (drums), Michael Morrissette (bass) and Matt Sewell (guitar) round out the band.
Tickets for Serge Clivio Live In Concert can be found by following the link below:
http://www.regenttheatre.com/details/serge_clivio_live_in_concert