Review: Fresh Ink Theatre Offers a Breath of Fresh Air with NOMAD AMERICANA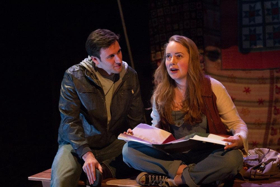 Nomad Americana
Written by Kira Rockwell, Directed by Damon Krometis; Dramaturg, Sara Brookner; Stage Manager, Ariel Welch; Assistant Director, Sloth Levine; Assistant Stage Manager, Betsy Pierce; Scenic Design, Baron E. Pugh; Lighting Design, Jess Krometis; Costume Design, Chelsea Kerl; Prop Design, Julia Fioravanti; Sound Design, Elizabeth Cahill; Dialect Consultant, Elizabeth Milanovich; Fight Choreographer, Margaret Clark; Special Education Consultant, Erin Ronder Neves
CAST: Ivy Ryan, Janelle Mills, Jeffrey Song, Khloe Alice Lin, Nick Perron
Performances through February 18 by Fresh Ink Theatre at Boston Playwrights' Theatre, 949 Commonwealth Avenue, Boston, MA; Tickets at BPT Box Office or https://web.ovationtix.com/trs/pr/983917
There's something very American about hitting the open road and wandering, with or without purpose, from one destination to another. Many an author or poet has waxed romantically about travels through the land, seeking opportunity, adventure, or escape. In that fine tradition, Kira Rockwell has introduced the Echo family, an eccentric clan living in a mobile RV, choosing to temporarily root themselves in a rural Texas town to await the imminent birth of a new baby. Their stay coincides with eldest daughter Bridgette's 21st birthday as she begins to consider a new life for herself, perhaps taking a different road than her family. Will she stay in the Lone Star state to pursue romance, or will she follow her lifelong dream and journey to a faraway place?
These are but two of the choices for Bridgette (Ivy Ryan, terrific) to consider in Fresh Ink Theatre's world premiere production of Rockwell's Nomad Americana. The Echo troupe has been on the road since their first born son Theo ran off on his own many years before, abandoning the close-knit family without a word since. Their vagabond lifestyle allows them the freedom to be who they are, putting on little shows, practicing meditation, and looking for the magic in the universe. Toby (Jeffrey Song) and Violet (Janelle Mills) are earthy-crunchy types whose marriage is warm and loving, and they treat each of their daughters according to the kind of parenting they need. Stormi (Khloe Alice Lin) is a good helper with the roadside vending business they do, but seems to harbor many fears, in contrast to Bridgette's more curious nature.
Incremental changes occur within the family constellation when a local young man stumbles into their campsite and takes a liking to them. Despite his Texas drawl, Danny (Nick Perron) shares with Bridgette an affection for Shakespeare, and he rides motorcycles rather than horses. Violet sees an opportunity for her daughter to expand her horizons and more or less pushes them together, leading to countless m/c rides and long talks while stargazing. The burgeoning relationship between them is one of the highlights of the play, and both Ryan and Perron authentically convey their deepening connection.
Nomad Americana is a character study which gently meanders through the days spent in the quiet town. Not much happens, but that keeps our attention where it belongs, focused on these very well-drawn individuals. Almost from the start, Rockwell lays out who they are, and each member of the cast slides easily into their skin. Portraying the person who goes through the most change, Ryan especially bears watching, growing from an adolescent into a woman, nuance by nuance. Perron's Danny shows great understanding and sensitivity, turning him into the best first boyfriend a girl could ever hope to find. While Toby and Violet are not exactly Ward and June Cleaver, their relationship provides a wonderful model for a working marriage, and Song and Mills capture their unique personalities. Stormi's role is somewhat limited, but Lin is amusing and a steady presence.
Director Damon Krometis effectively stages the play, making full use of the postage stamp-sized space. Baron E. Pugh and Jess Krometis combine their scenic and lighting design concepts to both decorate and light the set to evoke a campground sensibility. The characters are given additional definition by Chelsea Kerl's costume designs, and Elizabeth Cahill provides the sound of a motorcycle engine off-stage and soothing music for the family's meditation practice. At this juncture, Nomad Americana is a two-act play that runs about an hour and fifty minutes, but I think the case could be made to do some streamlining to bring it in at about 90-95 minutes, sans intermission. There are a few scenes that feel repetitious or unnecessary in the overall scheme of things. Shorten the itinerary just a bit and it will be an even more inviting breath of fresh air.
Photo credit: Paul Fox (Nick Perron, Ivy Ryan)