Click Here to Visit the College Center

Blogs are the opinions of the authors and do not necessarily reflect the opinions of BroadwayWorld. BroadwayWorld believes in providing a platform for open and constructive conversation.

Student Blog: Letters from a Nobody in New York: #4 Meet a Professor, Molly Noerenberg (NYU)
I discuss NYU's audition process, learning on campus and becoming a business owner with Molly Noerenberg!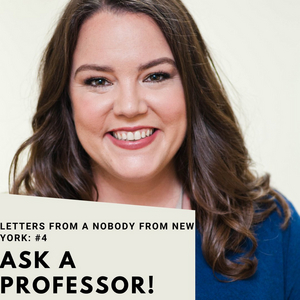 Moving to New York is stress. The streets are slightly confusing and you never know if you're uptown, downtown or in a state of denial or better yet, in Brooklyn. Living in New York you learn to practice gratitude while building a thick and resilient skin as an Actor pounding the pavements. Artists have to learn a plethora of skills and I think I know somebody knows a lot about being an artist and becoming a business owner in New York. Our guest this week is not only a Adjunct Voice Professor at New York University but she is also a business owner of the NYC Vocal Studio. Join me in welcoming Molly Noerenberg as we discuss all things NYU!
1. New York University is an epicentre of creativity, learning and discovery. As an NYU Voice Teacher, what are some of the first things you discuss with Freshman students in your vocal studio?
Molly: I want students to know from the very beginning that while they will be learning a TON about their voice throughout their 4 years at NYU, one of the most important things is HOW to learn about their voice and their process. They will be developing their voice, their style, their connection to their body and their expression in ways that will set up a process for continuing to learn after they graduate. I think it can be easy to get lured into thinking we need to be these perfect Musical Theatre machines by the time we sing our senior recital, but the reality is we should be learning new things forever in this career. If you have a process to trust when you are learning (rather than viewing your singing through a lens of how it is right or wrong) it will be much more fun in the long haul!
Also one of the very first things I do is ask my students to fill out a questionnaire we use at the NYC Vocal Studio called the "Artistic Point of View." The topics include your favorite guilty pleasure song, what lights you up as an artist, and many more designed to articulate what makes you, you. It's really important to me that all of my students know I'm not teaching one-size-fits-all voice. I want to get to know each of them and help bring their individual point of view to their artistry through their singing.
2. Teaching Young Musical Theatre artists from around the country can be a daunting and big task; what are some things that ground you as a teacher and as a singer?
Molly: I always feel grounded in the fact that teaching is a collaboration. I'm excited to bring my brain-based perspective on the voice, the body, and artistry to each student and I love knowing that each and every student brings their own unique voice and life history to their work. It makes every lesson and relationship that much more thrilling because there is always something new we discover together.
3. Working as a Voice Teacher within a large institution like NYU; do you think there is a basic philosophy or mission statement that chains all NYU Professors together?
Molly: I think at the heart of NYU's philosophy is the fact that all of the teachers are truly rooting for our students to succeed. What I love is that while there are a myriad of ways to find that success and lots of different approaches, we all have the unifying mission of wanting to see our students flourish.
4. How important is your audition material (ex: songs and monologues) when auditioning for musical theatre schools? Are there specific styles that are celebrated at NYU?
Molly: There can be a lot of time wasted trying to understand what any given program wants singers to sound like with people feeling the need to twist themselves into pretzels to become the kind of performer that a specific program is looking for. I believe all of that preparation time would be MUCH better spent first understanding yourself, what makes you unique, what kind of material speaks to you, and what style showcases your voice as it is right now.
If you're finding music from that place and showing up to auditions ready to share what you do best, then programs will be much better equipped to determine if you are a fit. Afterall, you want to find a place to study that truly aligns with you and has the potential to elicit significant growth for your professional career.
It's a really exciting time to study at NYU Steinhardt because there are so many different styles being celebrated. Students can take a Classical, Musical Theatre, or Contemporary Voice track to focus on the styles that most speak to them, while also broadening their horizons by learning styles outside of their focus throughout the pursuit of their degree.
5. You are also the Co-Founder of the NYC Vocal Studio (nycvocalstudio.com) right here in the heart of New York, what has being an artist and business person in the city that never sleeps taught you?
Molly: The biggest lesson I have learned running a business and being an artist in NYC is to work with the noise of the city and embrace the fact that there are so many different people pursuing their own creative dreams. While you could focus on competition, it's been so much more valuable for my business partner (Kevin Michael Murphy) and I to hone in on what we are truly passionate about in this industry and to pour our energy into what lights us up.
In my experience, the way to truly find success in this career is not to always do the same thing as everyone else. I've found that the more connected I am to myself in my work, the more I discover new curiosities that help show me the next path I should pursue.
And also even though we call it the city that never sleeps, it's important to rest! The most productive, successful, and happy people I know find a balance of creating things that make them feel good and taking care of their body/mind/soul.
6. If you had to explain the experience in the Musical Theatre Department at Steinhardt in three words; what would they be?
Molly: So many words come to mind, but the top three would have to be: Energizing, Discovery and Community.
Thank you to Molly for joining us this week! If you want to know about a particular college in the New York area, please just message me on Instagram @liamjoshuamunn!
Till next time, friend.
LJM
Molly is a proud co-founder, voice teacher and creative coach at NYC Vocal Studio, in addition to being on the voice faculty at NYU Steinhardt. Molly is passionate about connecting students to their own unique voice through exploration of the connection between the body, the brain, voice science, and personal expression.
Liam's Bio: Liam Joshua Munn (he/him) is a New York Actor who has been seen on the stages of Williamstown Theatre Festival, Barrington Stage, Walt Disney World & Lincoln Center. His voice can be heard singing some spooky Bass harmonies on Ryan Scott Oliver's new album, Future Demons. Liam made his 54 Below debut last year with his solo cabaret show "Sailing" and he is planning on taking it around the country. Season 2 of "on the callboard: a theatre interview podcast" has just premiered on your local podcast provider app. liamjoshuamunn.com//@liamjoshuamunn