Click Here to Visit the College Center

Blogs are the opinions of the authors and do not necessarily reflect the opinions of BroadwayWorld. BroadwayWorld believes in providing a platform for open and constructive conversation.

Student Blog: My Future
Am I getting too ahead of myself?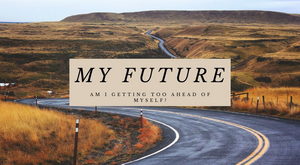 Life goals often need much planning and preparation. Whether it's saving up for house, going on vacation or simply, scheduling your everyday life, it does not hurt to be prepared and ready for whatever may come your way. I find that it can create less problems down the road and even if things to go astray, I can plan to fix them.
This mentality has been on my mind lately as I continue through my college classes, clubs, and part-time job. There is a never-ending chain of reaction that I hope will arise from all these activities. College classes are for future careers and opportunities, clubs and organizations are for networking and building of a variety of skills and my job is simply for money, one of the most important parts of my future.
With all these activities and calendars stacked on top of each other, my brain cannot help but surge even more forward into future possibilities. I want to plan my future right now.
Where should I find a job when I graduate? Near Pittsburgh where I am currently living? Back home in Maryland? Some place new? Thousands of questions jumble in my head every day. Will I still have the same friends when I graduate? What will my family members be doing that might affect me? Do I have enough money to keep myself stable?
All these questions lead to me getting very eager about the future, and though it's not necessarily a bad thing, sometimes I feel like my time is going too fast.
I wake up every morning and get ready to have classes and I do my homework in between them but some days I also must go to work so I am out late and then I just want to go to bed and sleep. Then the cycle starts all over again. All this happens while I make sure I am eating, taking care of my mental, health, doing laundry, and many other mundane things.
I finally realized this is what life is like. This is adulthood, and frankly, I am loving it.
Though I miss my friends and family back home, I am thriving here. I want to graduate college right now, though I know that is not possible, and I want to live independently with a career of my own.
I want to fall in love, make mistakes and take chances on life. Though I like staying prepared and on top of things for most of my decisions in life, I need to remember to have fun as well. Take risks and live in the little moments, because like I said before, it is going by so fast.
Like one of my favorite quotes from Ferris Bueller's Day Off says, "Life moves pretty fast. If you don't stop and look around once in a while, you could miss it."